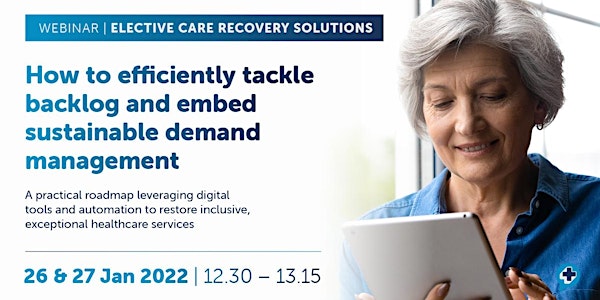 Elective Recovery Webinar: tackle backlog and transform demand management
Elective Recovery Webinar: tackle backlog and transform demand management
About this event
Longer waiting lists are the inevitable by-product of an unimaginable 2 years of pressure on NHS services.
Although pitched in media as a near impossible task, elective care recovery can be achievable by embracing automation, along with pragmatic digital solutions to clear backlog and manage demand.
Key webinar takeaways
Backlog Management - Personalised and consistent communications
Healthwatch reported over 45% of waiting list patients have received no communications or very little about their care, with many reporting that the amount of supporting information they were given while waiting for care was inadequate*.
Featured solutions include:
Regular updates in place for patients and families so they don't feel forgotten
Simple access for patients to update the hospital when there are changes in their condition
Access to self service digital tools to support updates, advice, and guidance
Award-winning waiting list management to instantly identify patients whose treatment requires risk stratifying and highlights improved conditions where capacity can be reallocated
Demand Management - Empowering patients by helping them to make better healthcare decisions
Personalised, digitally enabled patient follow ups, with on demand access (PIFU & CIFU)
Self-service chatbots to enhance patient experience and reduce inbound phone traffic - including rescheduling, specialty specific FAQs and symptom checks
Digitising processes and workflows including digital-assessments and outcome measures
Inclusive experiences: EVERY communication is fully accessible to EVERY patient group
Can't make this one, join us on 26th Jan
NHS ONLY
*Survey commissioned by Healthwatch, Nov 2021