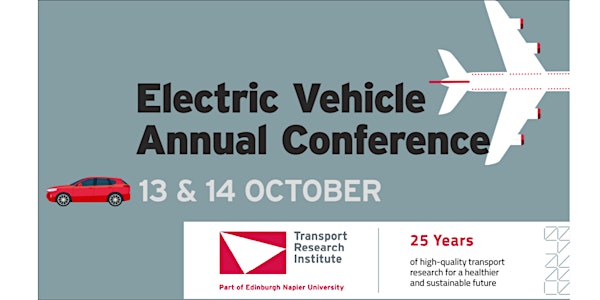 'Electric vehicle revolution across the globe'- 14/10- Air Transport
TRI's 7th Annual Electric Vehicle Event 'Electric vehicle revolution across the globe' – AIR TRANSPORT - Thursday14th October 2021
About this event
Edinburgh Napier's Transport Research Institute (TRI) continues its 25th anniversary celebrations by inviting you to our popular annual electric vehicle event.
Join us at our 7th Annual Electric Vehicle Event 'Electric vehicle revolution across the globe' on 13th-14th October 2021
We'd be delighted if you could join us at this FREE online event which will take place over 2 days this year:
– Wednesday 13th October (10am-2.30pm) – Road Transport
– Thursday 14th October (10am-2.30pm) – Air Transport
The Air Transport session aims to address the electric flight possibilities as well as the challenges that bring. A line-up of internationally acknowledged keynote speakers from academia and industry as well as policymakers, will discuss the fast-paced developments for electric and hybrid aircraft architectures, systems, and components, review the vast research into the rapidly increasing electrification of aircraft in some of the leading economies across the world. The event will also take on related technological challenges and opportunities right up to commercial viability, with the overall goal to support the industry on next-generation aircraft design.
The full programme can be found here.
The event will be held online via Webex and the link will be provided prior to the event.
We look forward to your registration and seeing you on the 14th of October!
Don't miss out on the first day of the 7th Annual Electric Vehicle Event on Wednesday 13th October which focuses on Road Transport. More info and tickets can be found here.
We would appreciate it if you could register using your work email address.
Background to TRI
TRI was established in 1996, building on Edinburgh Napier's success as a provider of teaching in Civil and Transportation Engineering. TRI is well established in Scotland with excellent long-standing links to industry and government. TRI is the most well-known transport research group in Scotland and in the top ten in the UK, delivering high-quality transport research, consultancy, and other knowledge transfer projects in high-impact settings.
To receive regular news and updates on TRI, transport research, and innovation subscribe to the TRI blog here.