ELECTRIC YOUTH & BOSTON SHOW BAND - ARUNDEL SHOWCASE
Description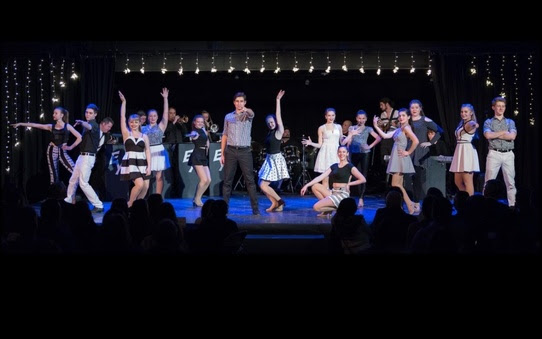 A BREATHTAKING AND OUTSTANDING SHOW OF THE HIGHEST CALIBRE, GREAT ARRANGEMENTS, IMPRESSIVE MUSICIANSHIP AND EXCITING CHOREOGRAPHY
ELECTRIC YOUTH is an extraordinary ensemble of dynamic, young, professional performers from the Franklin School of Performing Arts, MA, presenting the best of Broadway, American Pop, Classic Rock, Swing, Funk & Country Music. They produce energy charged & fully choreographed performances that "WOW" audiences of all ages, with hits from Adele, Briuno Mars, Green Day, the Beatles and many more.
Uniquely, EY are accompanied by the World Class "BOSTON SHOW BAND" made up of 8 of the finest musicians, who have performed with many legends including Aretha Franklin, Dizzy Gillespe & Van Morrision. There will be an exiting opportunity for selected workshop participants to perform with the EY cast and band in the show.

EY has toured Europe 13 times, released 6 professional CDs and performed aboard Royal Caribbean's Oasis of the Seas and at Boston's Fenway Park, Disneyland Paris, Vienna's Schonbrunn Palace, San Remo's Ariston Theatre and the United Nations.
Electric Youth -In Concert offers high energy, non-stop entertainment!
POWERING THE FUTURE WITH MUSIC, TALENT AND EXCITEMENT!!
---
Electric Youth Showcase featuring local choirs
Cricket Club Grounds - 4pm til 5:15pm - £5 per person
---
Tickets are also available to purchase for the workshops & masterclasses - JUBILEE GARDENS, ARUNDEL

INTERNATIONAL PERFORMING ARTS & VOCAL WORKSHOPS
Young People and adults who enjoy singing, dancing and musical theatre can participate in a 60 minute workshop with Electric Youth's creative team of top professional from the Franklin School of Performing Arts, MA, USA
Participants will develop musical theater technique, strengthen performance skills and learn a Broadway style show-stopping number.
Workshops timings 11.30am & 12.30pm - £5 per session
---
INSTRUMENTAL MASTERCLASSES
Young people and adults, proficient in sight reading or improvisation or are grade 3 or above are invited to join these workshops delivered by inspiring Music Directors from the Boston Show Band.
Workshops timings 11.30am & 12.30pm - £5 per session
There will be an opportunity for workshop participants to share the stage with Electric Youth!
---
Jubilee gardens programme.
11.30 Workshops & Instrumental Masterclass

12.30 Workshops & Instrumental Masterclass

1.30 Electric Youth Preview Showcase

1.45 Combined Childrens Choir perform *

2.00 Steelpan Jim **

3.15 Rock Choir **

3.45 Acoustic Acts

4.15 Rock Choir

4.45 Acoustic Acts

5.30 Rock Choir

6pm finish
---
* Combined schools Choir
Featuring the Children from Arundel & Camelsdale Schools
** Steelpan Jim
Jim has been playing steel pans as a soloist for twelve years and set up the Worthing Steel band four years ago. He delivers steel pan workshops and opportunities for newcomers to join bands.
He continues to perform as a soloist and today is going to be playing some classic calypso and carnival music from the Caribbean, along with a selection of jazz standards and other popular songs
*** Rock Choir
Rock Choir is made up of members from across the 5 choirs in West Sussex including Chichester, Billingshurst, Worthing and Horsham. They are part of a national phenomenon in contemporary singing, initiated by Caroline Redman Lusher in 2004 in Surrey and which now expands to hundreds of Rock Choirs across the UK. They sing a mix of pop, rock and Motown numbers and is open to absolutely anybody to join - the only pre-requisite to becoming a member is a love of singing, no need to read music or have any previous experience. To find out more visit www.rockchoir.com
---