Electronics Watch Annual Conference 2017: Ending Precarious Labour - Public...
Description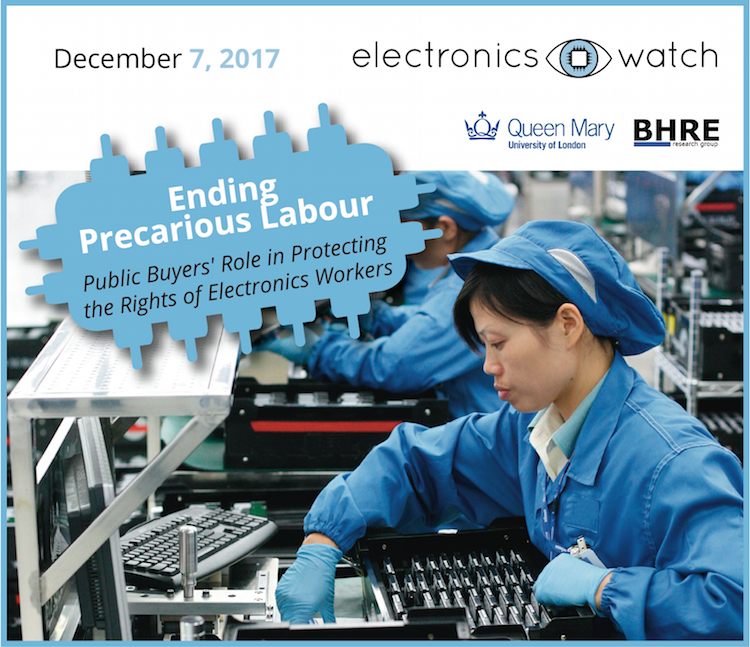 See conference programme here and confirmed speakers here
The Electronics Watch Conference 2017 will focus on precarious labour in the electronics industry and explore ways in which public sector buyers can help protect the rights of workers in unreliable and often abusive forms of employment. As in previous years, the Conference will feature leading practitioners in the field of socially responsible public procurement, experts in international labour rights, and grassroots workplace monitors from electronics production regions around the world.
Electronics workers in precarious forms of employment earn low wages, work unpredictable hours, may not be properly trained for hazardous work, and risk losing their jobs and sometimes residency permits should they speak up for their rights. They may be employed legally or illegally, directly or indirectly for the factory where they work. They may be migrants or local workers, student workers or trainees, and work in any country. Electronics Watch highlights the challenges of precarious work in factories that make the electronic goods public sector organisations buy and helps to develop solutions that involve local civil society organisations, trade unions, electronics brands, and factories.
Come to the Electronics Watch Conference to:
Hear directly from workplace monitors about conditions in factories that may be supplying goods to your institution

Learn about best practices in socially responsible public procurement

Share your own experiences and lessons learned
This publication has been produced with the assistance of the European Union. The contents of this publication are the sole responsibility of Electronics Watch and can in no way be taken to reflect the views of the European Union.
The Electronics Watch Annual Conference 2017 is part of the project 'Make ICT Fair - Reforming Manufacture & Minerals Supply Chains through Policy, Finance & Public Procurement', co-funded by European Union.