Description
Is your style aligned with who you are today?
Do you feel confident walking into a room full of strangers and making conversation with charisma and grace? Would you like to feel more feminine and elegant and be empowered at the same time?
Imagine having a signature style that ensures you look fantastic whatever your body shape or age, inner confidence to attend any social event with confidence, and posture that not only ensures you appear poised and graceful but that relieves back pain as well.
During this one-day programme you will learn skills that reflect the woman you are today and also who you desire to be tomorrow.
A light lunch is included.
What you will learn:
Your personal style
Discovering your signature style that makes you look good and feel great whatever the occasion
Have more fun with your clothes meaning you can express your femininity in a bolder, more playful and enjoyable way
Enjoy dressing from a place of self-love and self-acceptance
Your body and posture
Understand how your body is designed to work: to sit, stand and walk




Learn the principles of good posture for

a health and elegance

Learn

how to use posture to portray an image of femininity, elegance,

feel and project power

, and why

posture

is one of the most essential aspect to acquiring these attributes
Your social confidence
How to get over nerves at social occasions

How to make an impressive entrance into a room

The courage to introduce yourselves to strangers at a party

The correct way to introduce yourself and other people

An understanding of social kissing, when and how it should be done

What to do when you have forgotten someone's name!

Top tips for making small talk with ease, working the room and excusing yourself politely
We invite you to discover your unique self-expression potential, embrace your femininity and acquire a natural confidence and elegance that people will want to know the secret behind. Join us this spring at The Elegance, Style and Poise One-Day Programme in London on 29 April.
Hosted by leading industry experts Natalia Shpek, Style and Personal Brand Consultant, Maria De Sousa, Posture Expert and Qualified Yoga Teacher and Emma Dupont, Social Etiquette and Business Protocol Expert, as they equip you with skills that will enable you to become the best version of yourself today and for the future.
Spring is the perfect time to allow yourself to blossom so why not treat yourself to a day of luxury just for you.
Schedule for the day
09:45 to 10:00 arrival and hellos
10:00 to 11:00 Understanding posture (Maria)
11:00 tea break
11:15 to 11:45 Posture in practical terms (Maria)
11:45 to 12:15 Social etiquette (Emma)
12:15 to 13:15 Lunch + free time
13:15 to 14:30 Social etiquette (Emma)
14:30 tea break
14:45 to 16:00 Personal Style (Natalia)
16:00 Q&A
17:00 departure and see you again soon
Location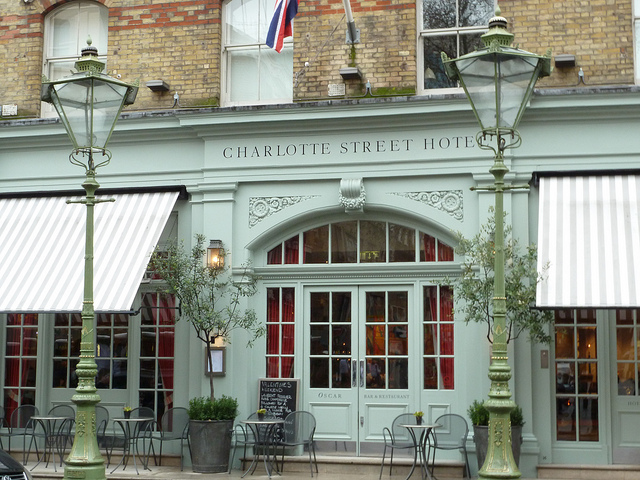 The evetn will be hosted at the luxurious Charlotte Street boutique hotel, an establishment set in the heart of London's west end.
About the organisers
Natalia Shpek is a style coach and consultant for women who do not like to be put in a box, who want to look like the best version of themselves and feel great whatever the occasion. She helps her clients discover their signature style and dress from a place of self-love and self-acceptance. She is a great believer that style is not about that one piece you are told you need this season by magazines, but a deeper understanding about your personal style and values and honoring who you are through the sartorial choices you make.
Emma Dupont is one of the UK's leading etiquette experts. Meeting people from many nationalities and cultures led her to take a keen interest in the subject of contemporary English social etiquette and business protocol and how the knowledge and practice of it can greatly influence success and fulfillment.
Emma is passionate about equipping people with the necessary skills so they can approach new situations with ease and confidence. This ensures they develop new friendships and can make the most of opportunities that come their way. Emma's style of tuition is fun and relaxed and is relevant to the situations that people find themselves in in every day life and her work sees her teach both in the UK and internationally.
Maria deS. is a Posture Expert and the founder of Posture Queen and Wise Yoga. She is a qualified yoga teacher and a Feldenkrais Method teacher trainee and is on a mission to raise awareness of good posture throughout the world, and to make people aware of how posture is a powerful tool to living a better quality life. A life without pain and with a strong mindset.
Maria believes that in this day and age, where technology is no longer an option, it is paramount to introduce posture education in children since an early age. She is running a 'Children have the right to know' campaign in schools where she teaches teachers and parents good posture and how they can start introducing posture education to children on a daily basis and in a non-disciplinary way.
Maria has also developed 1:1 programmes for women who desire to take control of their health, feel more elegant, feminine and empowered through understanding good posture.
---


FAQs
What can I bring into the event?
Pen and pad to take notes
How can I contact the organiser with any questions?
You can email us - (Maria) contact@posturequeen.co.uk; (Emma) emma@emmadupontetiquette.co.uk; (Natalia) natalia@nataliashpek.com
Do I have to bring my printed ticket to the event?
No, we will have you on the register.
Is my registration fee or ticket transferrable?
In case you bought a ticket and can no longer attend you can gift/sell you ticket to a friend but please let us know at least 24 hrs before the event takes place.
What's the refund policy?
We cannot offer refunds.
What if the event is cancelled by the organisers?
We reserve the right to cancel this event if the required minimum numbers of attendees does not meet the target and for any other circumstances beyond our control. A full refund will be issued, accorddingly.
We cannot be held responsible for any expenses incurred by the attendees due to a postponement or cancellation of this event.
What are my transport/parking options for getting to and from the event?
There are no parking facilities at this venue.