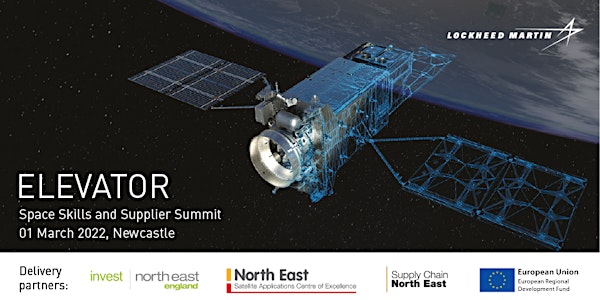 ELEVATOR: Space Skills and Supplier Summit
Location
Crowne Plaza Newcastle - Stephenson Quarter
Forth Street
Newcastle upon Tyne
NE1 3SA
United Kingdom
A space-related skills and supply chain summit
About this event
Lockheed Martin, a global technology leader in aerospace, space and security, is inviting regional businesses and local academia to join first strategic space skills and supply chain event in Newcastle.
The Space Skills and Supplier Summit is being held on 1st March 2022 at the Crowne Plaza Hotel, Newcastle, giving members of the supply chain, universities, colleges and skills providers the chance to find out more about potential commercial opportunities and how to get involved.
Lockheed Martin has an ambitious growth plan in the UK space market and is pursuing a variety of projects around the country, including its partnership with SaxaVord Spaceport in Shetland to deliver the first vertical satellite launch in northern Europe. The business is also exploring options to invest further in the UK by establishing a satellite and payload manufacturing facility, enabling it to expand its global industrial base and reach new global markets.
The Summit will bring together supply chain representatives from across Lockheed Martin with a view to identifying a variety of regional and national suppliers to support their UK space operations along with inviting skills providers to find out more about recruitment and talent development opportunities in the region.
The event is being delivered in partnership with Invest North East England, North East Satellite Applications Centre of Excellence and Supply Chain North East.
To register your interest for the event, please click 'Register' at the top of the page. Registrations will close on 01 February 2022, with confirmation of your place being provided by 08 February 2022.
New Frontier – North East Space Conference 2022
Taking place on the 2nd of March, the North East Space Conference 2022 - New Frontier. Hear from keynote industry speakers, meet and network with linked-minded peers and find out more about the opportunities the North East space sector offers
New Frontier - North East Space Conference 2022 Tickets, Wed 2 Mar 2022 at 09:00
Your details will be stored securely and retained in compliance with Data Protection law. Registration data will be shared with the relevant event partners for the sole purpose of this event.
Details of the Privacy policies can be found at
1. http://investnortheastengland.co.uk/wp-content/uploads/2021/06/Privacy-cookies-fair-processing-policy-2021-2-240521.pdf
2. https://sa.catapult.org.uk/terms-conditions/privacy-policy/
3. https://www.rtcnorth.co.uk/info/privacy-notice