Description
Elevator's Making it Happen Conference
AFTERNOON: Pioneering Entrepreneurship
This Conference is for Business Owners at all stages, representatives of the business community and University Students.
Sarah Stenhouse of Pixey will no longer be speaking at our Elevator Making it Happen Conference on Friday - we are delighted to say that she is pitching to investors in London! Best of Luck Sarah!
We are excited to welcome to the Elevator stage Clare Campbell of Prickly Thistle instead - Clare is has a burning ambition for a unique Highland tartan experience... we look forward to learning more about her journey!
2 days to go!!!! #makingithappen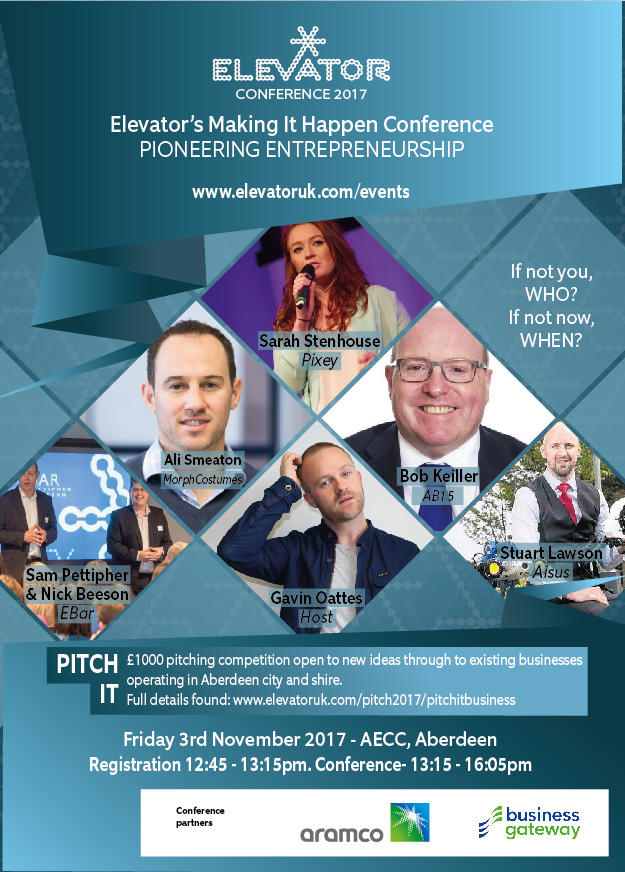 This Conference is brought to you by Elevator and our conference partners Aramco and Business Gateway.
12:45 - 13:15: Registration
Host: Gavin Oates

Keynote Speaker: Ali Smeaton, MorphCostumes: The Morphsuits Story
Accelerating in Business: EBar Initiatives' Sam and Nick, and Aisus's Stuart Lawson
Pitching Competition Live to the Audience
Sarah Stenhouse, Pixey
Bob Keiller, AB15: Get Your Story Right - Great Business = Great Product + Great Story
16:05: Close of Event