Event Information
Refund policy
Contact the organiser to request a refund.
Eventbrite's fee is nonrefundable.
Connecting and Empowering Women in Australia and Globally
About this event
THIS IS AN IMPORTANT COMPANY ANNOUNCEMENT
Due to the COVID-19 epidemic worldwide we have decided to postpone all face to face events until further notice. All our club meetings and launches will now take place online.
This global virus has had an impact on our business but please note as soon as we can network face to face again we will then continue on our important journey to #inspire and #empower all women around the world.
(PLEASE NOTE TIME ZONE DIFFERENCES. WHEN YOU PURCHASE YOUR TICKET THIS WILL BE IN UK TIME, SO PLEASE CHECK CORRECT TIME IN YOUR CITY/COUNTRY).
(DISCLAIMER PLEASE ALSO NOTE THAT TIMES AND DATES AND VENUE MAY CHANGE IN ACCORDANCE WITH GOVERNMENT POLICIES)
Connecting and Empowering Women in Australia and Globally
Welcome to Global Empowerment Woman Summit – Elite Network Luxury Club Australia. We are delighted to now connect with Female Entrepreneurs on an International level. Our summits and networks are aimed at all women in business at any level and together we connect and network and inspire each other to achieve the best. We offer a platform to network, connect, empower, inspire and collaborate. Our network is aimed at high quality, sophisticated and elegant Women in Business.
Women who empower each other allows each woman to have a voice and through our Empowerment Summits and Networks in the UK and Internationally women from around the world all share our ethos. Women entrepreneurship is on the rise and together we are stronger.
Join us for our GEWS Elite Network Australia Club Launch Networking Meeting.
Global Empowerment Woman UK Summit launched in Birmingham UK on 21st September 2018 at the beautiful and prestigious venue Edgbaston Priory, Birmingham. A perfect venue which have produced many successful women tennis players throughout the years. After a successful launch we are now launching in 15 countries in 2021 with many more planned. Our empowerment platform raises the profile of our members, so they become more visible and more credible. We run 5 network meet ups per year where we meet face to face (quarterly) and we meet virtually online bi-monthly in the UK and globally alongside our Annual Empowerment Summits where we bring all amazing women from around the world together and celebrate our achievements.
An inspirational meeting listening to our amazing and talented 7 figures global speakers. We attract and welcome high profile female entrepreneurs worldwide, hosting events and Private Fine Dining at prestigious venues.
Who should attend
If you are thinking of starting a business or you are already a business owner and would like to know how you can expand your brand globally and raise more awareness then this network is for you.
GUEST SPEAKER TO BE ANNOUNCED!
YOU DO NOT WANT TO MISS THIS! You all will also have the opportunity to find out more about our new VIP Elite Network Club - Social Networking. Once travel opens back up, the new membership will allow to you to attend all our luxury social events in Paris, Barcelona, Milan,Dubai, Monaco, and New York.
Meet Our Hosts
Anita Francis
Founder/President, Global Empowerment Woman Summit (GEWS)
United Kingdom
Anita is currently the President and Founder of a Women's Empowering Network called Global Empowerment Woman Summit and Elite Network Club. In less than 2 years Anita has built a global brand, launching in 11-15 international markets.
Anita is a Serial Entrepreneur with over 15 years business experience in running several successful 6 figure businesses from running a recruitment agency, publication company, and model agency. With a degree in Marketing & HRM Anita understands the importance the role of marketing plays in building a successful global business.
Anita embraces the digital lifestyle and now is the CEO of a health and wellbeing ecommerce company. Anita is also a Property Entrepreneur and the Founder and Director of an overseas property company called A&R Wealth Investors LTD. Anita believes as female entrepreneurs we need to be in control of our own destiny and learn how to create multiple income streams. Anita is also studying to become a Property Lawyer in the UK.
Meet our Executive Vice President - Doreen Taylor
In her previous career as an Assistant Principal at a South London Academy, her passion was to create an environment to assist students that would provide an experience that would enhance their future.
Doreen loves to encourage, motivate, inspire and serve people. Her passion is to see women from diverse ethnicities and backgrounds to become free to walk into their destiny with purpose, and on purpose.
Dorren is also a published author of the book Audacious Thriving Through Trauma.
In the near future, Doreen plans to put strategies in place that will bridge generations of women, leaving a legacy for female millineums that will transform the future.
Meet our Australia Club President Dr Angela Wilson
Dr Angela Wilson- Mind Power Lady is Mind Matrix Specialist | Human Body Technician | Transcendence Coach  | A serial entrepreneur | Celebrity Interviewer | Humanitarian Activist | Global Peace & Civility Ambassador | Certified Training Provider | International Speaker | author | Actress, and more.
Dr. Angela Wilson, Ph.D. a Holistic Researcher and Case Investigator From Achievers Resource is one of five members at the advisory committee, world mental health Congress  2021.
Dr initiated her serious research on physical, emotional, and mental health through first-hand personal experiments on a daily basis at the age of six. 
It led her hands truly on what humanity is looking for but afraid most of us to find. As a result, she discovered the specific part of the mind has the power to kill the emerging symptoms and the trace timely. She has spent over forty years refining this secret formula, benefiting from her unique upbringing in a western medical family with 11 generations of Chinese herbal medicine practitioner Heritage; the 22nd generation on energy healing; academic study; holistic qualifications; rich clinical experience; and unstoppable cross-disciplinary testing by risking her life researching how human mind connects with the physical world, metaphysical world, quantum physics and effects business, career, and personal life. 
Her cutting-edging secret formula breaks the curse of the mysterious "largely inaccessible unconscious mind" and reveals the myth behind the tragic predestination of the human race. She releases this compelling and practical application to enhance the satisfaction of the human race and reduce the misery on earth. Her favorite quote is from Robert Ingersoll," rise by living others".
Ticket Info
Non-members can attend once and visit any location throughout the UK and Internationally and online.
Members can attend any prestigious GEWS Elite Network Club locations.
HURRY BOOK your ticket TODAY! so we can guarantee you a space. We limit tickets and once event is FULL you will be welcome to join us at our next network meetup.
If you have any questions, please contact admin@globalempowermentwomansummit.com
If you are interested in joining our network club and have any questions in reference to our UK Summits and our summits we have planned internationally in 2021 and advertising in our publication Women in Business please email admin@globalempowermentwomansummit.com
Global Empowerment Woman Summit quarterley network clubs will be launching clubs throughout 2021. This will be an opportunity to connect and network with other female entrepreneurs globally.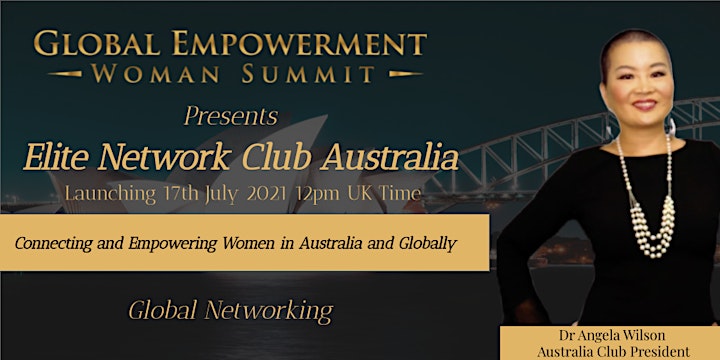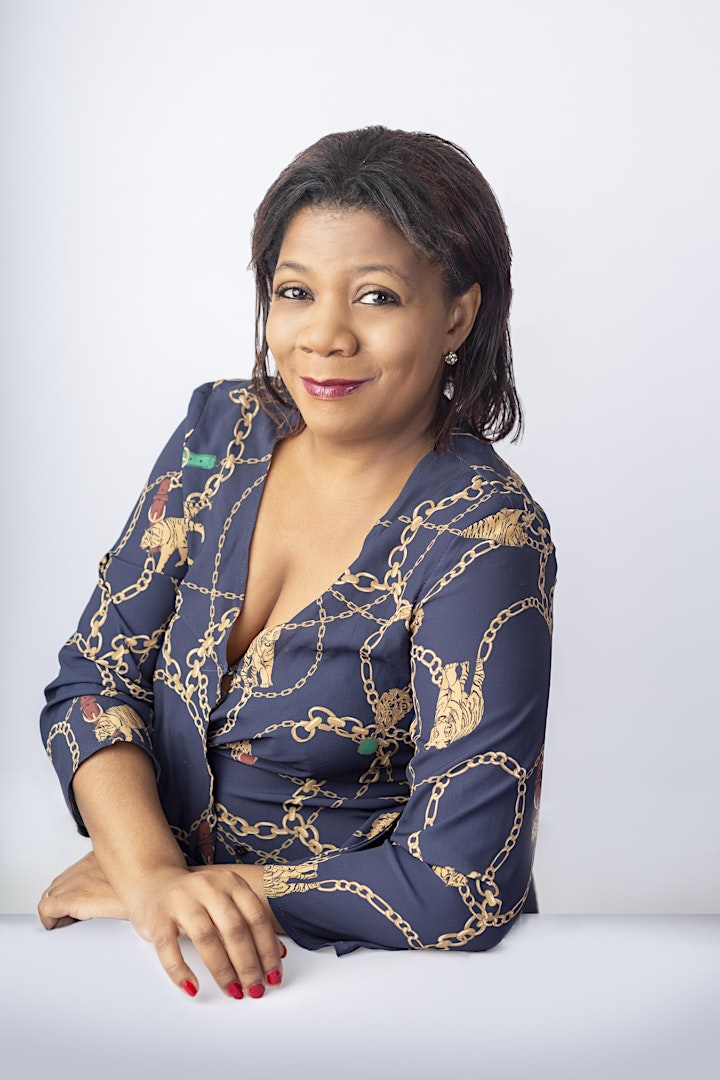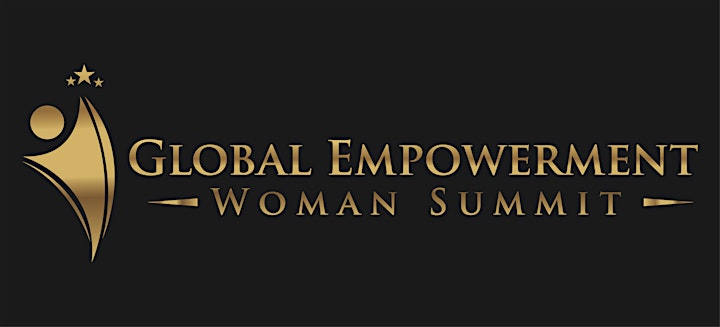 Date and time
Location
Refund policy
Contact the organiser to request a refund.
Eventbrite's fee is nonrefundable.
Organiser of ELITE NETWORK AUSTRALIA CLUB LAUNCH