Ely's New Music Festival Party at the Range 2017
Description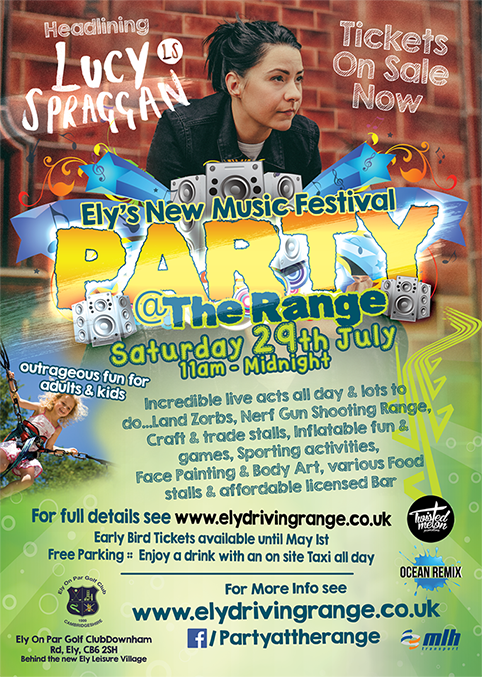 Things to do at Party @ the Range 2017...
Apart from enjoying the non stop music on stage all day there will be lots to do from Land Zorbing - Bungee Trampolines - Bouncy Castles for all ages - Nerf Gun Shooting Range - Football Games - Tri- Golf - Face Painting and Body Art - Craft and Boutique Stalls - Fully Licensed Bar - Vegan/Veg Food Van - BBQ - Chicken Van - Crepes, Doghnuts, sweets & more!
Sports & Activities on the day...
We have arts & crafts, mini ball pit & diddy cars for under 5's and sport actiivites from All 4 Sports throughout the day! Get involved! Offering Tri Golf and Football included in the ticket price for all ages!
Headlining Party @ the Range 2017 we have the awesome Lucy Spraggan!
For Lucy Spraggan, 2017 is already a year to remember. The singer-
songwriter has netted her fourth top 40 album and followed that success with
a huge tour across the UK and Europe.
I Hope You Don't Mind Me Writing charted at number 12 in the Official Top 40
Album Chart on release in January 2017. The album, the second under her
own label - CTRL Records - was described as 'a triumph' by The Sun.
More than 12,000 tickets sold for Spraggan's Dear You tour and the summer
season continues with shows confirmed at some of the UK's biggest festivals.
Recognised as one of the leading lights in the LGBT community, Spraggan
has managed to build her fanbase to a new high.
Lucy appeared on the X Factor in 2012, since then her audition video has
been viewed more than 40 million times. She achieved the unprecedented
success of securing a top 20 single (Last Night) and top 40 album (Top Room
at the Zoo) while still competing on the TV show. She went on to be the
officially most Googled musician of 2012.
Lucy immediately signed to Columbia and her debut album Join the Club was
a top-ten success. Her next record We Are was released on her own label,
after Spraggan opted to take the independent route. The album just missed
out on a top twenty position.
Lucy's music-writing career began with Don Maclean and Kirsty McColl as her
major influences, embellished with the folk riffs of Peter, Paul and Mary, and
taking on the punchy riffs of traditional R and B.
Her name is now synonymous a melodic middle ground where pop and
acoustic folk meet. The toe-tapping interpretations of classic sounds and the
harmony-heavy ballads that she pulls from modern rhythm and blues are hard
to forget. Spraggan's trademark sound is the rattle of rap dropped into sing-
along folk-style numbers.
After releasing four albums in five years Lucy is probably due a rest, but the
writing process is already underway for album number 5. Her live calendar is
looking busier than ever too with another tour planned for the Autumn. Watch
this space!
Remember to follow Ely On Par Golf Club and Driving Range and Party at the Range on FB for more up to date news and announcements!
LINE UP: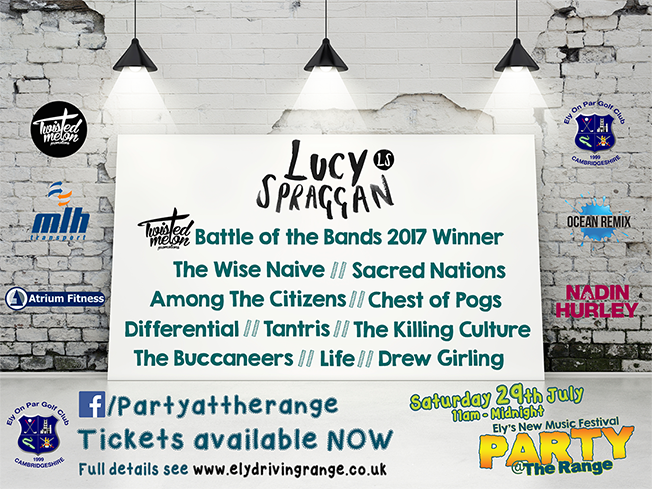 FAQs
Please either print off your ticket or download the Eventbrite App so we can scan you in on entry
Are there ID or minimum age requirements to enter the event?
Under 16's must be accompanied by an adult ticket holder.
What are my transport/parking options for getting to and from the event?
There will be a free car park on site and a free over flow car park next door. Local Taxis are available or we are a 15 minute walk from Ely City Centre access via the new underpass. If the car park is at capacity you may be redirected safely back out of the car park to find alternative car parking locally.
There will be a clear drop off point for those dropping off and not staying.
Disabled access - there will be disabled toilets on the day and the car park is shingle. If you need a hand at all please do let us know and we will do our best to accommodate you. The festival is held on the Driving Range - very short grass.
What can I bring into the event?
We don't accept your own food & drink as we like to support the traders on the day. Hence why we keep the festival to the cheapest in Cambridgeshire so you can enjoy spending your money on the day! (exceptions - baby milk and 1 X 250ml max - plastic bottle of water for children under 5) we provide water on the day at the drink stalls.
What's the refund policy?
Tickets are non refundable and non returnable
Are dogs allowed?
No I'm afraid although we love our dogs due to health and saftey and the Driving Range grass we can't welcome dogs to Party @ the Range...take them home a goody bag ;)
Can you bring Camping chairs/single seats or blankets?
Yes feel free to bring these with you, they remain your responsibility at all times - please be courtious to others.
Where is the access to the festival?
You will be coming off of the A10 onto Downham Rd. Once you turn into the new Ely Leisure Village (where Frankie and Bennies, Arbuckles and Cineworld etc are now on your right) you will see signs for the sports club and festival. Drive straight past Cineworld and turn right. At the next junction you turn left. Please beware you will be driving through a busy car park look out for pedestrians thank you. You will be shown where to park. There is also many car parks in Ely some free some pay and display. You can walk to us now via the new Underpass so you don't need to cross the A10! Please follow the signs and take care.
Will I get a ticket?
You will receive an email confrimation that you can download and print off. Please bring this with you and ID incase of any ticket issues on the day as you maybe refused entry without out It.
Will I get a wristband?
Yes when you arrive you will get a wristband when you give us your ticket. You wristband must be warn at all times. Child wristbands please write your mobile number on and let your child know the lost child points on entry.
Can you bring Alcohol?
No there will be an affordable Bar on site.
Any food, alcohol or items deemed unfit to enter the arena will be held during the event and returned to owners on their departure, swapped for your wristband if you decide to leave before the end
We will be operating a zero tolerance policy to violence and disorderly behaviour - it's a family friendly event please have a great time! Anyone found to cause a disturbance to others will be asked to leave.
T'c and C's/Line up are subject to change please you will be reminded upon entry and is up to you to check these before entering the event.
Times of the event.
Gates open at 11am - activities begin straight away
Live music starts on main stage from 11.30am
Last entry to the event is 9pm - please make sure you arrive by then or you will be refused entry with or without a ticket.
Last orders at the bar will be 11.30pm
Event closes 12 midnight
Where is the event?
Party @ the Range 2017 is at Ely On Par Golf Club and Driving Range www.elydrivingrange.co.uk
Behind the new Ely Leisure Village on Downham Road, Just off the A10 in Cambridgeshire
Any questions at all please contact gemma.parnell84@gmail.com or visit the FB page www.facebook.com/partyattherange
*We will be doing sound checks throughout the day to ensure no noise disturbance to local residential areas and surroundings. This is our first year, do let us know if you find it far too noisy and all music stops at 11.30pm. Thanks for supporting the event. Any issues at all please let us know for future reference to Graham at onpar1999@aol.com or to Gemma at gemma.parnell84@gmail.com. Thanks :)