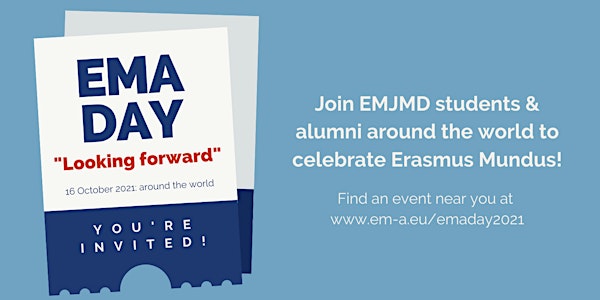 #EMADay2021 in Luxembourg
Location
Belvaux
Avenue Du Swing
4367 Belvaux
Luxembourg
Are you an Erasmus Mundus (EMJMD or PhD) student or alumni? Join this meet-up to celebrate #EMADay2021!
About this event
What is EMA Day?
Once a year, the Erasmus Mundus Association (EMA) dedicates one day to let students and alumni gather in different cities all around the world on the same day. This means an opportunity for you to meet lots of friends, network, or simply just socialise and share the fun!
Who can participate?
We highly encourage current students and alumni of any and all Erasmus Mundus programmes. You can invite your friends who are interested in Erasmus Mundus (EMJMD) programmes as well.
Is there a theme for this year's EMA Day?
Considering the global situation and the never-ending pandemic, this year's theme will be "Looking Forward" where not only can you introduce yourself and have a good time with each other, but you can also share your thoughts on what you have been looking forward to in the future, especially in these challenging times.
#EMADay2021 #EMALookingForward #ERASMUSDAYS