Description


Overview
Email Marketing may not be as on-trend as Social Media, but it remains significantly more effective at acquiring new customers – nearly 40 times that of Facebook and Twitter combined (McKinsey & Co., 2014). This full day workshop will show you how to successfully incorporate email into a digital strategy to generate new and repeat business.
Who should attend
Business owners and marketing people who want to expand their knowledge of Email Marketing
Organisations who want to utilise Email Marketing to engage with their customers
How will you benefit?
After the day's session you will be able to:
Devise a plan to build your database of email addresses
Construct effective subject lines to get your emails opened
Use MailChimp to set up a basic email campaign
Syllabus
1. What is email marketing and how can it benefit your business
2. The Law surrounding email communications
3. Collecting email addresses, building your database
4. Planning an email campaign that will get results
5. Email design and best practices
6. Get your email in the inbox and opened
7. What to write and include in your email
8. Reporting and improving campaign performance
Meet the Trainer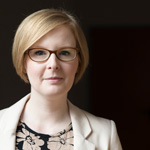 Heather Robinson of Skittish Digital Marketing Consultancy has been marketing businesses and organisations online since 2005. With experience of both B2B and B2C markets, Heather brings her expertise of web design and development, search engine optimisation, Google AdWords and social media marketing. Heather also speaks at national and international conferences and is a published author.
What did past attendees think?
"I recently attended an email marketing course which Heather ran. The content was well delivered and perfect for my business. I would highly recommend Heather to any business looking for this type of training."
Steve Long, Thomas Heald Limited