Embedding evidence in to practice with the Ready to Relate Parent Infant Re...
Description
Ready to Relate- The Parent Infant Relationship Resource Cards
Imbedding evidence in to practice with the Ready to Relate Parent Infant Relationship Resource Cards – making a difference for families
Wednesday 27th November
1pm to 3pm
Tea, coffee, refreshments will be available
Summary of Training:
This session covers:
We will begin by thinking about how the baby is born ready to relate, seeking companionship and the impact of this on the baby's early development. We will revisit the key concepts of secure attachment - mind -mindedness, maternal sensitivity, midrange contingency and repair, how this information is imbedded into the Ready to Relate cards, and how use the cards with families. There will be some theory and some practical interactive work to ensure you leave feeling able to start using the cards with families.
https://www.bdct.nhs.uk/working-for-us/working-for-us/parent-infant-relationship-resource-cards-for-professionals/
Aim of Training:
To revisit the evidence base and key concepts of secure attachment with practitioners, remind us all how important the relationships are that the baby experiences, and use the Ready to Relate cards to support imbedding this knowledge into practice in their work with families:
Target Audience:
Any practitioners who work with families: Children's Social Care, Health Visiting, Nursery Nurses, Family Hub and Children's Centre practitioners, Midwifery team staff, Mental Health workers, early Years practitioners - open to anyone with an interest.
Programme:
Welcome and refreshments
Introductions
Revisiting key evidence supporting the parent infant relationship
Getting to know the Ready to Relate cards – have a go!
How we have used them and parent feedback – the impact so far
How will you use them in your role?
Questions and keeping in touch
Trainers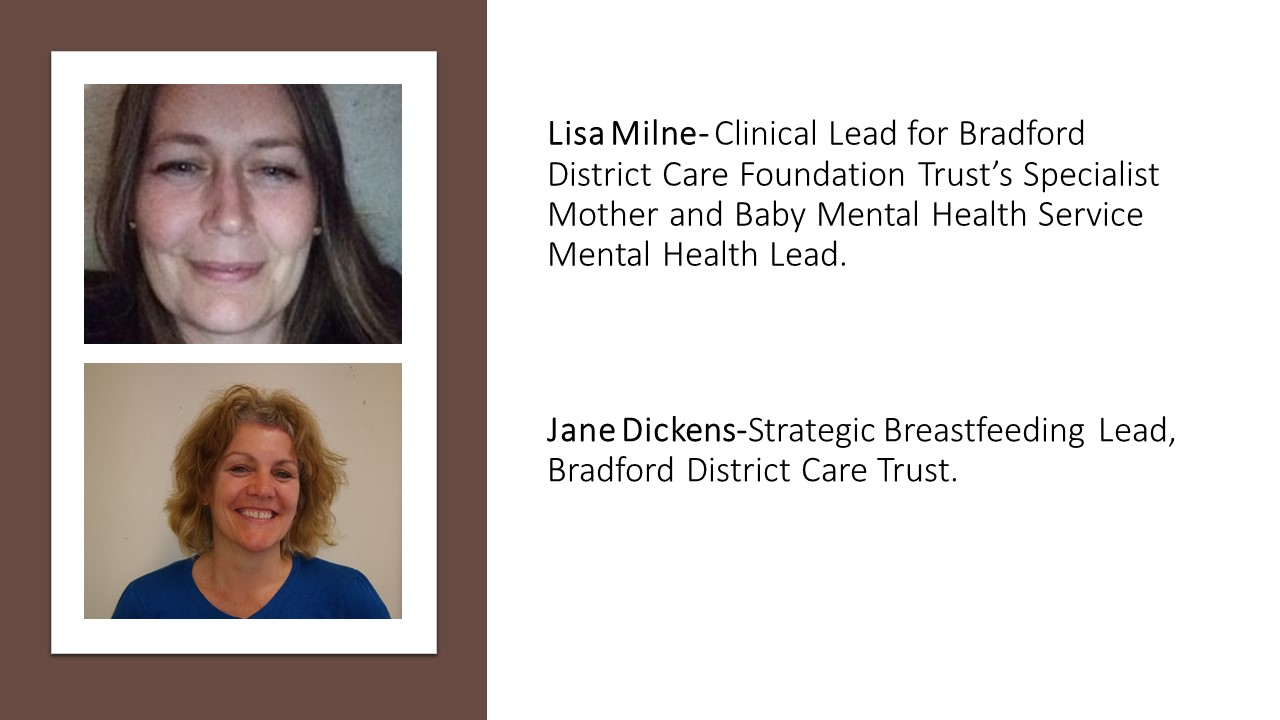 Lisa Milne
"I am the Clinical Lead for Bradford District Care Foundation Trust's Specialist Mother and Baby Mental Health Service Mental Health Lead. My role includes developing perinatal mental health service provision, supporting and training staff, delivering therapy including parent-infant therapy, and getting information out to families so they can increase their understanding of mental health - helping families, including babies, to get the best start in life. As a parent and in my work, I am fascinated by the parent-infant relationship and passionate about giving families the opportunity to build the best relationships they can with one another. I am currently researching mothers' and infants' experiences of intersubjectivity."
Jane Dickens
"The consistent theme running through my 20 years working with families is engagement with the parent infant relationship. My previous roles as a Specialist Breast Feeding Midwife, and a Health Visitor specialising in Maternal and Infant Mental Health and the Parent Infant Relationship form the backdrop to my current position.
My passion lies with supporting parents/main carers to realise how amazing their babies really are, enabling parents to notice and gain confidence responding to their babies, and find moments of shared joy. I am equally committed to supporting professionals grow in confidence and knowledge in this field, through developing training, resources and consultation."
FAQs
What are my transport/parking options for getting to and from the event?
The venue is easily accessible, only an 8-10 minute walk from the Bradford Foster Square Train Station or Bradford Interchange. There are some smaller local car parks around the venue which vary in price from £2.50 per day to £5 per day. The Broadway Shopping centre car park is within walking distance from the venue and has a large car park which is £5 per day.
Do I have to bring my printed ticket to the event?
Yes please
Is it ok if the name on my ticket or registration doesn't match the person who attends?
Yes that is fine but please let the organiser know.