About this Event
Have you ever found it hard to say no to someone? Can it be difficult to ask for what you really want or desire?
As humans we have 2 fundamental needs, the need for healthy attachment with and the need to be true to ourselves. When being authentic risks us being rejected, we tend to sacrifice authenticity which takes us out of our Sovereignty.
This course is designed to wake up our natural ability to set healthy boundaries, to ask for what we want or need and to live more aligned to our values in relationships, at work and every area of our lives.

On this course we will
▶︎ Learn how to set healthy boundaries at home, at work, out in public
▶︎ Explore what stops us from being in our sovereignty and learn how to act with integrity to take care of ourselves and others
▶︎ Get in touch with what we want, need, desire and learn how to ask for it
▶︎ Learn to communicate clearly in all our professional, personal and public relationships
▶︎ Experience an embodied sense of wholeness and agency
Schedule
All sessions take place 7pm London, 2pm New York, 9pm Moscow and last for 150 minutes
16 Sep: Gatekeepers of Sovereignty
23 Sep: Learning to Feel
30 Sep: Polyvagal Theory: The Body's Code for Sovereignty
7 Oct: Boundaries, Limits, Domain
14 Oct: Acting with Intention
BONUS MODULES
Date TBC - Nonviolent Communication with Ron de Brito
Date TBC - Cultivating agency in children with Roma Norriss

Course consists of
• 5 x 150 minute interactive zoom seminars led by expert facilitators
• 2 BONUS modules
• Recordings of all the sessions to keep for ever
• Weekly practices & supplemental reading
• Pod system for integrated learning
• PLUS further Bonus Modules TBA
FULL DETAILS ON OUR WEBSITE HERE
The Team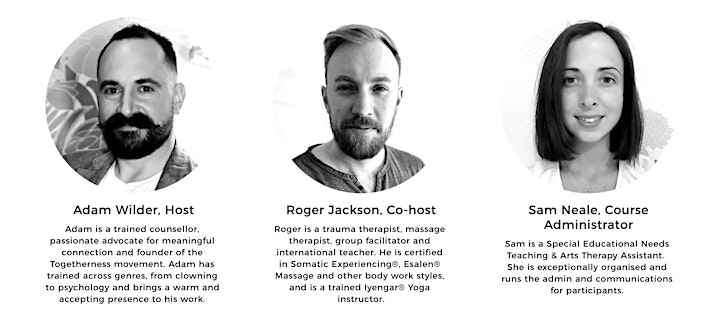 Enrolment
Currently offered at the knock down price £̶1̶9̶9̶ of £149.
Not convinced yet?
Register for a free evening introduction session called Who's The Boss of Me? here.