About this Event
As humans we have 2 fundamental needs
The need to form healthy attachment with others and the need to be true to ourselves.
When being authentic means we risk rejection we tend to sacrifice it in favour of the safety of attachment.
This can take us out of our Sovereignty and we can loose touch with 'the real me'. It makes it makes it harder to say no, harder to set healthy boundaries and harder to feel and move towards what we really need or desire.
On this training we will unlock our natural ability to choose between attachment and authenticity.
We will learn how to use it as a foundation for healthy relationships at work and at home, to feel more confident and alive.
We will learn how to become more capable of looking after our own needs so we can better show up for ourselves and those we care for.

With sensitivity and compassion on this training we
▶︎ Learn to say No as a loving act for ourselves and those around us
▶︎ Look at what stops us from being in our Sovereignty and how we behave instead
▶︎ Get in touch with what we want, need, desire and learn how to ask for it
▶︎ Gain an understanding of the psychology and physiology of Sovereignty
▶︎ Experience an embodied sense of confidence and aliveness in our decision making
▶︎ Build the foundation for healthy self care and relationships with others
▶︎ Learn how to set healthy boundaries at home, at work, out in public

Schedule
All sessions take place 7pm London, 2pm New York, 9pm Moscow and last for 120 minutes
16 Sep: Gatekeepers of Sovereignty
23 Sep: Learning to Feel
30 Sep: Polyvagal Theory: The Body's Code for Sovereignty
7 Oct: Boundaries, Limits, Domain
14 Oct: Acting with Intention
BONUS MODULES
Date TBC - Nonviolent Communication with Ron de Brito
Date TBC - Cultivating agency in children with Roma Norriss

Training includes
• 5 x 120 minute interactive zoom seminars led by expert facilitators
• 2 BONUS modules
• Recordings of all the sessions to keep for 1 year
• Weekly practices and resource materials and videos on Teachable platform
• Peer pod groups for integrated learning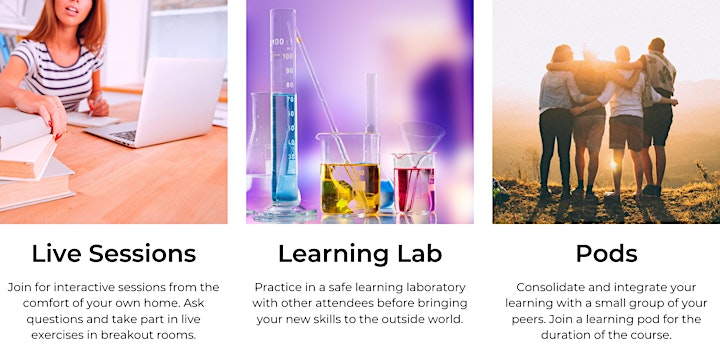 Meet your team
Course Creator & Lead Facilitator, Adam Wilder
Adam is a Human Connection Coach and Comedian and founder of Togetherness. He has worked with thousands of people and a growing number of organisations (including Google, Coca Cola and local governments) to facilitate lasting meaningful connection.
He has trained across genres, from counselling to psychology to clowning and brings sensitivity and humour to the work.


Enrolment
Currently discounted from £̶249 of £199 for a limited time only.
Maximum 32 Participants