Women in Travel cic Presents... Embrace Positive Thinking in 2021, with expert guest Andrea Meszaros
About this event
EMBRACE POSITIVE THINKING in 2021 will help you find your positive mojo even at a time when you would be be forgiven for feeling all but positive!
This is the first event in Women in Travel cic's 'Women Taking Charge' a brand new LUNCH 'N' LEARN SERIES for 2021 delivered by women, for ALL women.
Our aim is to provide you with intimate and interactive events that will recharge your confidence and boost your business. Join one or join them all - it is entirely up to you!
WHAT WE WILL COVER
Andrea is a practitioner of 'Positive psychology', the study of strengths and virtues that enable individuals, communities and organisations to thrive'. During the workshop, we will practice positive thinking techniques through a mixture of creative exercises, conversations and reflection.
Making a habit of these practices develops an awareness of wellbeing, positive qualities and natural talents. These habits encourage sustainable happiness, balance and sense of purpose, and enable you to cope with stress during adversity.
Prepare for some interactive activities and unique conversations in a supportive environment!
BENEFITS
• Wellbeing and mood boost
• Skills to maintain a positive mindset
• Enhanced motivation
• Self-confidence boost
ABOUT ANDREA
Andrea is founder of Talent Courtyard, holistic coach, visiting lecturer and professional trainer with 6+ years' experience, specialising in positive psychology and NLP and passionate about culture and diversity.
THIS LUNCH 'N' LEARN WORKSHOP IS FREE
However, if you can and are able to, there is a suggested donation of at least £10 to be paid directly into our FUNDRAISER, supporting our work with 25 vulnerable and unemployed women. You can also help us by sharing this and future events with your network and other women who would benefit from attending!
Women in Travel cic is a social enterprise - this means that every penny you pay is directly re-invested into our work supporting vulnerable and marginalised women with training, development, mentoring and access to work!
Thank you and we look forward to seeing you on the day!
A an access link will be emailed to you by 2 pm GST on the day before the event takes place. If you have not received it by then, please check your spam and/or contact us on info@womenintravelcic.com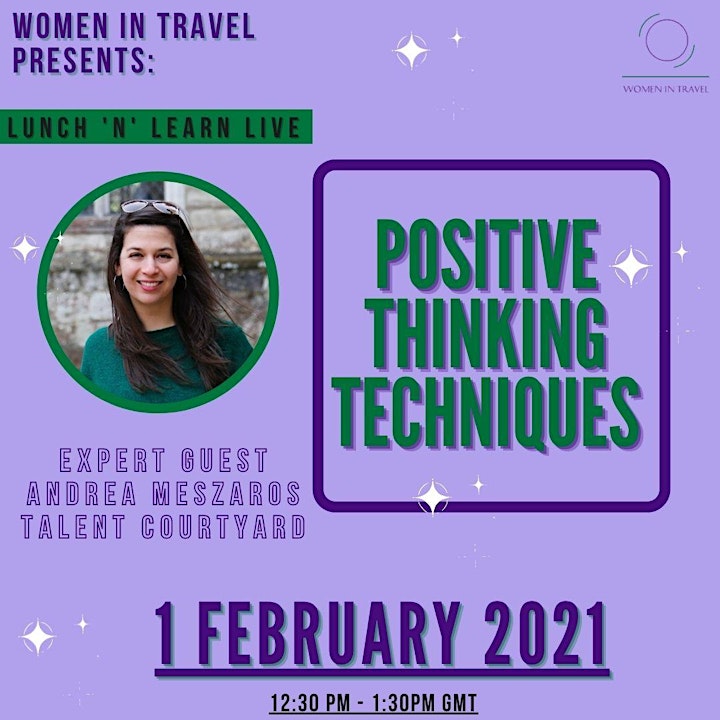 Organiser of Embrace Positive Thinking in 2021!
Women in Travel cic is a social enterprise dedicated to economically empowering women using travel tourism and hospitality as a force for good.
We work with a wide range of women: from those taking their first steps in industry; to those underrepresented; to marginalised and very vulnerable. We believe that all women have an enormous amount of potential to offer to the travel tourism and hospitality industry - as employees and entrepreneurs - which in turn can benefit from their fresh and diverse talent.   
Women in Travel selects, trains and places into jobs vulnerable and marginalised women who are often referred to our programmes by charity partners dealing with refugees, domestic abuse; modern slavery and similar circumstances. Women who have been on our programmes also refer their friends. We provide mentoring, employability skills, interview skills and often a supportive hand too, through our networking groups, restoring much needed self-worth and self-confidence.
Women in Travel runs workshops and topical events on several national and international platforms, including World Travel Market in London, Dubai, Sao Paulo and Cape Town. In January 2020 Women in Travel successfully launched the inaugural International Women in Travel and Tourism Forum.
Bame Women in Travel is the most recent inititive dedicated to increase the visibility and representation in industry of women from Bame communities. Growing quickly in the space of under 2 years it has now established its own calendar of unmissable events and activities.