EMBRACING AND RELEASING THE CELEBRITY IN YOU!

Wednesday, 16 October 2013 from 18:30 to 21:15 (BST)
Event Details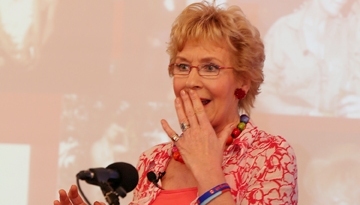 EMBRACING AND RELEASING THE CELEBRITY IN YOU!
and your story so far?
2012 was seen as the YEAR OF TRANSITION
2013 however, is seen as the YEAR OF TRANSFORMATION 
and THE YEAR WHEN YOU KEEP GROWING THE RESULTS IN YOUR AWESOME LIFE!
YOU ARE INVITED TO COME AND RUB TOES ON
6.30PM WEDNESDAY OCTOBER 16TH 2013 

AT our NEW VENUE
MARSH FARM HOTEL, ROYAL WOOTTON BASSETT, SN4 8ER
If you are a woman in business wanting to be with 'like minded' successful women in business, who have an edge on their competitors, then this is the place to be!
 Come for the Cocktails, Stay for the Business!
Network with women looking to do business with like minded women,
fast tracking their business success and getting one-step ahead of their competitors.
Only 60 Tickets are being released for this highly interactive and popular event!

Hear from 3 Prominent Successful Women How To:

REMOVE THE GLASS CEILING FROM YOUR LIFE
CELEBRATE THE CELEBRITY IN YOU
PROFIT FROM UNLEASHING THE CELEBRITY IN YOU WITHIN YOUR BUSINESS 
Getting it right can drive you and your business forward to profitable success - but getting it wrong can be catastrophic and put you out of business. 
LEARN FROM THE BEST AND GET EQUIPPED TO DO THE REST!

It's a known fact that women do business quicker than any other gender mix. 
By attending I AM WOMAN BUSINESS CLUB monthly meetings 
you will enjoy a level of support that no other women's network can offer. 
Get to know us : take a look at our online magazine www.iamwomanglobal.biz
Join our Facebook Forum: http://www.facebook.com/groups/4wardiamwoman/?fref=ts

Sample - a new way!, an easier way!, a more comfortable way!, a more inspiring way!
FOR WOMEN LIKE YOU TO DO BUSINESS! 

Your Host: Elaine Godley  I AM WOMAN West Business Leader
Telephone number: 01666 714400
Email: elaine@iamwomanwest.biz Website: www.iamwoman.biz
When & Where

Marsh Farm Hotel

SN4 8ER Royal Wootton Bassett
United Kingdom


Wednesday, 16 October 2013 from 18:30 to 21:15 (BST)
Add to my calendar
Organiser
I AM WOMAN prides itself as being one of the leading organisations for ASPIRING WOMEN that provides everything for women who want to develop themselves and their businesses alongside other women who understand and have the skills to not only listen but to help them flourish.
 Are you a woman in business wanting and needing to develop morebusiness, more confidence, more experience & skills, more customers,more contacts, more support, more guidance, more fun and to connect with other women in business that can associate with the same challenges as you?
Are you a Woman who recognises that she has a desire to develop her entrepreneurial edge, talent, skills, experience, perspective and more?
Then you need look no further, I AM WOMAN has been created by women like you, for women like you.
We support you by:
Hosting dynamic monthly motivational meetings where women have a platform to network with other women like themselves, make new contacts to help them build more business, learn new skills, gather new experiences, share their talent, sell what they love doing and 

more.
Getting alongside women by offering them an affordable I AM WOMAN annual membership to help them develop themselves, their businesses and their customer base through coaching, mentoring, training, continuing professional development and 

more.
Enabling our members to develop their businesses nationally by having the opportunity to visit other I AM WOMAN groups throughout the UK, benefiting from the support of other women and 

more.
Delivering a leading edge portfolio of workshops and master-classes that have been designed by women for women to take them and their businesses to another level and 

more.
Supporting you 24/7 online via our I AM WOMAN Facebook forum where women all over the globe share experiences, tips, business development tools, concerns, worries, challenges and much, much 

more.