Event Information
Refund policy
Contact the organiser to request a refund.
Eventbrite's fee is nonrefundable.
Join our online workshop dedicated to Japanese art of Kintsugi and experience the healing power of artistic restoration.
About this event
The art of Kintsugi originates from Japan where artisans began using lacquer and gold pigment to put shattered vessels back together. Nowadays, this process of mending broken porcelains, dusted with gold, or silver powder, aims to make what once was broken look even more attractive than ever.
However, Japanese Kintsugi is not only about mending our broken ceramic objects, but it has a more profound meaning and teaches us about our attitude towards life. With the Kintsugi mindset, when things are broken, we don't analyse how it happened. Instead, we accept it as it is, without any judgement. We apply gold or silver dust glue to broken parts of porcelain objects to emphasise 'the scar' and make it shine even more, embracing our imperfections, flaws, wounds and painful experiences as a part of our unique paths and personalities. Exposing vulnerabilities, by admitting our errors, creates intimacy and trust and shows the development of the character through hardships. Kintsugi helps us to develop more compassion towards ourselves and others and learn how to appreciate broken pieces of our lives.
In this session, we invite you to join with one of your broken porcelains (a cup, plate etc). Azumi Uchitani will give you insights into the philosophy behind Kintsugi and guide you step by step in this restorative process. After this session, you will have your broken object transformed into your unique piece of art, feeling healed with much love.
Please, prepare a Kintsugi kit before the class: you can get one at your local art supply store, order a kit online or use the one you already have from the previous session.
SPEAKER - AZUMI UCHITANI
Azumi Uchitani is an Intercultural business consultant, keynote speaker, writer, artist and founder of Japanese SALON art & culture, based in the Netherlands. She is a two-times TEDx speaker, appearing Dutch TV and media and delivering talks to an international audience in Europe and in the US.
Azumi is on a mission to build an essential bridge between Japan and Europe, helping global leaders discover Japanese ancient wisdom beyond culture, teaching how to apply its wisdom in everyday life, act with inner peace and create
conscious leadership and fulfilling life. Azumi decodes the complexity of Japanese culture, tradition, philosophy, spirituality and unspoken rules into a simple essence of wisdom. She was born into a traditional spiritual Japanese family and raised with the teachings of Shingon Buddhism and Shinto. The spiritual and cultural practices, such as tea ceremony, flower arrangement, calligraphy have always been a part of her life, besides that, her grandmother was a kimono maker.
Her insights, a series of talks are available on her YouTube channel "5 minutes on Japanese Wisdom" on YouTube.
http://www.azumiuchitani.com
http://www.japanessalon.nl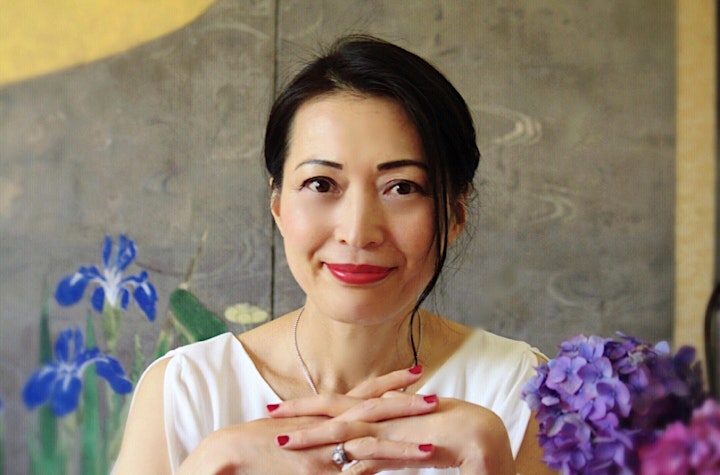 Before
All attendees will be sent joining instructions in advance of the event. Please check your junk/spam folder if you don't hear from us by 12h before the event. Also, please, note that if you unsubscribe from us (Different Level) before the event, we will not be able to share updates and event details with you.The talk will be on Zoom, so if you join us on a mobile device (mobile phone or tablet) you will need to download the app (free) from the App Store / Google Play Store beforehand.
Refunds
Please, note that we issue refunds on tickets cancelled at least 24h prior the event.
When price is an issue...
We understand and respect different life situations. If you are in a position that price is a barrier for you to attend this event, contact us directly and we will grant you a free ticket, no questions asked. We design these events to be as inclusive and as open to everyone as possible.
***
Full list of events can be found on our website:
www.different-level.com/events
Please, subscribe to our email list and you will never miss new event announcements, special offers and updates (https://mailchi.mp/b46ea5e68e17/newsletter-sign-up)
Follow our calendar:
https://www.addevent.com/calendar/jU386284
Date and time
Location
Refund policy
Contact the organiser to request a refund.
Eventbrite's fee is nonrefundable.