Embracing Spirit With a difference with Shelley Youell & Steven Trolland
There is no set price, This event is open to a donation or your choosing!
About this event
This event will be exiting where Steven & Shelley through their years of dedication which has now become their life's passion, simply because there is nothing more fulfilling that touching souls, bringing tears of joy, happiness and over all we will be touching love in both worlds
This special event is open to a small donation of your choosing
MAKE SURE YOU KEEP YOUR TICKET HANDY! If you have an account with Eventbrite you will be able to login and find your ticket.
On your ticket by 7pm on the evening of the event, your button will appear that will take you into the room for the 7:30pm start.
Encase you are not familiar with logging into Eventbrite to claim your ticket, One day prior to the event you will also receive your "unique Zoom codes" to the e mail that you provided at the time of booking.
We would advise that it would be of benefit to you to download the app to your device if you don't already have it
Our very best wishes
Steven & Shelley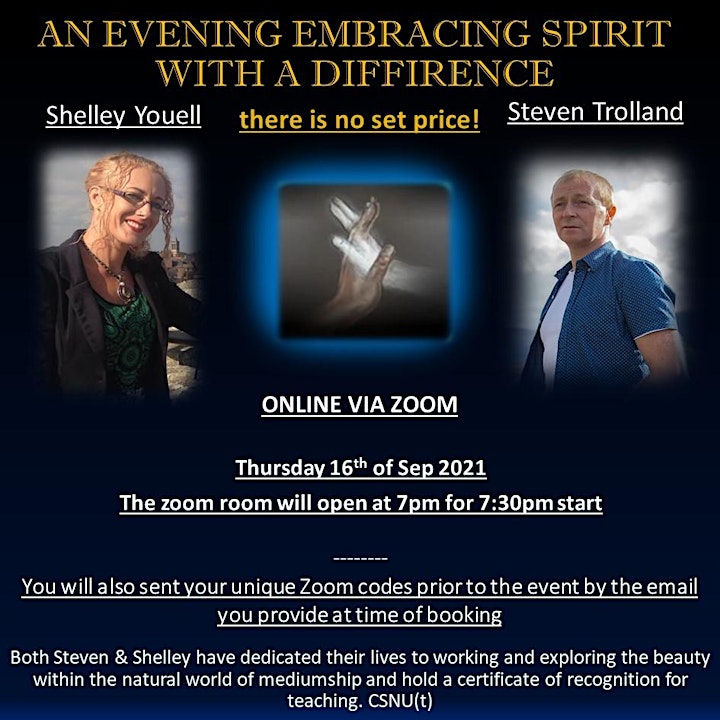 Organiser of Embracing Spirit With a difference with Shelley Youell & Steven Trolland