An introductory session to embroidery. All materials and refreshments included.
About this event
Michaela is an exceptionally gifted and talented craftswoman whose philosophy in life is to 'live the life you imagine'.Join us for a lovely relaxing session learning the art of embroidery. A deceptively simple floral design and completely suitable for beginners. You will learn how to do backstitch, stem stitch, French knots and some free-form stitching. By the end of your session, you will have mastered the basics, been inspired and have completed your first embroidered picture, similar to the image above.
This workshop will open your eyes to the possibilities and uses of embroidery and show you how to personalise and showcase your newly creative skill.
Who is the workshop for:
Perfect for beginners
People with experience who would like to spend time with like-minded people.
What you will learn:
Backstitch
Stem stitch
French knots
Some free-form stitching.
What is included: – All materials, tools and refreshments are included in the session
Outline of your time
Welcome with refreshments and meet your tutor Michaela.
Introduction to materials and tools.
Select colours and learn the stiches
Refreshment break
Continue where you left off
Home time
You will finish your session having completed a lovely embroidered image perfect to expand on, frame as a picture or use to add embellishment to another item, such as a bag, cushion or jacket.
About your tutor Michaela Bere
A Textile Artist who works mainly in Hand Embroidery and Bookbinding, she is drawn to hand work, using few tools and follows in the footsteps of craftsmen and women who have been before her.
A Fashion Design Graduate, she now favors hand stitching over machine and uses her hand stitching to make embroidered jewellery, hand bound books and embroidered sketches which she sells online and in shops. An excellent teacher of the craft, Michaela has run and taught workshops for 10 years along with a weekly stitch club in Lincoln.
To ensure the quality of your personal experience, group size will be limited to 8.
For more information about this event or other Rural Antics workshops, contact Hanwell Wine Estate, events@ruralantics.co.uk or 01949 81393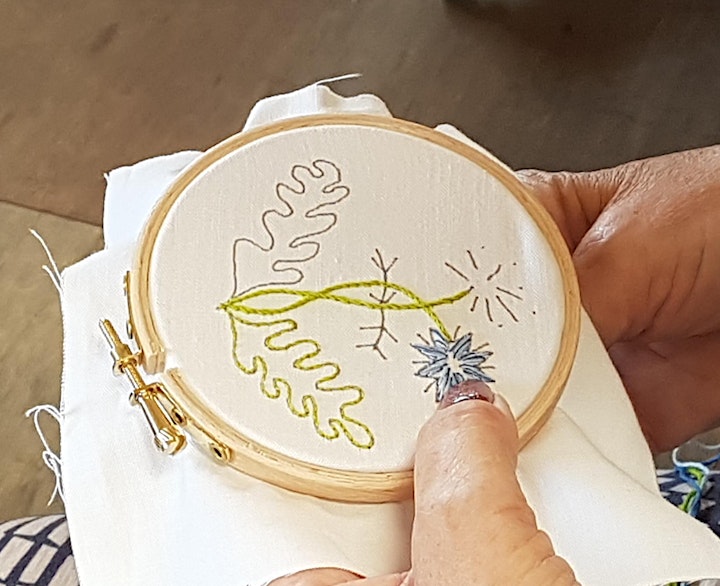 Organiser of Embroidery Workshop for Beginners
Here at Hanwell Wine Estate, we love hosting Rural Antics workshops!
They enable us to open up the wonderful countryside setting of our vineyard to you, giving us all the opportunity to get closer to nature.
Hand-making great wine is a real craft and Rural Antics provides a space for us to involve interested people in our wine-making, alongside other artisan past times, such as chair weaving, foraging and painting.
Carpe diem – seize the day!