Description
Update 5th May. This course has proved very popular- all places were filled within 12 hours of this course being released. There is a waiting list in operation but it is unlikely that anyone added to the waiting list from today will secure a cancellation place. Please do feel free to add your name to the "waiting list" as we can use this to evidence demand for courses of this type, we are also hoping to secure additional funding to be able to provide further training over the coming year. Thank you for your understanding and please accept our apologies for any inconvenience this may cause.
Emergencies in General Practice Course
How confident would you be managing an infant with anaphylaxis in your practice? Or an

asthmatic child, whilst waiting for an ambulance?

If a patient was fitting in your waiting room, could you manage their airway?

What's in your practice resuscitation kit? Could you improve it ? Are you confident to use

it all?
A one day course aiming to improve knowledge and practical skills relevant to managing adult and paediatric emergencies in the general practice setting.
Content will include:
practical workshops (e.g. airway management)
mandatory training in adult CPR/AED use
paediatric BLS and emergency management
simulated emergencies (adult & paeds) in small groups with manikins; opportunity to 'team lead' at least one simulation, with supportive debrief from an experienced faculty.
The course uses resuscitation equipment and AEDs typically available within a general practice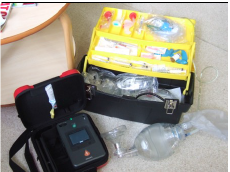 This is a well-established course that we are pleased to be able to deliver locally, facilitated by Dr Olivia O'Connell leading an experienced faculty. Recent feedback for the course includes
"Practical, pragmatic, supportive learning in a non-threatening environment"
"Excellent simulation stations"
"Should be made mandatory"
The Nottinghamshire Urgent and Emergency Care Partnership are pleased to fund this course for GP's working within Nottinghamshire.
Places are limited. Please note that non-attendance on a booked place or failure to cancel a place more than 7 days before the event will incur a fee of £25.
Please see below for travel/parking information for Nottingham City Hospital.
https://www.nuh.nhs.uk/getting-here/city-hospital/
Lunch and refreshments will be provided - please notify me at time of booking if you have any specific dietary requirements
Please note- we believe the times listed will be those of this course but will be confirmed nearer the time.