Description
1 Day Emergency First Aid at Work Course
The Emergency First Aid at Work course is ideal for lower risk businesses, in line with the Health and Safety (First Aid) regulations 1981.
Who Should attend?
Anyone over the age of 16 who may need first aid skills.
Course outline
All our training courses have a blend of theory, demonstrations and practical work. We aim to make our workshops both fun and rewarding.
• First Aid Priorities
• Managing Incidents
• Basic Life Support
• Examination of a Casualty
• Unconsciousness
• Control of Bleeding
• Burns and Scalds
• Regulations
• First Aid Kits
• Recording and Reporting
Course Duration
1 Day
Assessment & certification
Certification is dependent on successful continuous assessment, there is no final exam. Once you have completed and met the requirements you will be issued with a certificate that is valid for three years. Under the current guidelines it is strongly recommended that first aid trained staff attend a half-day update every twelve months.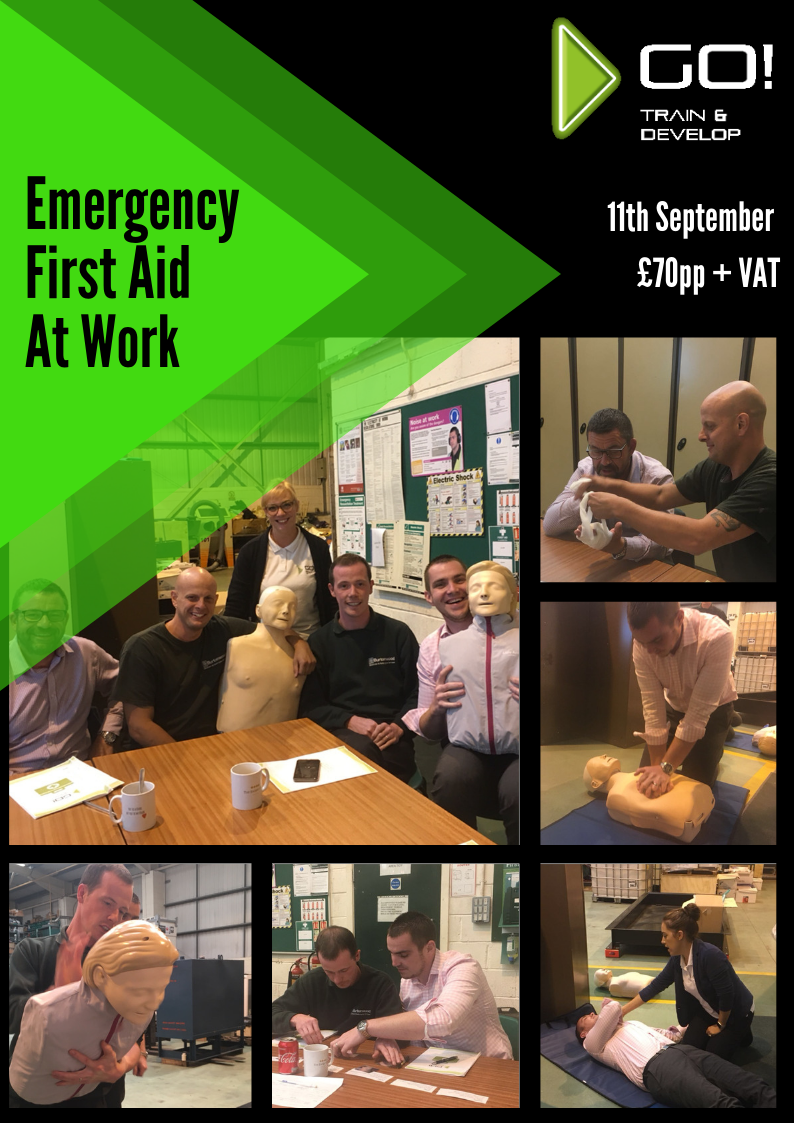 By purchasing a ticket, you confirm that you have read and agree with our terms and conditions below:
THE FOLLOWING CONSTITUTE THE TERMS AND CONDITIONS TO WHICH APPLICANTS AGREE WHEN BOOKING ANY GO! TRAIN AND DEVELOP (GTD) FACE-TO-FACE TRAINING COURSES (

TERMS AND CONDITIONS

). THROUGHOUT THE TERMS AND CONDITIONS

GTD RESERVES THE RIGHT TO REVIEW AND UPDATE THESE PERIODICALLY.
BOOKING A TRAINING COURSE

TRAINING COURSES CAN BE BOOKED VIA THE GTD WEBSITE, TELEPHONE OR EMAIL. WHEN YOU SUBMIT A BOOKING REQUEST VIA THE WEBSITE OR BY EMAIL YOU WILL RECEIVE AN EMAIL ACKNOWLEDGEMENT SUMMARISING YOUR REQUEST, A BOOKING FORMS TO BE COMPLETED AND RETURNED, FOLLOWED BY A CONFIRMATION INVOICE. A COURSE IS NOT CONFIRMED UNTIL A SIGNED COPY OF THE BOOKING FORM IS RETURNED. CERTAIN COURSES MAY REQUIRE INFORMATION ON THE DELEGATES ATTENDING, THIS INFORMATION IS FOR THE COURSE ONLY, AND IS REQUIRED TO ENSURE THE COURSE IS APPROPRIATE FOR THE ATTENDEE.


PAYMENT
FEES MUST BE PAID BY THE DATE AS STATED ON THE INVOICE AND BY THE AGREED PAYMENT PROCESS. IF YOU HAVE AN APPLICABLE DISCOUNT INVOICE CODE THIS MUST BE ENTERED AT THE TIME OF BOOKING, AS THE DISCOUNT CANNOT BE APPLIED RETROSPECTIVELY.
WE CANNOT INVOICE FOR FEES, OR ACCEPT PAYMENT, BY INSTALMENTS.
LEARNING
THE FACE-TO-FACE TRAINING COURSE FEES INCLUDE: TUITION ON THE DAY(S), ALL RELEVANT COURSE MATERIALS ARE PROVIDED IN HARD COPY (BUT PLEASE NOTE THAT UNDER NO CIRCUMSTANCES WILL ANY ELECTRONIC VERSION BE PROVIDED, WHETHER BEFORE, DURING OR AFTER THE TRAINING COURSE).
SPECIAL REQUIREMENTS AT THE FACE-TO-FACE TRAINING COURSE

GTD WILL MAKE EVERY EFFORT TO ACCOMMODATE SPECIAL REQUIREMENTS THAT HAVE BEEN NOTIFIED IN ADVANCE ON THE BOOKING FORM.

HEALTH AND SAFETY AT THE FACE-TO-FACE TRAINING COURSE

YOU MUST COMPLY WITH ALL HEALTH AND SAFETY RULES AND REGULATIONS AND ANY OTHER REASONABLE SECURITY REQUIREMENTS THAT APPLY AT THE PREMISES AT WHICH THE TRAINING COURSES ARE PROVIDED.

BEHAVIOUR

GTD RESERVES THE RIGHT TO REMOVE ANY DELEGATE FROM A TRAINING COURSE WHOSE BEHAVIOUR IS DEEMED INAPPROPRIATE BY GTD OR ITS TRAINERS. IN THESE CIRCUMSTANCES, GTD WILL NEITHER REFUND ANY FEES NOR REIMBURSE ANY OTHER COSTS.

TRAINERS

GTD SHALL PROVIDE SUCH TRAINERS TO PRESENT THE TRAINING COURSE AS IT, IN ITS SOLE DISCRETION, DEEMS FIT AND GTD SHALL BE ENTITLED AT ANY TIME TO SUBSTITUTE ANY TRAINER WITH ANY OTHER PERSON WHO, IN GTD'S SOLE DISCRETION, IT DEEMS SUITABLY QUALIFIED TO PRESENT THE RELEVANT COURSE.




OWNERSHIP AND INTELLECTUAL PROPERTY RIGHTS

ALL MATERIALS, ON A TRAINING COURSE ARE OWNED BY GTD. ALL INTELLECTUAL PROPERTY RIGHTS IN ALL MATERIALS AVAILABLE FROM GTD, INCLUDING THE DESIGN, GRAPHICS AND TEXT OF ALL PRINTED MATERIALS, ARE OWNED BY GTD. NO GTD CONTENT MAY BE COPIED, REPRODUCED, UPLOADED, POSTED, DISPLAYED OR LINKED TO IN ANY WAY, IN WHOLE OR IN PART, WITHOUT GTD'S PRIOR PERMISSION. ANY SUCH USE IS STRICTLY PROHIBITED AND WILL CONSTITUTE AN INFRINGEMENT OF GTD'S INTELLECTUAL PROPERTY RIGHTS.


LIABILITY

GTD DOES NOT ACCEPT RESPONSIBILITY FOR ANYONE ACTING AS A RESULT OF INFORMATION IN, OR VIEWS EXPRESSED ON, ITS TRAINING COURSES INCLUDING COURSE MATERIALS. OPINIONS EXPRESSED ARE THOSE OF INDIVIDUAL TRAINERS AND NOT NECESSARILY THOSE OF GTD. PARTICIPANTS SHOULD TAKE PROFESSIONAL ADVICE WHEN DEALING WITH SPECIFIC SITUATIONS.


CANCELLATIONS
IN THE EVENT THAT (FOR WHATEVER REASON) IT'S REPRESENTATIVE(S) FAILS TO ATTEND OR WITHDRAWS FROM A TRAINING COURSE WHICH HAS BEEN BOOKED, WITHOUT PROVIDING AT LEAST 28 DAYS WRITTEN NOTICE PRIOR TO THE SCHEDULED COMMENCEMENT DATE, THE FOLLOWING CANCELLATION CHARGES WILL BE APPLIED:
1 – 14 DAYS = 100% CANCELLATION CHARGE
15 – 21 DAYS = 50% CANCELLATION CHARGE
22-28 DAYS = 25% CANCELLATION CHARGE
> 28 DAYS = NO CANCELLATION CHARGE


UNPAID INVOICES

ANY INVOICE THAT REMAIN UNPAID WILL INCUR CHARGES AT 8% ABOVE THE BASE RATE PER DAY OVERDUE PLUS £40 COMPENSATION FEE. INVOICES THAT REMAIN UNPAID AFTER 22 DAYS WHEN A REMINDER HAS BEEN SENT WILL INCUR A 15% LATE FEE ON TOP OF THE FEES MENTIONED ABOVE. THIS IS IN LINE WITH THE LATE PAYMENTS OF COMMERCIAL DEBT REGULATIONS 2013.


BLACK FRIDAY DEALS AND PROMOTIONS

Cannot be used in conjunction with any other deal or offer

Minimum and maximum participants apply. No more than 12 per training session with a minimum of 4 attendees.

Training is to be booked on the specified deal days by quoting the reference e.g. #GOBlackFriday2017

Training dates and locations are not fully confirmed until a completed booking form is returned and our terms are agreed to

Exclusions to the black Friday deals, the following courses are not available in the deal:
I.

FIRST AID FOR PARENTS
II.

THE SPRINGBOARD WOMEN'S DEVELOPMENT PROGRAMME