Description
London Stock Exchange Group have developed a EMIR reporting foundation course to provide operations and compliance staff with a thorough grounding in the EMIR reporting requirements.
There are various course dates available over 2015. All courses run from 9.00am-12.30pm on the day specified. Please view the list below:
Course Dates
Exam Dates
2015
22 January
27 January
17 March
24 March
18 May
22 May
13 July
21 July
6 October
13 October
8 December
15 December
All course dates will be accompanied by an exam to provide evidence that the candidates have reached an appropriate level of understanding. The exam runs from 9am-10am on the dates listed above.
NB: You will be scheduled to sit the exam for when you take the course. All attendees must ensure they are available for both the course and the relevant exam per the dates listed above. Any attendee not available for the exam must pay an additional £100 re-sit fee.
Course Details
The foundation course provides training on the core elements in the EMIR reporting requirements including:
– Background to the transaction reporting requirements
• G20 Commitment
• Key documentation
– What entities need to report
• Definitions of a financial and non-financial counterparty
• Geographic considerations
• Buy-side considerations
– Definition of a derivative
• Particular focus on FX derivatives
– How and when reports need to be made
– Trading Scenarios
• Exchange trade derivatives – who reports against who
• ETD give-ups
• OTC cleared v OTC bi-lateral
• Terminations and partial terminations
– Position Reporting
– Collateral & Valuation Reporting
– Data standards – basics
• Generic descriptions all fields covered in the ESMA Reporting Technical Standards
• Legal Entity Identifiers
• Unique Trade Identifiers: format and generation
• Product Identifiers: ISIN, Aii and interim
• Data Validation (when blanks and 'NA' can be used)
– Reconciliation
• pre- reporting
• Inter-TR reconciliation
Cost:
£400 plus VAT (UnaVista client rate)
£600 plus VAT (non-UnaVista client rate)

NB: UnaVista clients will be invoiced the fee. Non-UnaVista clients can pay by credit card.
If you completed the EMIR Introduction Course then you will have received a discount code, please enter this into the ticket area above. For clients the discount will be reflected in the invoice.
Course Tutor - David Nowell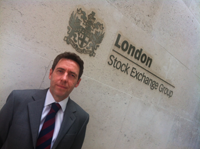 David Nowell is Head of Industry Relations and Regulatory Compliance at the London Stock Exchange. He has over 20 years financial services experience on both sides of the regulatory fence, having worked previously for the FSA, Reuters and Credit Suisse. At Credit Suisse, he was Transaction Reporting Manager, responsible for ensuring compliance across all aspects of the reporting process and advising on new regulatory requirements. Prior to this, Nowell was a Technical Specialist within the Transaction Monitoring Unit at the FSA, where he was responsible for shaping the transaction reporting rules and providing guidance to UK firms. David was the FSA's representative on transaction reporting in Europe for a number of years where he was intimately engaged in policy negotiations with other regulators, giving him a unique insight into the policy making process and the regulators' expectations of the industry.


Who is this course suitable for?
This course is suitable for anyone who EMIR reports. It is a foundation level qualification. This must be completed before attending the satellite courses.
Other courses you might be interested in
UnaVista and the London Stock Exchange run a number of other courses on both financial regulation and the UnaVista platform, please check the website for the most up to date times. Courses being run include:
· MiFID Transaction Reporting Foundation Course
· UnaVista Transaction Reporting End User Course
If you are interested in any of these courses please take a look at our website for details of the next available session.
Can't attend this time? Register your interest here for the next EMIR Reporting Course.
Before booking, please ensure you have read our cancellation policy.