The diaries provide a unique, front-row view of the great events of war and intimate moments with Mary Churchill's father
About this event
The Beaumont Hotel is resuming its in-person literary series, bringing together the world's best and brightest writers to read from their latest works. The Beaumont will host a series of evenings, gathering people under one roof for a night of reading and refinement. And with every hotel bedroom brimming with hard-bound books and a private dining room named after The Lotos Club in New York - one of the oldest literary clubs in the United States - The Beaumont is a fitting host for this celebration of authors and writing.
As part of the series, we will showcase young writers alongside established literary names, putting a spotlight on intelligent and intriguing non-fiction stories with our overall aim being to curate a series of stimulating and engaging events.
Prior to each reading and discussion, guests are invited to enjoy a drinks reception with canapés in the private dining room. Each guest will also receive a copy of Mary Churchill's War: The Wartime Diaries of Churchill's Youngest Daughter ( Two Roads ) by Emma Soames as part of their ticket.
MARY CHURCHILL'S WAR: THE WARTIME DIARIES OF CHURCHILL'S YOUNGEST DAUGHTER BY EMMA SOAMES
In 1939 seventeen-year-old Mary found herself in an extraordinary position at an extraordinary time: it was the outbreak of the Second World War and her father, Winston Churchill, had been appointed First Lord of the Admiralty; within months he would be Prime Minister.
The young Mary Churchill was uniquely placed to observe this remarkable historical moment, and her diaries -- most of which have never been published -- provide a front-row view of the great events of war, as well as exchanges and intimate moments with her father. But they also capture what it was like to be a young woman during wartime. An impulsive and spirited writer, full of coming-of-age self-consciousness and joie de vivre, Mary's diaries are untrammelled by hindsight or self-censorship or nostalgia.
From aid raid sirens at 10 Downing Street to seeing action with the ATS, from cocktail parties with presidents and royals to accompanying her father on key diplomatic trips, Mary's wartime diaries are full of colour, rich in historical insight, and a charming and intimate portrait of life alongside Winston Churchill.
ORDER OF EVENTS
18.30 Drinks and canapés
19.15 In-Conversation with Emma Soames
Tickets £29 and include a copy of Mary Churchill's War: The Wartime Diaries of Churchill's Youngest Daughter ( Two Roads )
ABOUT THE AUTHOR
Emma Soames is a writer, broadcaster and columnist who has been editor of the Literary Review, Tatler, ES Magazine, the Telegraph magazine and Saga. She is the second child of Mary and Christopher Soames and is her mother's Literary Executor, and is a granddaughter of Winston and Clementine Churchill.
The Churchill Archives Centre is located in the grounds of Churchill College, Cambridge. It was purpose-built in 1973 to house Sir Winston Churchill's Papers, and is now home to the papers of almost 700 important political, military and scientific figures from the Churchill era and after. Contemporaries of Winston Churchill sit alongside major political, military and scientific figures such as Margaret Thatcher, Ernest Bevin, John Major, Neil Kinnock, Admiral Ramsay, Field Marshal Slim, Frank Whittle and Rosalind Franklin. Situated within the grounds of Churchill College, Cambridge, itself the national and Commonwealth memorial to Sir Winston, the Archives Centre's mission is to preserve and make available to the public the unique materials in its care.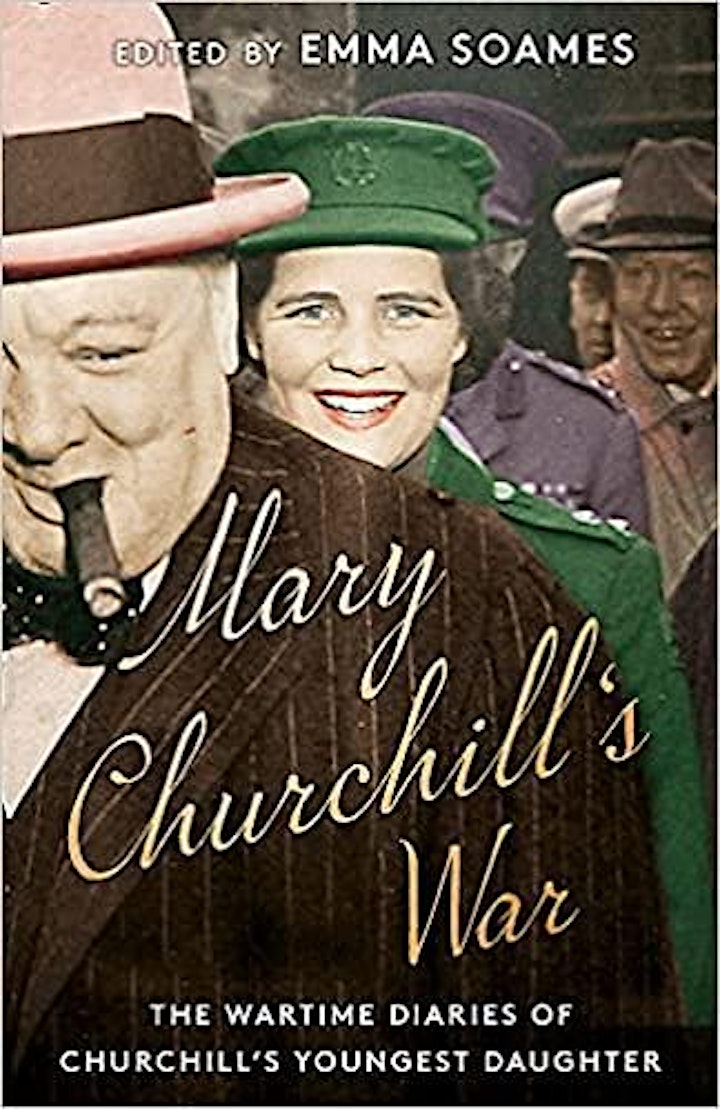 Organiser of Emma Soames - Mary Churchill's War