Understand yourself and your loved ones better, by beginning a journey of stronger emotional communication.
About this event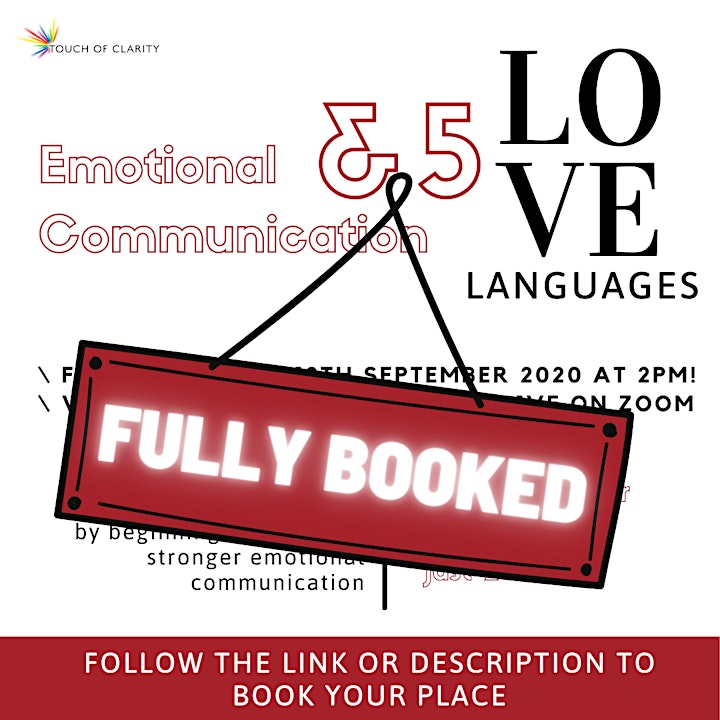 UPDATE 10/09/20: Thank you for your interest in this workshop. It's now fully booked. You can find details of, and book yourself into, the next one here: https://www.eventbrite.co.uk/e/111173185992
How do I express love to others in a way that is most meaningful to them personally? How can I communicate my emotional need for love accurately? How is it that I can feel as though I am giving all of my love, but my partner/child/friend does not feel loved at all, or vice versa?
PART I
This fun and engaging portion of the workshop is all about discovering what 'love languages' are, and then discovering what your predominant receiving love language is. It will put into perspective the communication strengths within your relationships.
PART II
After you've learned about the five love languages and discovered which your primary love language is in part 1, it's time to really use your new-found knowledge purposefully. We'll discuss how to really master the love languages so that anybody in your life will feel more loved by you, no matter what depth of intimacy the relationship stands. We'll also have group discussions on specific love languages so that ideas, experiences and challenges can be shared and discussed in a private and confidential setting.
You'll walk away from the workshop understanding yourself and your loved ones better.
Based on the work of Dr. Gary Chapman, I ran my first 5 Love Languages workshop back in 2014, and I've seen the life-changing impact of this workshop on people's relationships. Don't miss out!
Organiser of Emotional Communication & 5 Languages of Love - Virtual Live Workshop
Hi! My name is Claz and I'm an accredited Life, Career & Wellbeing Coach with the International Authority for Professional Coaching & Mentoring, as well as a professional Holistic Therapist with qualifications in anatomy, physiology and healthy eating & wellbeing (nutritional basics).
I'm passionate about seeing happier and healthier people!
I love seeing transformation in determined people who want to make sustainable changes in their lives. I engage people on that journey in 2 main ways: running workshops (you'll see a list below) and taking on 1:1 clients.
You can learn more about me on my website! Until then, this image shows you the 8 wellbeing keys that my clients would work on with my support.