Description
EFT is the most popular modality from a new wave therapies known as Energy Psychology (EP). EP methods blend the ancient Eastern healing tradition of the mind-body with the best of contemporary psychological practice. EFT is tapping on 14 bio-active points on the body (acupuncture points) while experiencing a negative feeling or physical discomfort.
Scientific research and more than 100 validated clinical trials from the past 10 years report significant psychological as well as physiological effects lasting over time with bio-markers of hormones and genes being regulated.

It is used as an effective solution to all sorts of emotional or physical problems, panic attacks, phobias, depression and mental disorders, insomnia, allergies, addictions, weight loss, eye-sight improvement and peak performance in any sphere of life. It takes minutes to apply and helps us deal with stress and negative emotions in a new, painless way.

Applying the technique is done by tapping the end points of the acupuncture meridians while tuned into the negative emotion or physical discomfort and naming it. Medical research shows that tapping sends a calming signal to the amygdala, the brain centre responsible for "fight or flight" response to real or perceived danger. This signal breaks the connection between the trigger and the mind-body response as a result of which the capacity for rational thinking and problem solving is increased dramatically.

Deepak Chopra, MD EFT offers great healing benefits.

Jack Canfield, author of Chicken Soup For The Soul EFT is the most powerful new technology for transformation that has come out in years.

Bruce Lipton, PhD, an internationally recognized leader in bridging science and spirit EFT is a simple, powerful process that can profoundly influence gene activity, health and behaviour.

Join Irena Relyovska-Barton - EFTMR Academy Master trainer and the only Bulgarian with Gary Craig's academic EFT Certificate - to learn EFT on this intensive, transformational and inspiring course.

What you will learn on Level 1 – 21 June 2019

• Brief history of EFT and the science behind EFT
• The discovery statement upon which EFT is based and the incredible implications this has in the healing process
• Understanding and experiencing the effects of energy system disruptions
• Psychological reversal – a new understanding of the reasons why we don't heal and simple techniques to overcome this very common obstacle
• The 'Basic Recipe'. Learn the full EFT protocol, with demonstrations and experiential practice
• EFT shortcuts – learn ways to streamline this already quick and elegant therapy
• Techniques to greatly improve the effectiveness of EFT – including the importance of being specific, dealing with shifting aspects of memories and emotions, special points and being persistent
• Discover the wide range of physical and emotional issues for which EFT is effective and the few areas were EFT shouldn't be used
• Testing the effectiveness of treatments and how to handle situations that can arise
• Learn and practise some of the EFT techniques – including the 'Constricted Breathing Technique', the 'Movie Technique', 'Chasing the Pain'
• Understanding cognitive shifts – what verbal and physical signs to expect
• Lots of practice working with and experiencing the incredible results of EFT on your own issues
• Experience working with bothersome memories, phobias and addictive cravings
• What to do when EFT doesn't work.

What you will learn on Level 2 - 22 – 23 June 2019

• Principles from The Palace of Possibilities – understanding how our lives, the people with whom we have interacted and the situations we have found ourselves in the past, cloud and become the focus and filters through which we see and experience life now
• Using affirmations with EFT. Understanding the reasons why these potentially incredible methods of focusing our intention and creating our desired reality often fail to work. Also how we can use EFT to remove these obstacles and create the future we desire
• Additional tapping points. Learn other meridian points that can be added to aid EFT treatments
• Ways to inject more gentleness into the EFT procedure – the 'Gentle' techniques: the 'Tearless Trauma' Technique, 'Chasing the Pain' and 'Sneaking up on the Problem'
• The 'Personal Peace Procedure' and EFT for addictions
• Ways to find core issues – questions and techniques to get to the core issues and root causes of physical and emotional problems (the 'Garbage and Gold' Technique)
• Further understanding and ways to deal with psychological reversal – how to deal with the 'inner critic' and advanced set-up statements that align energy reversals
• Addressing physical issues with EFT- methods to get to the core issues and emotional reasons behind physical issues and disease
• Further methods for testing results – determining whether an issue has been completely collapsed and how to look for remaining aspects
• Working with EFT by telephone – including exploring the many benefits of using EFT over the telephone
• Delivering EFT in groups – looking at the application, uses and many advantages of group tapping
• Borrowing benefits – see and experience the many powerful positive side effects when using EFT in groups.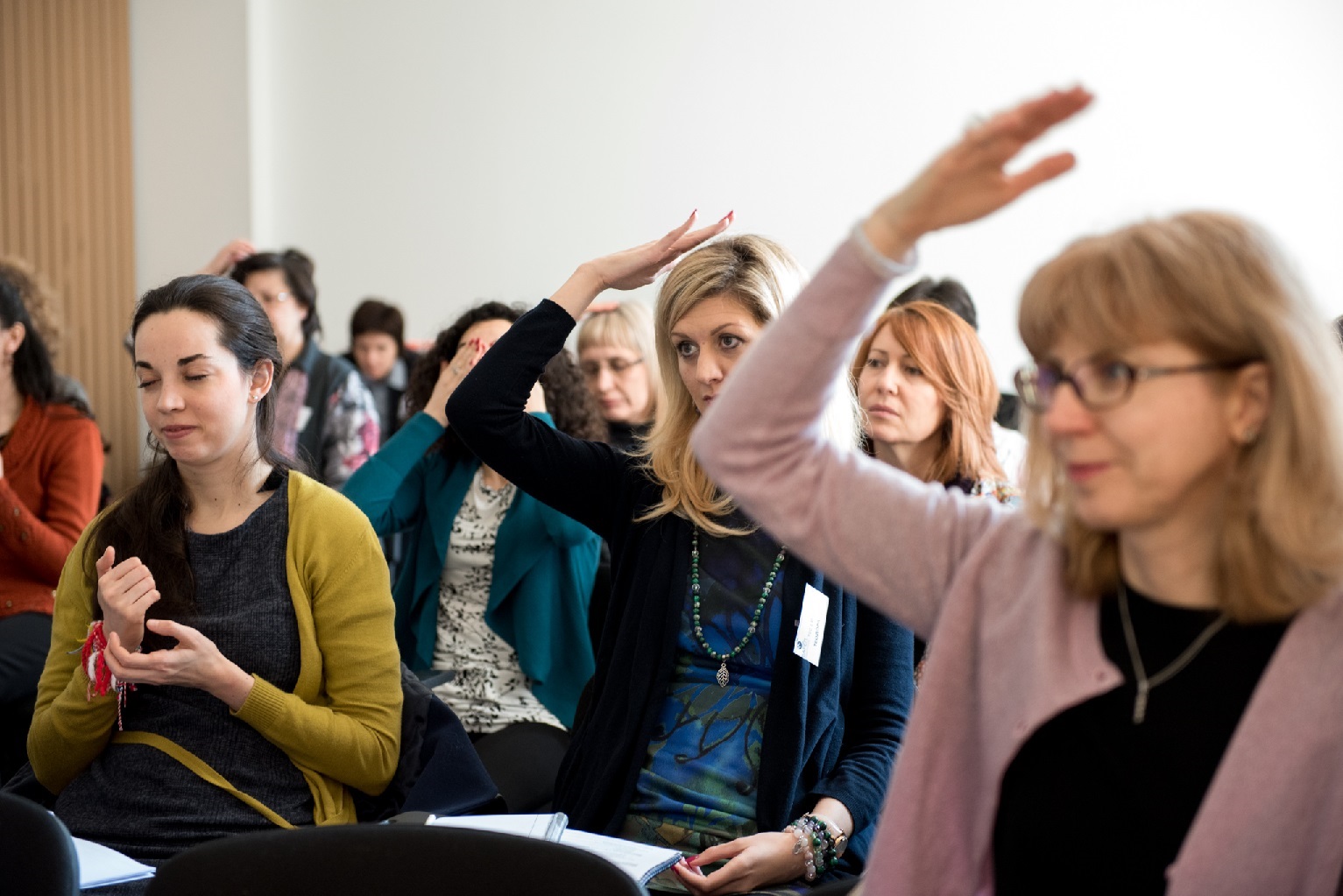 Testimonials:

Dear Irena, Thank you for the wonderful training in EFT Level 1 and 2. You revealed to me a whole new world of endless possibilities and opportunities to unleash our full potential as individuals. As a marvelous addition after the course I got rid of a 20 year old chronic back pain that I have been struggling with! (Despite the fact that I had not specifically worked on it!)
Your love, passion and inspiration are so contagious. So keep spreading the light and help people grow and become their better selves. And once again a huge thank you!
~Dr. Ani Dimitrova MD, certified practitioner

I had no expectations for the seminar yet I feel ascended after these 3 days. That's the word: ascended. I believe that Irena lives her mission. The experience with EFT that she has acquired is so evident. I am already recommending EFT to my clients and to my colleagues. EFT and Matrix Reimprinting enlighten and heal the darkness held in the soul like an instrument which lightens the truth. They set our hearts free and increase our potential to love. Thank you!
~Pavel Todorov psychotherapist, certified practitioner

I feel extremely happy after attending the seminar. I have acquired self-awareness, techniques to reach the subconscious and new ways to work with any issue. The material was presented most interestingly and with a lot of fervour by Irena. I haven't stopped practicing EFT after the seminar. In my opinion EFT is an extremely powerful instrument in a therapy and I think that EFT and Matrix Reimprinting are the therapy itself.
~H. Kovacheva psychologist, certified practitioner

After the first session with EFT something shifted dramatically. I feel happier, upbeat, more at ease with myself.
This has been so, so wonderful and beneficial for me. Irena is absolutely terrific. I cannot recommend EFT highly enough.
~Josephine Samuel, Scotland

I've never heard of EFT but I thought it was interesting. I learnt so much! I've had a shift for the better. I am articulating to myself and others with greater clarity and complex situations now seem more "simple".
Irena has been a warm knowledgeable leader in facilitating this fascinating practice. She is mesmerizing!
~Christina Willoughby, Scotland

Irena is very special, very knowledgeable, excellent, giving of herself!
~Lynda, Scotland

Included:
Binder with all course materials
PDF of the course PowerPoint
Audio recording of the training course
Certificate of Completion

Course Fee:
Level 1 – £150
Level 1&2 - £395

Special Discount if you've already taken the workshop with another trainer and want a refresher: all three days £100

For more information write to: irena at eft4success.eu