Description
Emotional Intelligence & Anger: How to Be a Better Person
Shaykh Muhammad Al-Yaqoubi
The ability to recognise your own emotions and that of others and deal with situations appropriately is having emotional intelligence.
This can help with anger management. Although anger is a natural human emotion, uncontrolled anger serves as a tool for shaytan leading to devastating consequences.
Learning to manage anger in the light of Quran and Sunnah can have many positive effects in our lives: help with our relationships, general well-being and earn the pleasure of Allah Ta'ala.
Anger can be very destructive. The Prophet ﷺ said: "Verily anger corrupts a matter just as vinegar spoils honey."
Join us and discover ways to gain emotional intelligence, manage your anger, express your feelings in a way that is more beneficial to you and others and consequently become a better human being.
Host: Faraz Yousufzai
Nasheeds: Al Musafirun - The Travellers
Date: Sunday 4th February
Time: 12pm
Venue: Sheridan Suite, 371 Oldham Road, Manchester, M40 7AZ
Early Bird: £10. Take advantage of the Early Bird offer of £10 per ticket if booked before 28th January 2018.
Group booking: £10 off. Take advantage of an additional offer of £10 off for a group booking of 5 people.
Full ticket price: £15 (after Early Bird expires)
Age restriction for entry: unfortunately there are no facilities for children 7 and under. The event is unable accommodate children aged 7 and under.
All children must be supervised at all times by their mother or female guardian.
Limited seats | Reserve your seat via the link: https://propheticwaymanchester.eventbrite.co.uk
Open to all | Segregated Seating.
FAQs: http://thepropheticway.com/faq/
Filming and photography will be taking place in all parts of the event.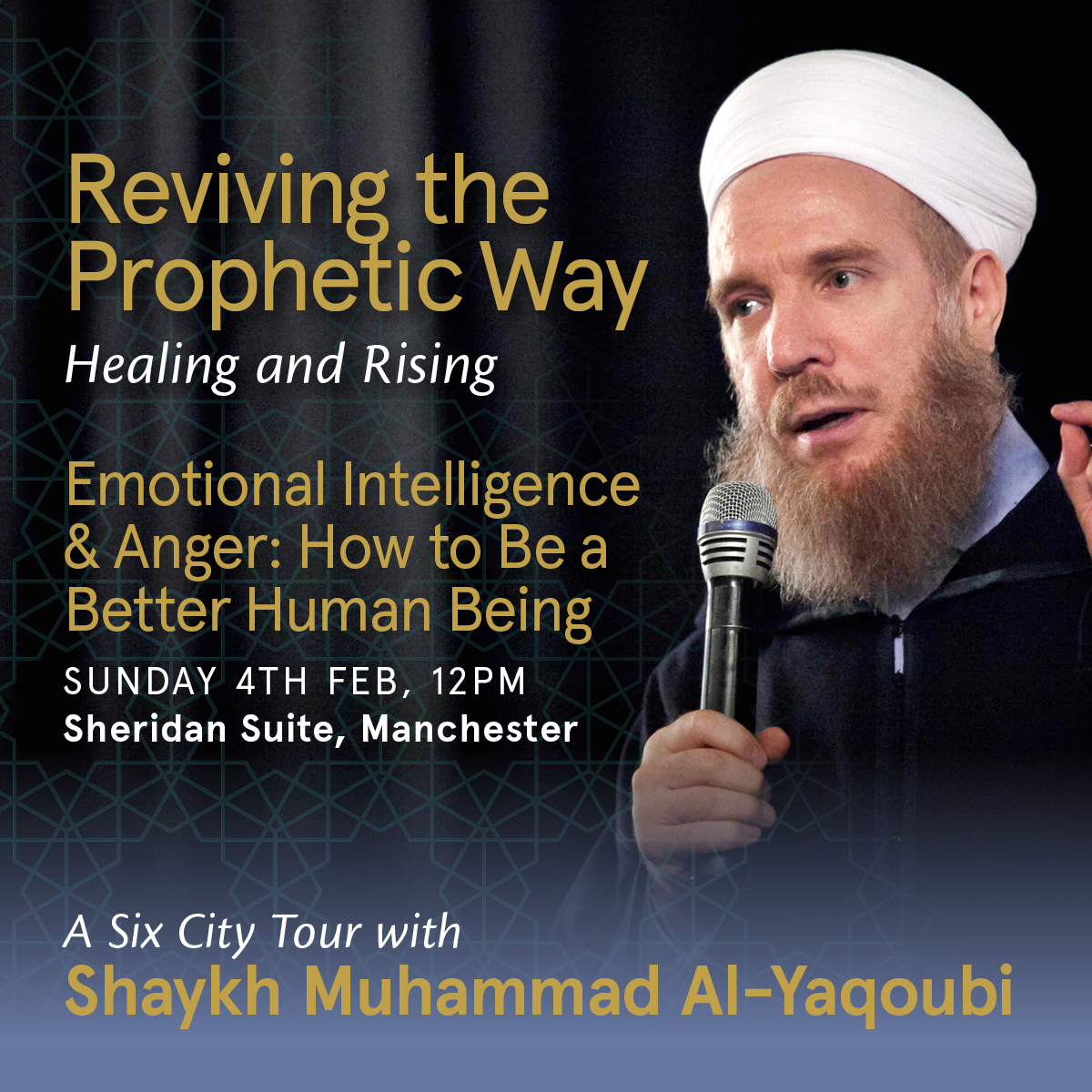 Organiser of Emotional Intelligence & Anger: How to Be a Better Person | Manchester