About this event
AMASE has invited The Action Group Real Jobs to speak to our members regarding employability and the services they offer. Many autistics are unemployed or underemployed. Obtaining help--not only in securing work but maintaining it--can be immensely beneficial for autistic people. Real Jobs can help in a number of ways, from finding a job to mediating with employers to obtain reasonable adjustments.
Anyone in Edinburgh-based with a disability or mental health diagnosis is eligible for services with Real Jobs, and those outside can be signposted to services in their area.
We'd love to see you there!
The event will be held via Zoom and links for the event will be sent to the email address you provided.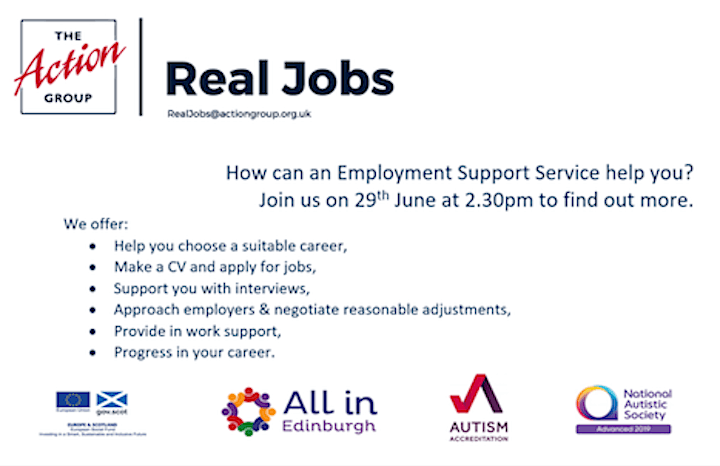 Image Description:
Top left hand corner: The Action Group logo
Next to it: Real Jobs, with the email address RealJobs@actiongroup.org.uk under it
How can an Employment Support Service help you?
Join us on 29th June at 2.30pm to find out more.
We offer:
Help you choose a suitable career,
Make a CV and apply for jobs,
Support you with interviews,
Approach employers & reasonable adjustments,
Provide in work support,
Progress in your career.
At the bottom are four logos:
European Union and Scottish Flag
Europe and Scotland, European Social Fund, Investing in a Smart, Sustainable, and Inclusive future
A rainbow circle of shapes that look like people
All in Edinburgh
Part of an A with a checkmark on the side
Autism Accredidation
A circle with rainbow colours
National Autistic Society
Advanced 2019