Description
Teamtailor and Hibob are joining forces again to bring you our first event together in Stockholm: Employee Experience and the Future of Work.
Employee engagement has been sat at the forefront of any forward-thinking 'people' strategy for a while now.
But recently, the focus has shifted to the holistic approach of the employee experience: covering not only engagement but the entire lifecycle, including growth, wellness and work-life balance.
Following in the footsteps of WeWork and Slack, many contemporary employee experiences are defined by social and digital interactions.
If expectations in the workplace mirror our experience in our everyday lives, how are companies creating workplace environments that will deliver these needs?
Our incredible line-up of speakers include:
Guenda Malinverni, Recruitment Lead at iZettle

Johanna Wikland, Global HR Director at Starbreeze Studios


Helena Sjöberg, HR Lead at Microsoft

Lisa Wetter, Talent Manager at Fishbrain

Maja Samuelsson, HR Director at Mojang AB
Hear our panel of expert speakers answer questions like:
How do you define the employee experience and what are its major components?

How easy is it to create a successful employee experience?

Employee experience vs engagement?

How can companies create environments that meet the modern expectations of employees?

How can technology and data help to improve the employee experience?
Sponsored by: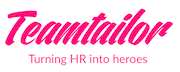 Teamtailor is the All-in-one solution for all your recruitment needs. Everything you need to recruit successfully. Attract candidates and market your workplace at the same time. To learn more send an email to sales@teamtailor.com & 010-330 22 22
bob is a people management platform that helps forward-thinking businesses bring out the best in their employees. To learn more send an email to contact@hibob.com or call 0203 865 9865.