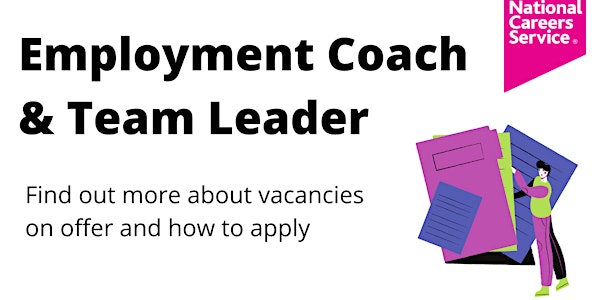 Employment Coach and Team Leader Vacancies Information Session
An opportunity to find out about helping & supporting adults seeking employment. There are vacancies for employment coaches and team leaders
About this event
Come to our webinar to find out about new opportunities to help and support long-term unemployed adults into employment. This is a 2 - year contract called Find Your Future and the roles will suit those who enjoy providing help and support to people to access training and employment.
Employment coaches and team leaders will provide intensive support to job seekers needing more help to enter employment or training opportunities. If you like the idea of helping others, making a difference and a positive impact on peoples' lives, and also have excellent listening skills, empathy, and ability to motivate others, these employment coaching roles will give a high level of job satisfaction. There are also opportunities for team leaders that will particularly suit those with the ability to inspire, supervise and motivate others.
Having the right skillset and values are key to success in these jobs, and the webinar will give you more insight into them and enhance your prospects for making a successful application for this valuable work.
This event will be delivered via MS Teams.
For new customers, we recommend that you have an appointment with a National Careers Service adviser before the webinar takes place.
In the appointment, the careers adviser will help you to:
explore different careers and options
review your strengths, skills and develop your career goals
plan your next steps
make the best use of high-quality, career-related tools
understand the local job market
access learning, training, apprenticeship and employment opportunities, including making applications
develop your CV, interview skills and job searching techniques
implement your plan of action.
By giving us your personal information you are consenting to be contacted by telephone or email by the National Careers Service to arrange an appointment with a careers adviser prior to the webinar.