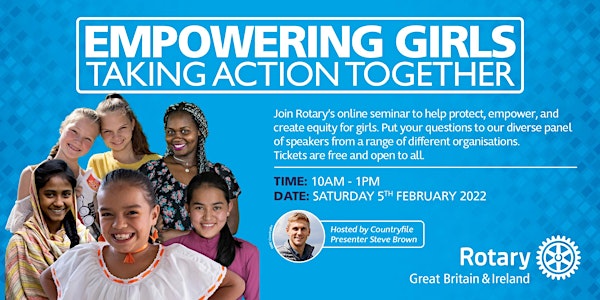 Empowering Girls - Taking Action Together - Online seminar hosted by Rotary
Join Rotary for this online seminar to discover how you can help ensure girls can live safe, healthy, happy and fulfilling lives.
About this event
Saturday 5th February 2022 - 10.00 - 13.00 (GMT)
Rotary's Empowering Girls initiative was launched by Rotary International President Shekhar Mehta to increase our impact through projects that protect, empower, and create equity for girls.
Empowering Girls is a thread that runs through all of Rotary's seven Areas of Focus, and is something we all have a part to play in. We all know daughters, mothers, sisters, aunts and friends who are impacted by the challenges girls face every day.
This online seminar will bring together diverse opinions and speakers from a range of different organisations, discussing topics such as:
Menstrual health and period poverty
Women in STEM (Science, Technology, Engineering and Maths)
The role of women in the fight to end polio
Girls and women in sport
and more...
Hosted by
Steve Brown - Broadcaster, Paralympian and Rotary Ambassador
Steve became paralysed after falling from a balcony at just 23 and went on to captain Great Britain's wheelchair rugby team at the London 2012 Paralympics. Steve is now a popular broadcaster, making regular appearances on Countryfile and The One Show. In May 2021, Steve became an Ambassador for Rotary in Great Britain and Ireland.
Speakers
The event will incorporate panel discussions, with your chance to submit your questions to our speakers below.
Hasina Safi - Afghanistan's Former Acting Minister for Women
Anne Wafula Strike MBE - Paralympian and Inclusivity Campaigner
Elizabeth Usovicz - Rotary International Director and Chair of Rotary's Empowering Girls Initiative Task Force
Nicki Scott - Rotary International Director
Abbie Breakwell - Athlete, GB wheelchair tennis player and coach
Interact and Rotakids - hear what young people have to say
Cathleen Meehan - Rotaract Birmingham, The Personal Care Pantry project
Sharmila Nagarajan - Chair of Rotarian Action Group Menstrual Health and Hygiene
Shwetal Shah - Rotaractor, STEM activist and international speaker on diversity, technology careers and more
Vanessa Madu - Mathematician and advocate for diversity and equal opportunity for all for STEM
Lanai Collis-Phillips - Volunteer and advocate raising awareness of domestic abuse, child abuse and sexual violence and Rotary Young Citizen Award Winner 2021
Poppy Murray - Funder of BELADS initiative in Guernsey
Heidi Eggleton - Chair, Rotaract Great Britain and Ireland
James Thomas - Vice-Chair, Rotaract Great Britain and Ireland
Plan International UK - One of the world's largest children's charities
Lendwithcare - Microfinance charity
Jannine Birtwistle - Rotary GB&I Empowering Girls Lead
Tickets
Tickets are free of charge and open to all. Each registration gives you front row access to the event live through Zoom.
Can't make it? Watch on demand.
The Empowering Girls seminar will be made available on demand on our YouTube channel after the event. Subscribe to be sure you don't miss out.