Description
Join exceptional colleagues to explore a manageable civic engagement programme aligned with the new Ofsted framework.
Every school today faces an insurmountable impasse. A recent report by the RSA shows that 84% of young people desire to make the world a better place and it seems obvious that education should play a pivotal role in mobilising their high aspirations.
Yet, ironically, the development of life-skills through autonomous social action seems unworkable in the day-to-day running of most schools.
This is why Shared Future CIC, an innovative social enterprise, and Werdelin Education are now inviting a range of stakeholders to work together to overcome this challenge through Participatory Budgeting where participants themselves create and present proposals for a vote on how funds should be spent.
Importantly, developing and promoting such bids may serve as a ground plan for student engagement with local community organisations, businesses and higher education and gives meaningful content for community curriculum making and project-based learning for schools and colleges so inclined.
... the launch of the new Ofsted framework makes 2019 an ideal time to fundamentally rethink priorities...


According to research published by #IWill, social action has so far been mostly perceived as "something nice to have or extra that could diminish effort from achieving [...] outcomes." But the "nice" has long since become the necessary, and the launch of the new Ofsted framework makes 2019 an ideal time to fundamentally rethink priorities.
Ofsted has already acknowledged the connection between social action and the curriculum and social action develops employability skills, boosts access to further and higher education, and supports enhanced well-being among young people with particular impact on pupils from disadvantaged backgrounds. The case for youth social action is overwhelming.
(More details on curriculum and potential challenges for educators are found here.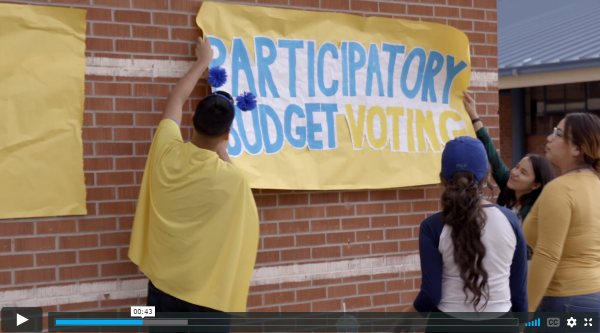 Video: Participatory budgeting in US schools (3m35s)
---
Shared Future CIC has unrivalled expertise in Participatory Budgeting, a proven deliberative process that is recognised by the Scottish Government as an empowering way to involve young people in meaningful civic experiences that can demonstrably develop pupil leadership and life-skills, support pupil and school outcomes and promote pupil and parent voice.
Werdelin Education specialises in Cooperative Learning, a classroom management approach which secures teacher control of the learning process, provides real-time assessment and feedback opportunities, and enforces strict individual accountability while, counter-intuitively, facilitating freedom and empowerment for learners of all ages.
---
Together we are organising this initial co-design workshop to explore opportunities and challenges of a manageable and replicable participatory budgeting programme for Key Stages 2 to 5 consistent with DfE objectives.
Working together with experts from a range of fields you will answer the why, how, who and where of this joint initiative to merge demands for measurable outcomes in education with the imperative urgency of whole-human development and societal engagement.
Explore this innovative and exciting approach to youth empowerment.

Evaluate what has been achieved elsewhere and how it can be applied within UK education.

Develop new connections and relationships with like-minded professionals.

Contribute to building a long term and impactful education programme that will deliver Ofsted objectives and be realistic to for schools in terms of workload and finances.


---
Date: Wednesday 27th March 2019 (10.30am - 4.15 pm)
Cost: Free, Refreshments provided, lunch is not included.