Description
Lives beyond tests. Join kindred spirits to integrate social action with curriculum content.
When asked, 84% of young people express a desire to make the world a better place. But how does education mobilise this dormant energy to fuel learning and forge essential life skills?

With this question in mind, Shared Future CIC and Werdelin Education are inviting you to consider Participatory Budgeting as a sturdy platform to integrate social action with curriculum content and measurable outcomes.
Participatory Budgeting (PB) is a tried and tested civic engagement approach where participants themselves create and present proposals for a vote on how certain funds should be spent. PB has enriched schools communities around the globe, including Scotland, France and USA.
Now, in the first public Co-Creative Conversation, teachers, school leaders and other stakeholders from community and business will join forces. Together we will explore a viable approach to social action for our schools to get mileage out of limited budgets and the new inspection framework.
The evidence
The case for youth social action is overwhelming. It develops employability skills, boosts access to further and higher education and supports enhanced well-being among young people with particular impact on pupils from disadvantaged backgrounds. Ofsted has long acknowledged the connection between social action and the curriculum.
Wider participation
Importantly, developing and promoting funding bids forms a bridge to local community organisations, businesses and Further and Higher Education providers. In line with the new inspection framework focus on Intent and Implementation, Participatory Budgeting also provides schools and colleges with meaningful content for community curriculum making and project-based learning.
Supporting resources: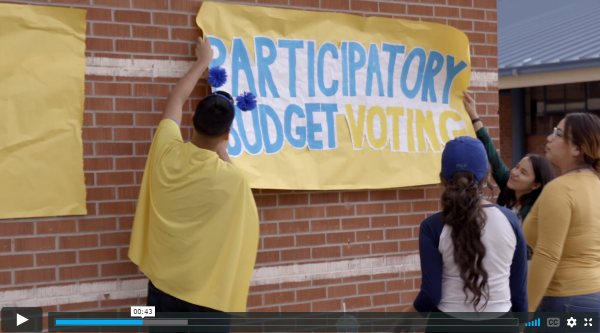 Video: Participatory budgeting in US schools (3m35s)
Overview of the day
Working together with experts from a range of fields we will address the why, how, who and where of this joint initiative by:
Exploring this innovative and exciting approach to youth empowerment.

Evaluating what has been achieved elsewhere and how it can be applied within UK education.




Developing new connections and relationships with like-minded professionals.



Contributing to building a long term and impactful education programme that will deliver Ofsted objectives and be realistic to for schools in terms of workload and finances.


---
Shared Future CIC has unrivalled expertise in Participatory Budgeting, a proven deliberative process that is recognised by the Scottish Government as an empowering way to involve young people in meaningful civic experiences that can demonstrably develop pupil leadership and life-skills, support pupil and school outcomes and promote pupil and parent voice.
Werdelin Education specialises in Cooperative Learning, a classroom management approach which secures teacher control of the learning process, provides real-time assessment and feedback opportunities, and enforces strict individual accountability while, counter-intuitively, facilitating freedom and empowerment for learners of all ages.


---

Organiser of Empowering KS2-5 learners through Participatory Budgeting
We are Shared Future. We're committed to community empowerment, social enterprise and democratic participation. We're all about providing expertise, building connections and delivering worthwhile projects. We work with not-for-profit organisations, the public sector and ethical private companies.