Description
2018 - Happy New Year - let's make it rock!
Welcome all Wellbeing professionals (Coaches, Therapists, Healers, Medical and more!)
This months talk: Thursday 18th January 2018 - Empowering Orgone with Nikki Antoniou at 11 am in the Dugdale Centre Cafe - remember to bring your marketing materials!
Nikki says: My journey with orgone devices has led me to helping women use these powerful tools to empower themselves within all areas of their life.
Orgone devices are a mix of resin, metal and copper wrapped quartz that amongst other things changes negative energies into positive energies. Orgonmyst © by Nikki's Mystic Corner is our take on orgone with crystals and colour therapy added to the mix, plus a reiki blast and even a little bit of magic, with pieces designed to enhance our lives.
Our new collection is going to include pieces that help to empower women during different areas of their life. Filled with crystals, these wearable pieces will make orgone more accessible and easy to wear. There will be some prototypes available to see at the meeting, plus the opportunity to pre-order a bespoke piece for yourself.
This is your space for business growth, hugs, laughs, support and referrals...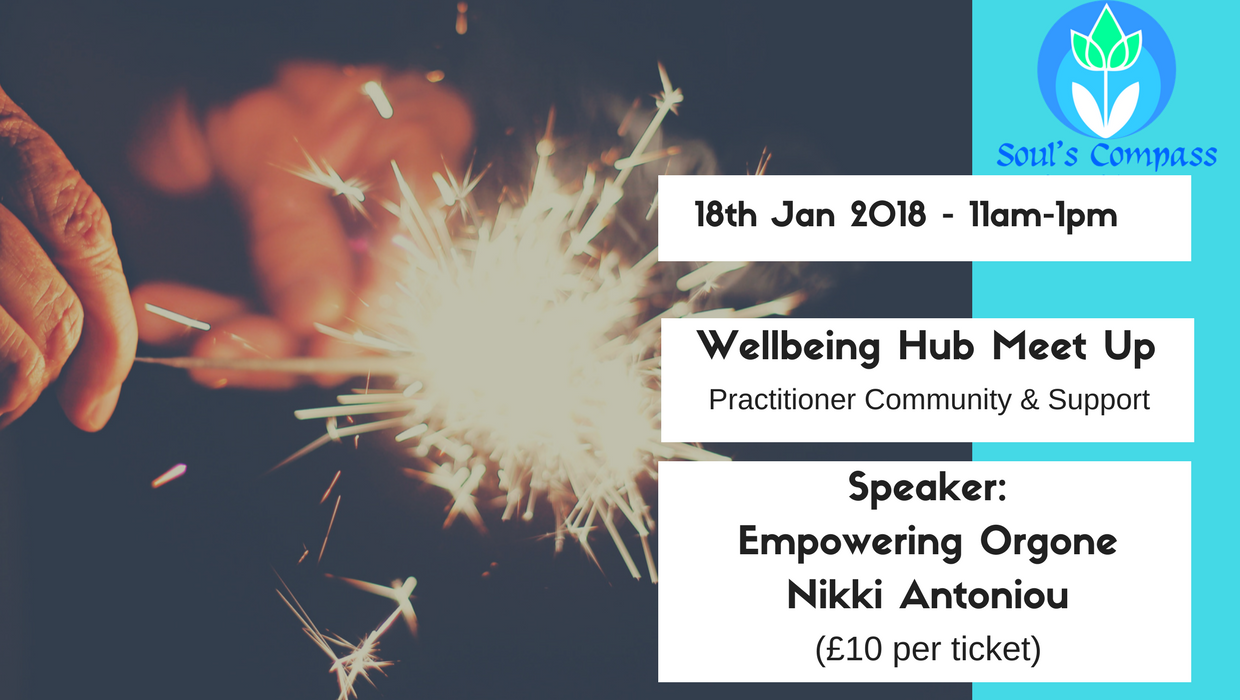 Wellbeing Hub happens the 3rd Thursday of every month, with the next meet being:
Date: Thursday 18 January 2018 - Empowering Orgone - Nikki Antoniou
Venue: Dugdale Cafe, London Road, Enfield EN2 6DS - subject to change at short notice - please book in advance to be notified!
Nearest overground: Enfield Chase or Enfield Town.
Nearest Tube: Oakwood Station then bus 121, 307 or 377 to Church Street (4 min walk)
Bus: 121, 191, 307, 313, 317, 329, W6, W8, W9, W10
Parking: Multistorey Sydney Road, Little Park Gardens, small car park Sydney Road, Genotin Road - all pay and display
Cost: Members £10.00 Non-members £15.00
(Bookings in advance through Eventbrite include one free drink).
Community & Support
You will meet other like-minded people from all backgrounds including Metaphysics, Esoteric, Complementary, Medical and many more. We love to have a variety so whatever your wellness practice is, you will fit in here! You don't even have to live in Enfield either.
With a wide range of well-being professionals in our community, there is a wealth of knowledge and experience gathering in the room. You are encouraged to bring and share yours as well.
This is your space to get support as well as swap information, services and referrals and grow. Alongside the monthly meetings, we have workshops and social events all geared to support you and develop your business.
Join our facebook group here, interact, communicate, collaborate and evolve together!
Show your support for your local wellbeing community, book now!
Want to know more about us? Head over to: www.soulscompass.net
Our Facebook Group: https://www.facebook.com/events/145649889548385/