The one day online Conference will include plenary presentations from national and local speakers and online workshops on different topics
About this Event
Local councils have been increasingly in the spotlight since 2011 when the Government gave new powers to local governments & to their communities via the Localism Act . Here in Bexhill we are about to create a new Bexhill Town Council after losing our Bexhill Borough Council in 1974. Yet times are difficult and uncertain since the basic central government grants to local authorities, such as to our own Rother District Council, have been cut to zero in 2020: and there is now talk of merging RDC with other areas, via new "unitary authorities" . These changes in local government finance and governance are transforming local politics. Meanwhile, public trust in Governments and politicians is very low, both in the UK and abroad.
However, since 2011 and particularly during the COVID-19 crisis, local councils and citizens have worked together to protect the most vulnerable, and to strengthen community resilience and cohesion: now, many people want to be involved and empowered to improve and strengthen their local area.
Out of these financial, political and health crises come opportunities.
How are local councils in the UK using their new powers to help meet the rising needs for social care, especially for the ageing population; youth services; mental health and wellbeing; affordable housing,; a nutritious, resilient and local food supply; public transport; jobs; and economic regeneration when faced with declining Government funding and in a time of great economic stress?
What can the new Bexhill Town Council and its citizens learn about local activities from the rest of the UK and Europe which could help us to create strong and vibrant local communities, greater social cohesion, and pride in Bexhill on Sea?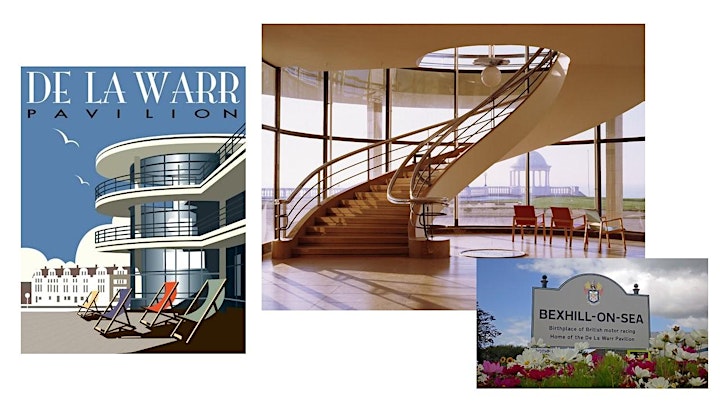 This Conference will address questions such as:
• How can innovations in power sharing, citizen engagement, and income generation help local communities and seaside towns like Bexhill to prosper ?
• Can the decline of town centres and high streets be turned around?
• Can education, art, leisure, culture, health/fitness, and tourism help to revive coastal communities and towns like Bexhill on Sea?
• Can local commercial and community businesses help initiate and maintain a revival of town fortunes and jobs?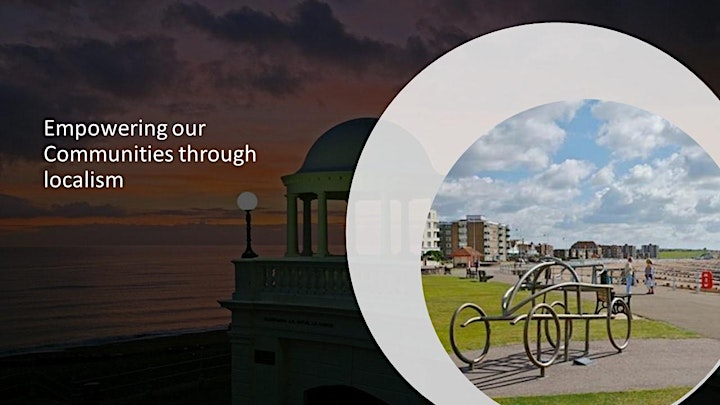 Conference Programme - Online
The one day conference will include plenary presentations from national and local speakers whilst 15 workshops will look in more detail at some major issues for community empowerment, citizen engagement, and local government.
8. 00 -9. 00 Registrations & coffee
9. 00-9.15. Welcomes. Lynn Langlands, Bexhill Mayor; Stewart Drew, CEO De La Warr Pavilion; Eddie Izzard, local/international comedian TBC
9.15-11.20 Session One: Linking the Local with the National and the Global
The Welsh Future Generations Act, 2015: linking the present with the future, the local with the global? Commissioner for Future Generations Act 5 -7 minute video link.
Tim Jackson, Director of Sustainable Development and Prosperity, Surrey University: "Linking the local and the global through policies for Prosperity?" TBC
Sue Baxter or Justin Griggs, Head of policy and Communications, National Association of Local Councils: "Responding to the challenges and opportunities of localism"
Will Jennings, Centre for Towns, Professor of Political Science and Public Policy University of Southampton:" Towns: revival for survival? Lessons from the Wigan New Deal and other initiatives" TBC
Chris Williams , New Economics Foundation's "Turning Back to the Sea Project : "Empowered communities: lessons from the Eastbourne fishing quay campaign".
Rebecca Mathews, ex CEO, European Capital of Culture, 2017, of Aarhus, Denmark "Culture and Communities: how did being "European Capital of Culture" invigorate Aarhus: lessons for Bexhill?"
(5 speakers, 20 minutes each, 20 minutes of Questions & Discussion).
`11.20-11.45 Break
11.45-13.30 Session Two: local initiatives: barriers and successes.
Caroline Lucas MP "A Green stimulus to community cohesion and citizen actions?" TBC
Mathew Brown, Preston Council Leader: "Community Wealth Generation: realising local assets?"
Peter Macfadyen on "Lessons From Frome: on energising & engaging local communities"
Tony Steer "Bolney Parish Council : small village, ambitious projects?"
4 speakers, 20 mins each, 25 mins Questions & discussion.
13.30.14. 45 Lunch Organised at 10/20 local cafes/restaurants
14.45-16.45 Session Three: Workshops on some current local Issues.
The Coop funds some 40+ types of local actions; and the D4B campaign identified 50+ local initiatives that during the BTC campaign Bexhillians said they wanted to see.
Some of these will be covered in the Workshops below.
1. "Community Wealth Generation: how its done", led by Gill Steward/ Neil McInroy, ,Centre for Local Economic Strategies and Mathew Brown, Council Leader, Preston
2. "Health & Well being: local initiatives on caring, sharing, mental health, "social prescription" and fitness. Led by, Elisebeth & Trevor Leggo, Sussex & Surrey Association of local Councils (SSALC); Louise Anzari, Centre for Ageing?; Vanessa Lowe, Alcester TC; Jenny Murray, Warwickshire CC TBC
3. "Neighbourhood Planning and Affordable Housing ; new powers, effective projects?" Led by Johnathon Vine Hall (Chair, Planning RDC); Richard Thomas, RDC Councillor; Mike Dyer (Thame TC), Tony Steer, Bolney Parish Council Leader
4. "Art, Culture, & Leisure: Inspirations for community cohesion, development, and a "sense of place"?" Led by Rebecca Mathews (ex Aarhus), Stewart Drew, De La Warr Pavilion; Carole Cooke (WaveArtsBexhill) with reps from Margate, Hull. TBC
5. "Coastal Town Regeneration and Revival?" led by Chris Williams , New Economics Foundation's "Turning Back to the Sea " project; Graham Goswell Eastbourne Fishing Quay; xxxx Worthing Town Centre and Seafront project?
6. "Community Renewable Energies, the "Negawatts" of energy efficiency, and Resilience to Climate Change: the potential for Council/community actions" led by Andrew Warren, Ex CEO UK Energy Efficiency Association; with Alister Scott, Cuckmere Haven Community Solar Farm, Richard Watson , Energise East Sussex; Anna Francis , Resilience Officer, Frome; Alister Macpherson/Claire Mains, (Plymouth Energy Community); Neil Kermode European Marine Energy Centre, Orkney Isles.
7. Climate Change & Biodiversity: linking the Actions. Xxxxxx CC/Biodiversity expert; Polly Gray, Green RDC Councillor; Kathryn Field ,Chair RDC Climate Action Committee Gonzalo Alvarez Hastings UNA; Kristina Sodomkova,; RDC Environment Manager
8 Green Spaces and Trees for Healthy and inclusive communities, Helen Griffiths, CEO, Fields in Trust; Julia Thrift, TCPA & Green Cities Europe; Trina Lynskey, Deptfordfolk & London Green Spaces Commissioner, reps from Lewes & Petersfield Tree surveys.
9 "Flooding: minimising risks, building resilient communities", led by National Flood Forum; Environment Agency; Pevensey Levels authorities, Bexhill Seafront Group, xxxxxx??
10 Localism in food supplies: community supported agriculture & local food shops Partick Holden, Sustainable Food Trust; Mark Drewall, Centre for Regenerative Agiculture; Abbet Rose, Vidacycle & Farmerama. CSA rep (Glastonbury CSA project?) Alfriston CSA project?) Pam or Mary Clear Todmorden's "Incredible Edibles"
11 Community Safety: curbing crime and anti-social behaviour. Jay Bretherton? Paul Courtel?; Sussex Police Commissioner? Lindsay Edge, Bishops Waltham PC? Susan Ekins (Community Safety Committee, Wandsworth, London?
12 Engaging & Empowering Youth? Sam Coleman, RDC Councillor, Frome Youth team; Daisy , Rebeka, etc Bexhill Skateboard Group ?
13 New Technologies: Public Trust, Social cohesion, and Citizen engagement. Led by Hilary Sutcliffe, CEO "Insidesociety", author of "Trust in Tech Governance?" (Oct 2020); US Centre for Humane Technology (video link?)
14 "Regenerating local communities?" led by Christine Bayliss, lead Councillor for RDC 's Regeneration Strategy; Richard Walker & friends (Civic Revival) ,Nigel Young Bedfordshire Council? Kate Ingram, Burnley BC & xxxx Padiham TC's "Crafting the Future" project?
15 Bexhill on Sea: a "Fair Employment Town"? Led by Francis O'Grady, first woman General Secretary of the Trades Union Congress?; Paul Plim, Local TU organiser?; Bexhill Chamber of Commerce? Sussex chamber of Commerce?. Rotarians. A charter
16 Bexhill : A Fair Rent & Decent Homes Town? Landlords and tenants Groups; Conflict resolution groups. Best practices. A charter
17. Bexhill's 10 Principles for a good society. RVA & Community organisations.
18 Participatory Budgeting and Community engagement. Peter MacFadyen and xxxx Flatpack Democracy National Campaign David Nicholson, Choppington PC; Paul Jones, Northumberland CC; xxx Horninglow & Eton PC; xxxx Staffordshire CC; xxxx Frome TC
19. Bexhill, Rother, Parishes, & ESCC: working together in partnership? Led by xxxx of LGA/NALC authors of "One Community: guide to effective partnership working between principal and local councils" (2018) With xxxx new Temporary Town Clerk for Bexhill; Chris Borg, NALC; John Crossling, Warwickshire CC; Michelle Byrne, Ashford BC; Kay Pettit, Programme Manager, Town & Parish Councils; Milton Keynes BC; Iram Choudry,; Birmingham CC, xxxx Queen's Park CC, London; Fiona Palmer, Castle Donington PC; Mark Williams, Falmouth TC,; Mark James, Cornwall Council.
16.45 -17.15 Break
17.15-18.00 Conclusions from the workshops (2 points 2 mins each) and from the Conference.
18.30-22.00 Musical Entertainment from Local Bexhill Talent. Eg Mike the Jazz; St Augustine's Choir; Rock bands; etc Organised by Andy Rimmer local Musical Entrepreneur)