Theme: Empowering Parents and Young People - Supporting the educational needs of children of African and Caribbean heritage
About this event
This Seminar is aimed at the parents of African, Caribbean and Dual Heritage children to discuss with experts how they can meet the educational needs of their children, and engage positively with schools to ensure that their children achieve their full potential.
Guest Speakers to include;
- Dr Melissa Cortina - Senior Research Fellow at Anna Freud Centre, discussing the impact of COVID-19 on children and the role of parents in supporting their child during these challenging times.
- Noel Gordon - Featured on the BBC documentary Subnormal: A British Scandal, Sharing his personal story highlighting the detriment of not questioning and understanding when the teacher speaks.
- Anne Palmer - Principle FCCT, CEO @ Figtree Intl, Sharing her knowledge on the challenges within education and the importance of parents successfully working in partnership with schools.
- Lunda David - BAMEedse lead, teacher - Top 10 Tips on Parents Consultations.
An evening of 'Each One, Teach One' - There will be time for questions and discussions.
Let's open our eyes to the problems in society and work together to eliminate the barriers that impact on our children.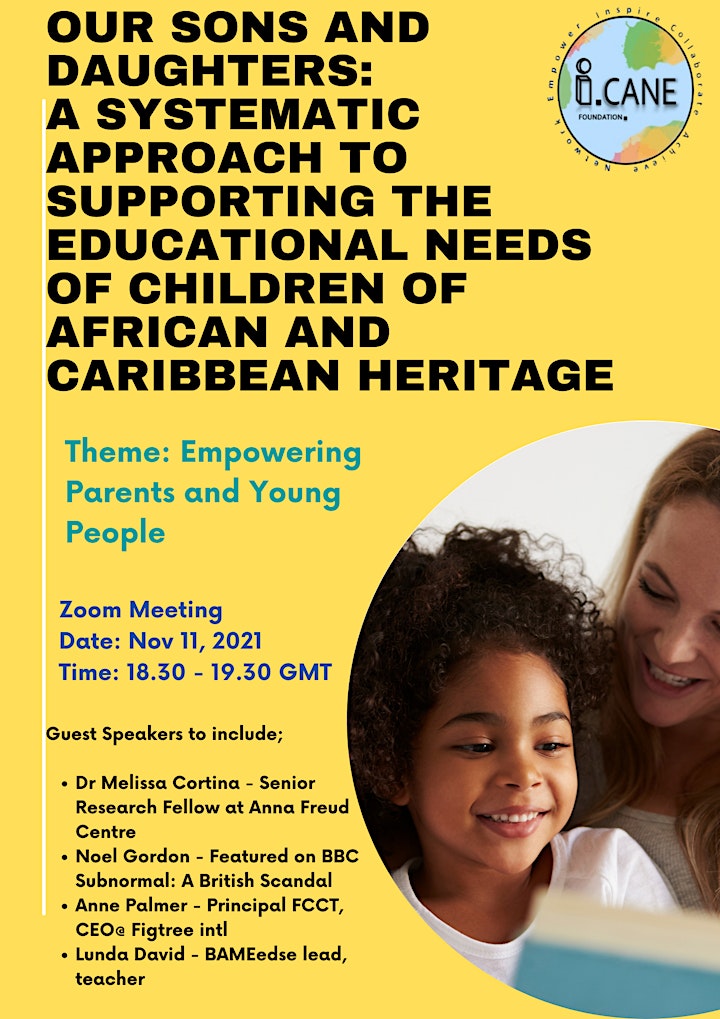 Organiser of Empowering Parents and Young People - A Systematic Approach
Icane aims to equip parents and young people with the skills and expertise to participate positively in your child's education to reduce the risk of underachievement, mental health issues, low self esteem and exclusion. Engage in our workshops, intergenerational debates, conferences, mentoring, curriculum and more. Understand the Education System and work in partnership with educational establishments.