Empowerment and Strategy Conference
Description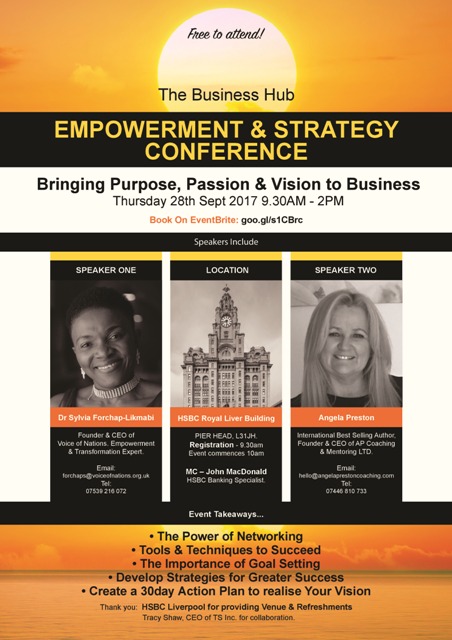 The Business Hub enables SMEs & Entrepreneurs to come together, share thoughts and new ways of working towards growing & developing their businesses.

This event is designed and created to encourage collaboration amongst small to medium sized business owners and entrepreneurs in the North West. It's an opportunity to share wisdom and gain support in a positive environment. Step outside your comfort zone to develop the skills to help you grow your business – learn from those who've been there!

Be inspired & empowered. Take your leadership skills to a new level: re-focus & work on your future business strategy with passion, purpose & vision whilst at the same time building your business network … and making new friends.

Our speakers will share their journeys, how they began their businesses, the pitfalls & pathways to achieving success.

Are You at a crossroads in your business? Looking for guidance or a new direction?
Come along to this free event and be immersed with like-minded people who can help.

Event takeaways
Tools And Techniques To Succeed
The Importance Of Goal Setting
Develop Strategies To Create Success
Create A 30 Day Action Plan To Realise Your Vision
Organiser of Empowerment and Strategy Conference
Angela Preston is a three times international best selling Author/Playwright,  Tedx/Motivational/Keynote speaker, and Radio Presenter, the Director of AP Coaching and Mentoring Services Ltd and the Founder and Director of AP Coaching and Mentoring Academy CIC, she is also an award winning Business Excellence Leadership Coach and Motivational Speaker for the UK, runner up for Merseyside Women of the Year in Arts/Culture and Media category  2019.
She is known for her zest and passion for empowering others through her workshops and engaging talks, she is a recognised authority on confidence and personal development and regularly shares her expertise with radio and tv audiences, having recently returned from a TV interview and book launch with C-Suite Network (Bloomberg) in New York, where she shared how the keys to success are People, Passion and Purpose. Her first book 'Opening Doors' is held within a database in Hollywood for scriptwriters and directors to source when looking for new material, she will share with you how she went from Area Manager to International Best Selling Author in less than two years. She recently staged her first theatre production; A Time To Leave.
Prior to becoming an Executive and Empowerment Coach in 2014 Angela worked within the financial industry and has over twenty years experience in Leadership and Management as a top performing strategic manager, leading teams of managers and self employed agents to achieve business objectives, taking the last location she was responsible for to number one in a eight week period out of a company total of 265, with the top three development managers working under her leadership. 
She works with individuals in their personal and business lives to make  positive changes in order to achieve life long goals. She also works with charities, business's and the banking industry on how to improve performance through their people. She has a knack for building strong teams through the transformation of the mind and empowerment strategies she puts in place in order to achieve long term results. Her ability to engage and capture her audiences attention enables her to produce winners who go on to accomplish and become successful in their own right. 
She provides workshops for corporate companies and charity organisations ranging from self esteem through to leadership as well as business strategies, her work also involves working in school environements supporting children through her personal development workshops. She believes to become a great leader you have to be great at being you and through her authentic and engaging seminars she teaches her delegates how to be the best version of themselves. She also believes for us to understand others we must first understand ourselves.
She also supports and fundraises for a number of charities that are close to her heart, in less than two years she raised in excess of £10,000  through comedy and variety nights including charity auctions she has organisesd 
Angela trained with the Public Speaking Academy and The Coaching Academy when embarking on her new career as a speaker/coach and is currently working on her fourth book 'A Better Me,' and is studying for a Business and Marketing Degree with Essex University, she is also an associate of the Professional Speakers Association. In her first year of business she was nominated and in the final for two awards as a result of her rapid success as an Author and Coach.
Website: www.angelaprestoncoaching.com
Email: hello@angelaprestoncoaching.com
Tel: 07446810733
Irene Afful MSc, Tedx and Motivational/Keynote Speaker, Published Academic Author, Founder and Director of Ametrine Enterprise Solutions Coaching and Consultancy Services has had a hugely succesful career to date, including becoming the first ever black Inspector in the history of Merseyside Police. Her career incorporated critical incident management, professional standards and specific responsibilities for gangland murders. During this time Irene has recieved many accolades and commendations and was featured in a local history book, 'Liverpool Black Leaders.'
Determination, tenacity and focus have been key strenghts that have helped Irene drive her own career forward, but helping others has always been at the heart of how she has operated.
Irene joined Merseyside Police in February 1991, ten years on from the Toxteth riots, and haveing suffered racial abuse at the hands of the Police. She served 25 years as an officer. She overcame race and gender barriers, direct and indirect discrimination to become the first ever black female inspector in the history of Merseyside Police. She focused on resilience and mindset, developing tools to achieve success.
As a pioneer and role model, Irene coached and mentored other minority staff for promotion and lateral development, helping them to build resillience for success. She designed, developed and delivered a leadership programme which was instrumental in increasing the recruitment of BME, females and other minority groups in the force.
Irene was headhunted to work as a consultant for the College of Policing on diversity and inclusion. She worked with 21 forces across the country addressing minority group, under representation. Irene holds a masters degree in Police Leadership and is a published author of academic research concerning equality, diversity and inclusion, a subject she has a life long passion for and lived experience. 
Irene is the founder & Director of Ametrine Enterprise Solutions Professional Coaching & Consultancy where she pursues her passion for diversity and inclusion, supporting businesses to be more effective by offering a variety of tools, programmes and consultancy services which include:
Clients include The Health and Safety Executive, Office for Nuclear Regulation, Chartered Institute of Securities and Investments, Local Education Authorities, Liverpool University, British and Irish Modern Music Institite London and a variety of business entrepreneurs. Irene is also a highly sought after Keynote Speaker, performing at a vast array of business and educational events. She has perfomed a Tedx talk on the subject of Limitless Boundairies.
Irene is a committee memeber of the Insitute of Directors. Her voluntary works includes mentoring for the Girls Network, supporting and inspiring disadvantaged young girls, and the Prince's Trust. 
Leadership development, Equality, Diversity and Inclusion Professional Coaching and Wellbeing at work.
Irene looks forward to connecting with you and potentially working together in the future.
Website: www.ametrine-enterprise-solutions.co.uk
Email: irene@ametrine-enterprise-solutions.co.uk
Tel: 07534648104