EMSEA and Marine Education for 2021 (and beyond!) Online Gathering
Join the EMSEA network for 3 afternoons of Marine Education conversation!
About this event
2020 has been a difficult year. Since we have not been able to meet face to face for our annual conference, we would like our fantastic network to come together to end 2020 looking optimistically to the future!
The programme for 3 afternoons of Marine Education will include:
9 Dec 2020 (1pm - 3pm CET)
EMSEA 2020 - A wrap up of what we have achieved together
EU4Ocean Blue Schools – meet some participants of this initiative and find out how you can get involved
EU4Ocean Youth forum – hear the latest updates and understand how you can support young people to get involved
Speed dating! Meet your colleagues in breakout rooms and share your initiatives
EMSEA Membership Update – plans for member support and activity for 2021
10 Dec 2020 (1pm - 3pm CET)
Ocean Literacy opportunities during the UN Decade
UN Decade and the EMSEA Network
Interactive working session
11 Dec 2020 (1pm CET)
EMSEA Christmas Lunch
Conference 2021 - presentation
How strong is your network!?
This online event is FREE for EMSEA members. Non-members are asked to make a donation towards our bursary scheme for the 2021 conference. Members are also welcome to make a donation should they wish.
We hope you will be able to join us for the whole schedule so that together we can shape the future direction of EMSEA and Ocean Literacy in Europe.
Not yet a member? To join please visit: http://www.emsea.eu/membership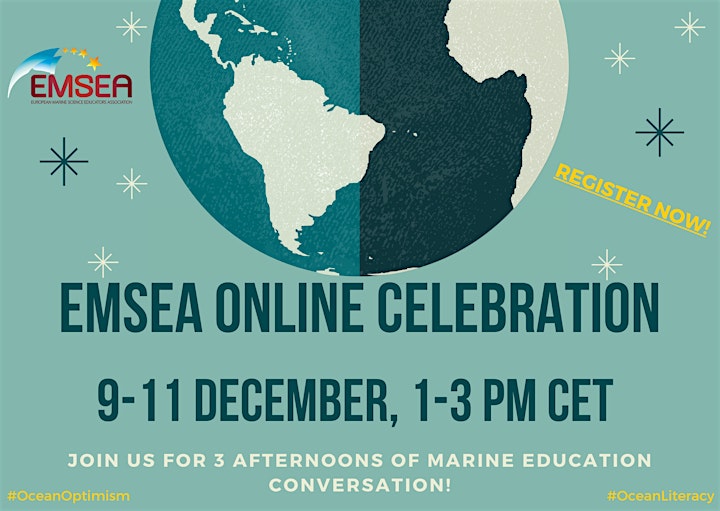 Organiser of EMSEA and Marine Education for 2021 (and beyond!) Online Gathering