A powerful time of Worship, Prayer, Reflection and Fellowship! Join us online, on Zoom.
About this event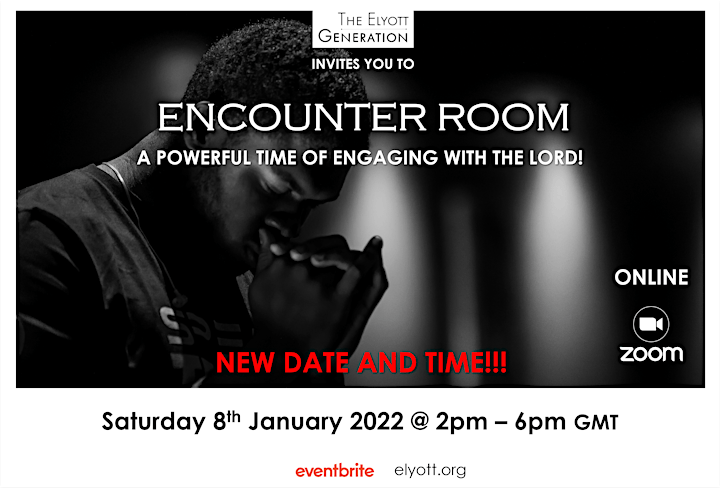 Encounter Room is an opportunity for you to connect with the Lord in a deeply personal way.
This would be a great time for you to align your heart with the Lord's agenda for your life and the world around you, as 2022 begins to unfold.
It would be a powerful time of Worship, Prayer, Reflection and Fellowship!
Join us online, on Zoom.
Tell a friend. Share!
Find out more at www.elyott.org
Organiser of ENCOUNTER ROOM 2022 - ONLINE
​Our mandate is to stir hearts to seek a real and intimate relationship with the Lord, Jesus Christ. 
We focus on supporting individuals in their pursuit of purpose and personal development, in Christ. Raising and equipping people to embrace their identity in Christ and step into fulfilling the Lord's desire and callings for their lives.
- The Gatherings

- Our meetings and Conferences. These are powerful times of prayer, worship, teaching of God's word and fellowship.
- Worship Missionaries

- A worship Ministry, serving in worship and equipping singers and musicians spiritually.
- Precious Hearts

- Equipping  the younger generation of girls to live in the truth of their identity in Christ.
- True Love Experience

- Expressing God's love in personal and practical ways. Giving hope, encouragement, support and affirming personal value. 
- Vision Support

- Supporting individuals in establishing and maintaining their vision. 
- Vision Helpers

- Providing opportunities for people to serve others with their time, gifts and resources.
- Mentoring.
Check out our website for more information - https://elyott.org/