Sales Have Ended
Ticket sales have ended
Sales for this event have ended. Please go to https://embroiderersguild.com/news-events/ for a list of our other events.
Join embroidery artist and tutor Mary Sleigh online for this slow-stitching hand embroidery workshop.
About this event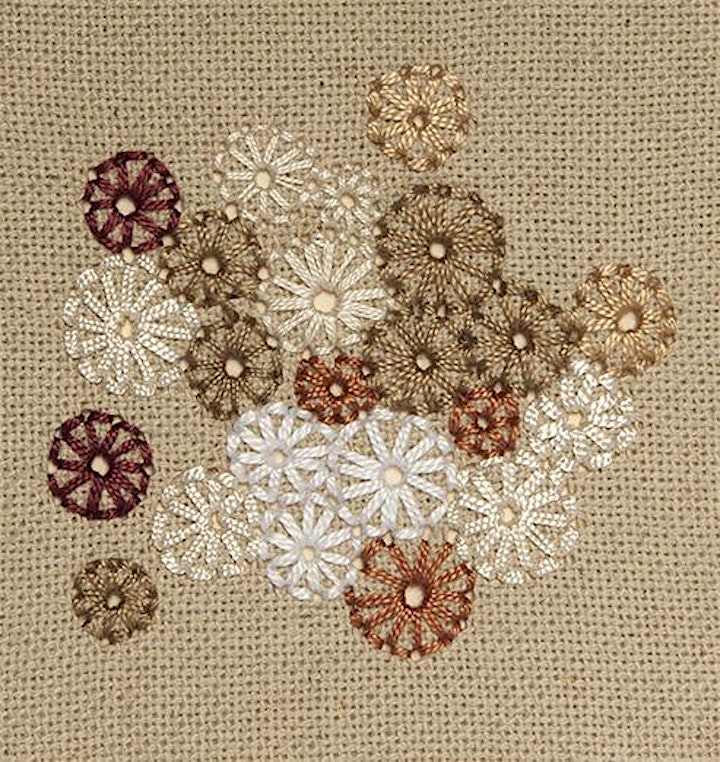 Join this free online hand stitching workshop Encrusted Eyelets with Mary Sleigh.
Creating a densely stitched background or lacy effect, using it formally on counted thread fabric, spilling out organically or scrambling across a surface, or even used as an isolated stitch, are some of the possibilities when using eyelet stitches.
During the workshop we shall explore these possible ways of working using a variety of fabrics and threads to give a range of effects. These encrusted fabrics can be used as a decorative panel or pocket or as an embellished fabric for bags, purses and book covers.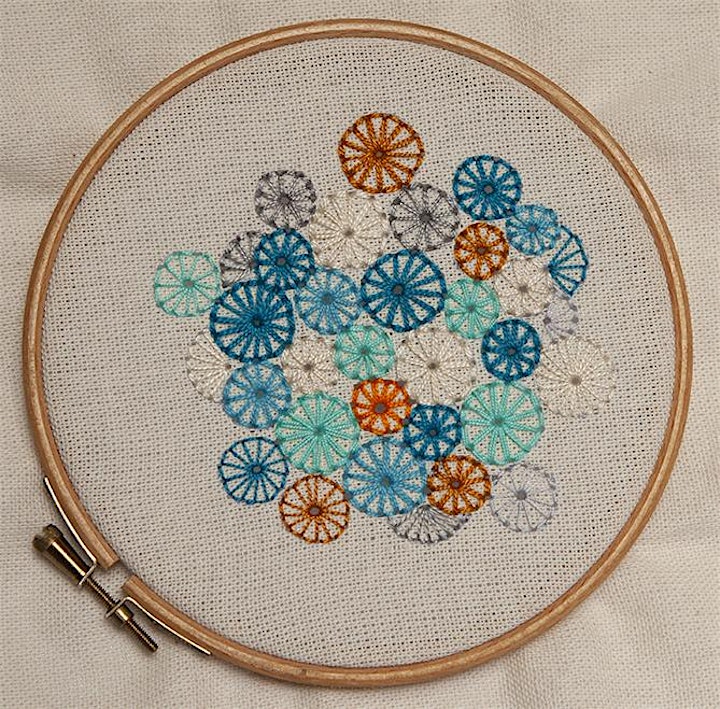 Mary will present a video showing the process and techniques and then we will stitch along with her. A PDF of showing examples and details of the technique will also be available.
The workshop will be in webinar format. Students will be free to ask questions in the chat and will also have an opportunity to share images of their work.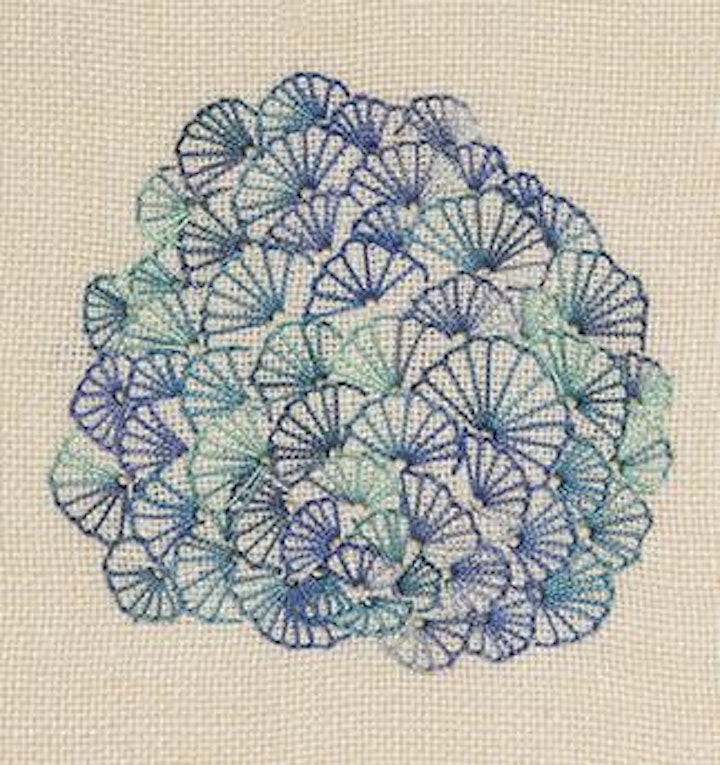 Materials List
You will need the following to take part in the workshop. You are welcome to come and watch if you don't wish to join in.
Embroidery frame or hoop
Fabric marker - pen or pencil
Selection of buttons or small circular shapes to draw round
Any fabric that is not too tightly woven or any of the following: even weave, counted thread fabric, canvas or loosely woven fabric from your stash
Round-ended tapestry needles to suit thread thickness
Threads – twisted threads work best such as perlé
Scissors
The inspiration for this workshop came from Mary's studies of a Hausa robe.
African textile traditions are one of her special areas of interest and there is a lot of inspiration/information in her book Exploring African Themes in fabric and stitch.
Mary is offering free copies of her book to any attendees interested in following up the topic or trying any of the other stitch ideas. There would be a nominal cost of £5 to cover P&P in the UK or £7 overseas. Details of how to access this offer will be on the Eventbrite Online Event page.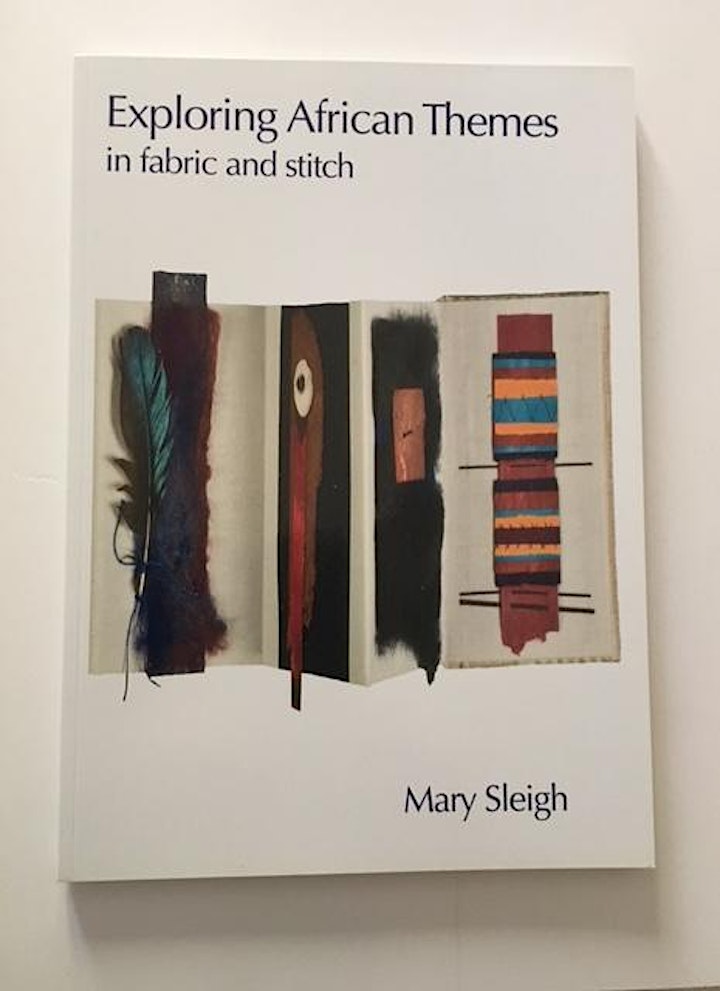 Your Tutor
Mary tells us "My love of fabric and thread started as a child and developed during my career in primary education and then for many years as a Tutor and External Verifier for City & Guilds embroidery and textile courses. I am passionate that our textile heritage should be celebrated and welcome opportunities to tutor, mentor and share experiences with those wishing to extend their practice. I love the contact with embroiderers through teaching at workshops and Summer Schools and more recently online.
I now enjoy the freedom, time and challenge of pursuing my own creative work as a full member of the Embroiderers Guild, an active member of the Textile Study Group, writing, teaching and exhibiting throughout the UK and abroad, in Sweden, Canada and Australia and New Zealand.
In the role of Textile Advisor for the Lincoln Diocese and Coventry and York Cathedrals I have opportunities to support the care and conservation of church textiles as well as promoting the design and making of new work and have also completed several commissions myself for parish churches."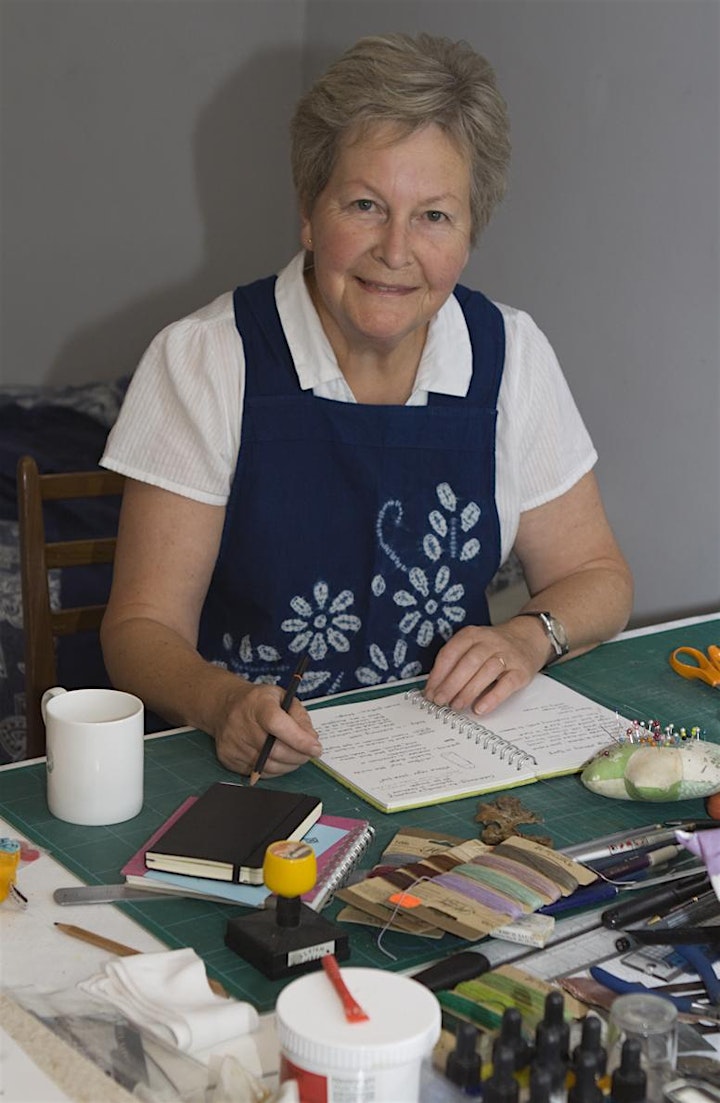 The workshop was recorded. You can access the recording on Vimeo.
The password is eemsegjul#
You can see the padlet with information and images of student's work here. During the workshop, Mary said she would try one of the techniques using a stiletto. She has done this and the results are on the padlet.