We are delighted to hold our end of year student music recital in person finally!
About this event
Due to the extension of lockdown we have had to increase the ticket price in order to still run the recital due to limited venue numbers. It is an ambitious plan to run an event during lockdown and we have incurred several more admin hours than originally planned. As we do not want to cancel the event, the ticket price has increased and audience members now need a paid ticket. Please speak to your teacher at the start of your lesson if you have any questions.
Saturday 10 July 2021

5.15pm - 6.45pm approx
. Nb this event will be split into 2 or 3 concerts as we can only accommodate 50 guests per concert.
St Barnabas Parish Hall in Dulwich Village

23 Dulwich Village, London SE21 7BT.

All proceeds to Alzheimer's Society.
All proceeds of this recital will go to the Alzheimer's Society. I am fundraising for them this year as it is a cause very close to my heart as my dad suffers with dementia. You can read more about why I have chosen this charity via this Justgiving link.
St Barnabas Parish Hall has capped the audience at 50 per concert so please grab a chair when you arrive and arrange your seating in your household bubble, 2m apart from other groups and wearing a mask at all times. One performer may bring up to 3 audience members as long as you purchase tickets for each guest. Do not exceed this number as we will not be able to accommodate any additional people, no matter what age.
Siblings of all ages welcome. We would like to film the concert and put this on YouTube as well as use some photos on our social media pages so please indicate if that is OK at the time of booking your ticket. You do not need to let us know which piece(s) you will play, you can decide this with your teacher nearer to the time of the event and then announce your pieces on the day.
Ticket sales will close on the 1st of July. We always do a group photo at the end but we do ask that if we do not have your permission to use this photo online then please stand out for the photo. All performers will receive a medal of participation and an e-certificate.
Priority for performing will be given to our students at the SE22 Piano School but participants from the Dulwich Music Festival are most welcome to enter too.
Terms and Conditions of Sale:
Tickets cannot be refunded if you cannot attend.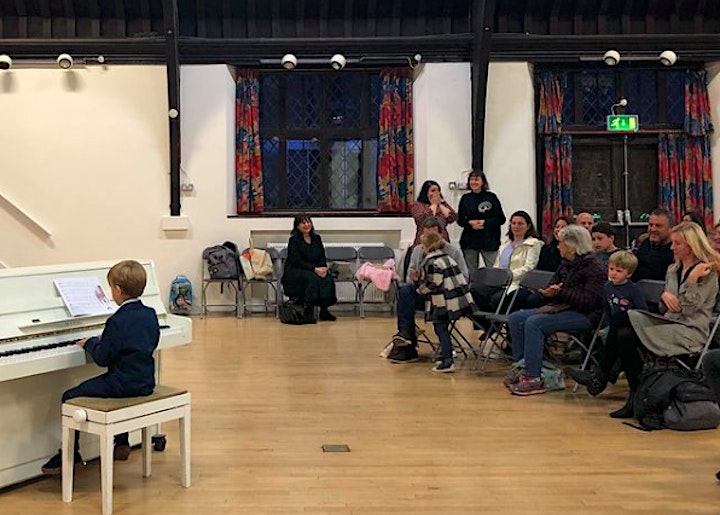 Organiser of End of Year Music Recital
A private piano teaching studio based in East Dulwich with a team of 6 teachers. We offer piano, guitar, music theory and harpsichord tuition to adults and children from age 4. Classical and jazz piano offered. We specialise in music scholarship preparation.
http://www.se22piano.co.uk