Description
Welcome to our Endoscopy Open Day.
---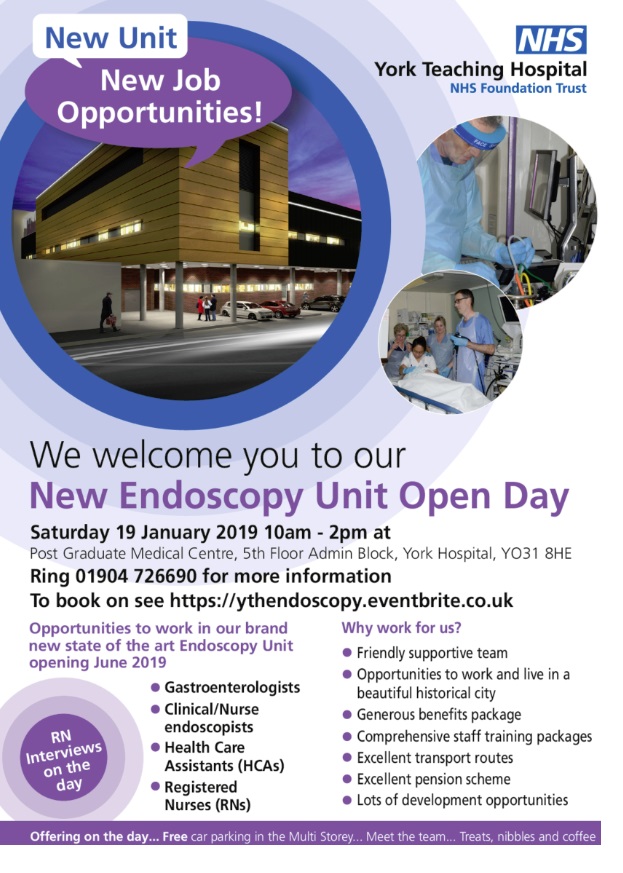 Don't forget to register your interest in attending by clicking the green button.
10:30am we will be holding a presentation and would love to show you our plans and vision for the new unit. We will have key members of the Endoscopy team explaining the services and roles we have to offer you. We will also tell you about the fantastic opportunities such as training and mentorships we provide and why a career at York Teaching Hospitals state of the art, new Endoscopy Unit is one to consider
After the presentation we will ask anyone who is interested in becoming a HCA within our Endoscopy Unit to stay back as we will be holding a bespoke presentation for HCA's. At this presentation we will present you with a code which will allow you to apply for the post.
PLEASE NOTE - This is not a standard recruitment presentation for HCA's throughout the hospital. This is only for those wishing to work in Endoscopy. Further details of the trusts standard campaign will be advertised around mid-January 2019.
We would love to offer you an interview on the day. Please simply bring a piece of identity with you (so we know it is you) and we will book you a time slot. Interviews normally last 30 – 40 minutes and you will be interviewed by 2 panel members. You will also find out on the day if you have been successful. You do not need to book an to an interview prior to attending, simply let us know at the event.