Event Information
Refund policy
Contact the organiser to request a refund.
Eventbrite's fee is nonrefundable.
Weekly Autumnal Online Classes to Improve Your Health and Well-Being
About this event
Just what you need to re-charge!
Come and learn how to cultivate the flow of your life-force energy and bring balance and harmony into your day to day life.
A series of weekly online exercise sessions introducing a range of gentle and invigorating movements which work towards improving energy levels, circulation, brain fog as well as helping to create a positive mental attitude.
Energy cultivation is a holistic therapy which works to invigorate the meridian pathways in the body, infusing energy and creating the free-flow of vital power. Energy work has been known to help boost immunity, eliminate toxins, relax the muscles, strengthen ligaments, boost mental power, create a sense of peace and balance, address organ system imbalances, strengthen the nervous system and much, much more.
The classes have been known to bring great benefit to regular attendees by creating a sense of calm in their lives. Many of us have a great deal of tension due to heavy workloads, chaotic and pressured lifestyles, environmental toxins and a lack of work/life balance. All these factors can contribute to imbalances in the mind, body and spirit and this can lead to dis-ease. The classes are truly time for YOU!.
Each week you will be gently guided by a qualified Holistic Health Practitioner Imani Sorhaindo who has been studying and practising Qi Cultivation for 15 years and has now made it part of daily living for longevity and wellness. Greatly inspired by the Qi Cultivation work written by Ra Un Nefer Amen author of Healing is in the Spirit and Stress Free for Life, and nurtured through the great works of Dr Tau Napata Holistic Health Practitioner and Healer, innovator of Nu Shu Ra.
Here's what previous attendees have said about the classes:
"Due to the nature of my job role as director, It can be very stressful and have an impact on my health and well-being. Since I've started my breath work sessions with Imani, I've become more relaxed and less anxiety prone. I highly recommend it if you want a change in lifestyle and to better one's well-being". (E. Soanes. Lead D&I Director and Teacher)
"Hi Imani, thanks for tonight's session. I really got into it more than I have done before. I feel revived and relaxed looking forward to a stress-less evening, thanks". Franstine Jones, Equality and Diversity Consultant, BInspyred
"Thank you for another calming session... I feel an internal quietness which is great for me, as I am usually fired up all day. Thank you again".
"I attended the Energy Balancing Session on Zoom and it was absolutely amazing". (Kam)
"I liked the fact that Imani demonstrated step by step on all the exercises, and the fact that we were able to focus on the major organs of the body like the heart, kidneys, lungs using breathing techniques and movement. I felt so much energy afterwards". O.H (Counsellor)
".....Was lovely. I'm feeling calm and in control now. Love the way you lead us". J. Driscoll
"Thanks for this. I've found the energy balancing sessions very calming and relaxing during this stressful period. I always sleep well afterwards.". P. D
"....Initially my energy was low when I came on, but by the end of the session I was so revitalised. So thank you. It provided me with the proof that short sessions of these valuable stretches, breathing and sounds are so powerful for recharging the body".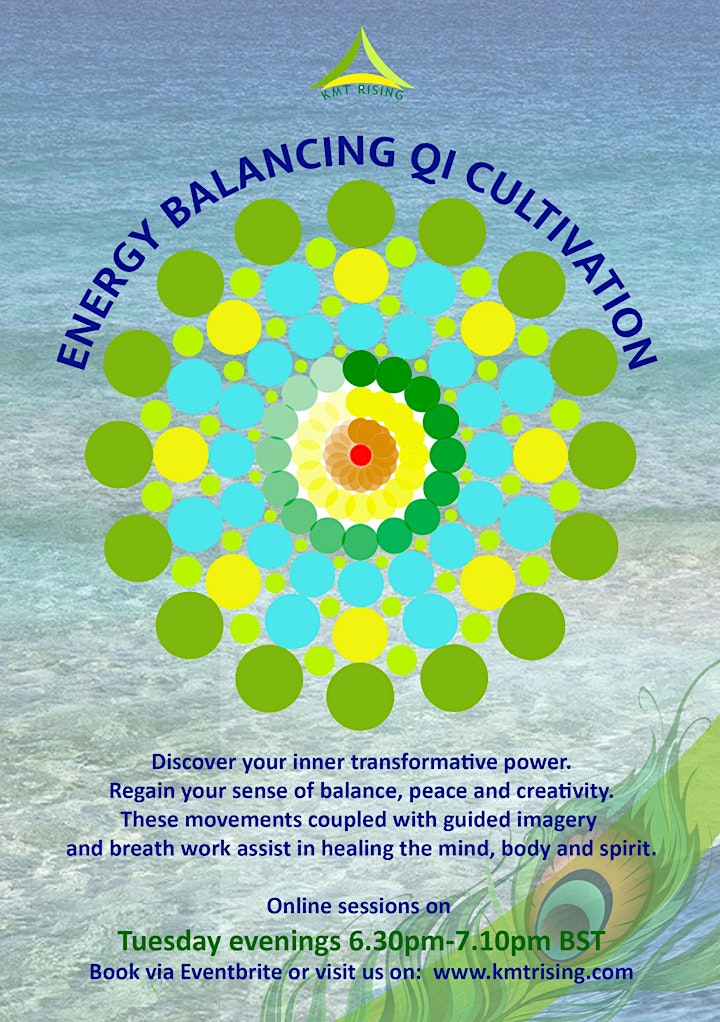 Date and time
Location
Refund policy
Contact the organiser to request a refund.
Eventbrite's fee is nonrefundable.