Energy, Engagement and Well-Being - Self Employed Network Event
Sales Have Ended
Ticket sales have ended
Thank you for registering for this on-line event. This will be delivered via Zoom. You will receive an email with the Zoom link - please retain this email. The link will be emailed to all booked delegates 48 and 18 hours before the event and is also included in your Booking Confirmation email. Reminders will also be sent out 48 and 18 hours before the session, which will include the password. Please check spam and junk folders. For security reasons, it is requested that participants join the live session 5-10 minutes prior to the scheduled start time and with the same name as registered on Eventbrite as not doing so may cause a delay or non-admittance to the event. We look forward to seeing you. CIPD Swindon and North Wilts
Sales Have Ended
Ticket sales have ended
Thank you for registering for this on-line event. This will be delivered via Zoom. You will receive an email with the Zoom link - please retain this email. The link will be emailed to all booked delegates 48 and 18 hours before the event and is also included in your Booking Confirmation email. Reminders will also be sent out 48 and 18 hours before the session, which will include the password. Please check spam and junk folders. For security reasons, it is requested that participants join the live session 5-10 minutes prior to the scheduled start time and with the same name as registered on Eventbrite as not doing so may cause a delay or non-admittance to the event. We look forward to seeing you. CIPD Swindon and North Wilts
This session will focus on what we can do to aid our own well being as Independent HR and L&D Professionals.
About this event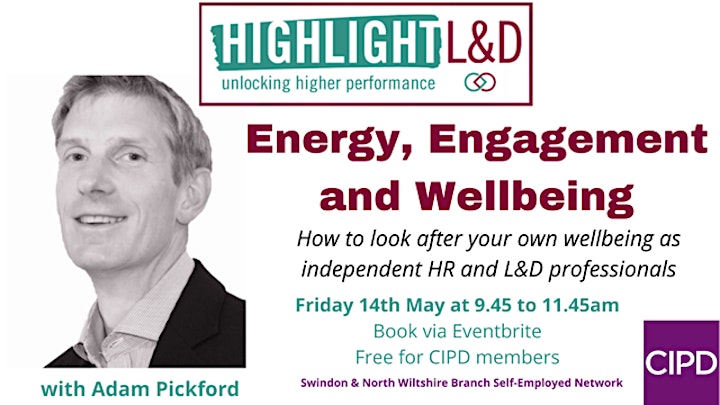 Due to the current Covid-19 situation, we will deliver this event as a webinar. Thank you for your support and understanding at this time.
Energy, Engagement and Well-Being - Self Employed Network Event
This event is open to those who are currently operating in the self employed / independent space or for those considering it
Event details:
As independent HR/L&D professionals, the topic of well being, whilst not new, is increasingly high on our agendas. Many of us will have spent more time over the last 12 months than ever supporting clients and their staff on the topic. But how often do we practice what we preach - how often do we turn the lens around and consider our own well being? And even if we do, how can we increase our well being yet further?
In this session, we will focus on what we can do to aid our own well being as independent HR (and L&D) professionals by exploring two key enablers:
Energy Management & Effectiveness - What energy management is, how to assess personal energy levels and identifying personal energy chargers
Self-Engagement - What do we need to ask ourselves
By giving ourselves time to stop, think and proactively managing our energy and enhance our engagement, we will become more effective; enhance our own well being and deliver better outcomes for ourselves, our business and our clients.
About Adam Pickford:
After 20 years working in commercial and L&D roles in global multinationals, Adam gave up the corporate life to co-found an HR and L&D consultancy, www.highlightLD.co.uk with his business partner in late 2019. Against a backdrop of Covid, Adam has spent the last year consulting with a range of diverse companies to identify and implement learning interventions which have successfully enhanced business-crticial enablers including virtual leadership, managing others remotely, engagement, well being and change management. At the heart of all his interventions are a focus on practical ongoing application of learning, so critical to unlocking greater engagement and increased performance.
When he is not working, he is Chair of Governors at the local school and, when Covid restrictions allow, he runs a very unprofitable private taxi service ferrying his 3 boys to a plethora of sporting endeavours, attempting to do some running himself.
Timings / Agenda:
9.45 to 10am – networking – a chance to catch up informally with other group members
10am to 11.30 – Energy, Engagement and Well Being Session led by Adam Pickford
11.30 to 11.45 – summary and close
This session is hosted by CIPD Swindon & North Wiltshire Self-Employed Network. The session is free to CIPD members (including members of other branches) and non-members are welcome to attend for a small charge.
Additional Information:
Please note this event may be recorded for future viewing. By registering for and attending this event, you are voluntarily acknowledging and accepting this may be a recorded event.
Coronavirus:
The CIPD is providing Coronavirus advice to Employers both online and in the media. You can find up to date information on the CIPD's website "here".