Event Information
Location
Bush House
30 Aldwych
London
WC2B 4BG
United Kingdom
Join us for the Energy Forecasting Innovation Conference to learn about three major projects funded by UK Research and Innovation
About this event
'Energy Forecasting Innovation Conference - Building Capacity from Modern Statistical Methodology' will present findings from three major projects funded by UK Research and Innovation with a combined value of approximately £1.5 million. The conference will include:
Presentations from academic researchers and their industrial partners (NGESO, EDF, SSEN, Shell and others);
An afternoon workshop to identify future research needs and opportunities, in close engagement with EPSRC-UKRI;
Two optional training courses in open-source software: ProbCast (Dr Jethro Browell) and Statistical Inference with Max-Stable Processes (Dr Kirstin Strokorb and Dr Marco Oesting).
The three projects are:
Registration
This is a hybrid event (in person and online), hosted by King's College London. Please ensure that you select the correct ticket type (In-Person Ticket or Online Ticket) when you register, and book a ticket for each day you would like to attend. There is no registration fee. Refreshments and lunch will be provided free of charge to those attending in person.
The two training courses will run simultaneously and will take place in person only. Please register for a maximum of one training course. Each of the two courses will be limited to 25 participants, who are requested to bring their own laptop with R-software installed.
After you have registered, you will be emailed a short survey. We kindly ask you to fill this in as part of the registration process.
Timetable
Tuesday 24 May - Morning
Industry Challenge - Industry speakers including representatives of National Grid ESO, EDF, SSEN and E.ON.
Tuesday 24 May - Afternoon
Research - Findings of three UKRI projects presented by their leaders - Claudia Neves, Jethro Browell and Bruce Stephen - plus invited speakers.
Wednesday 25 May - Morning
Innovation Showcase - Translating research into practice: academic collaborations with Shell, TNEI, Bellrock Technology and others.
Wednesday 25 May - Afternoon
UKRI Workshop - Interactive workshop to define research needs, spin out partnerships and identify funding opportunities.
Thursday 26 May - Morning (in-person only)
Training - Two training courses in the use of research outputs and dedicated software: Probcast and Statistical Inference with Max-Stable Processes.
Sponsorship
This event is sponsored by three projects funded by UK Research and Innovation.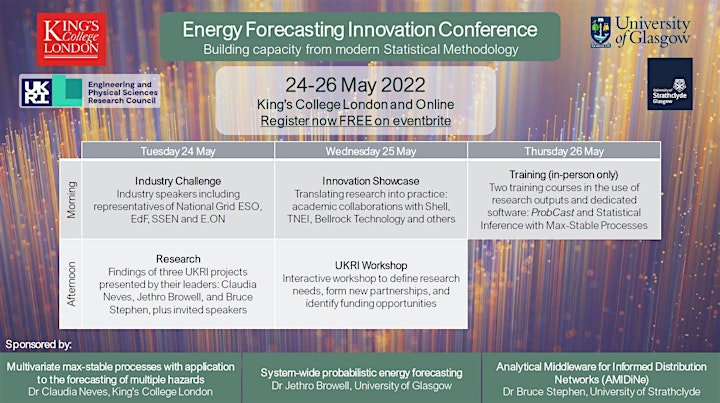 Date and time
Location
Bush House
30 Aldwych
London
WC2B 4BG
United Kingdom