Description
The Welsh School of Architecture would like to invite you to the dissemination event of the research project 'Energy Monitoring Kits for Housing Associations'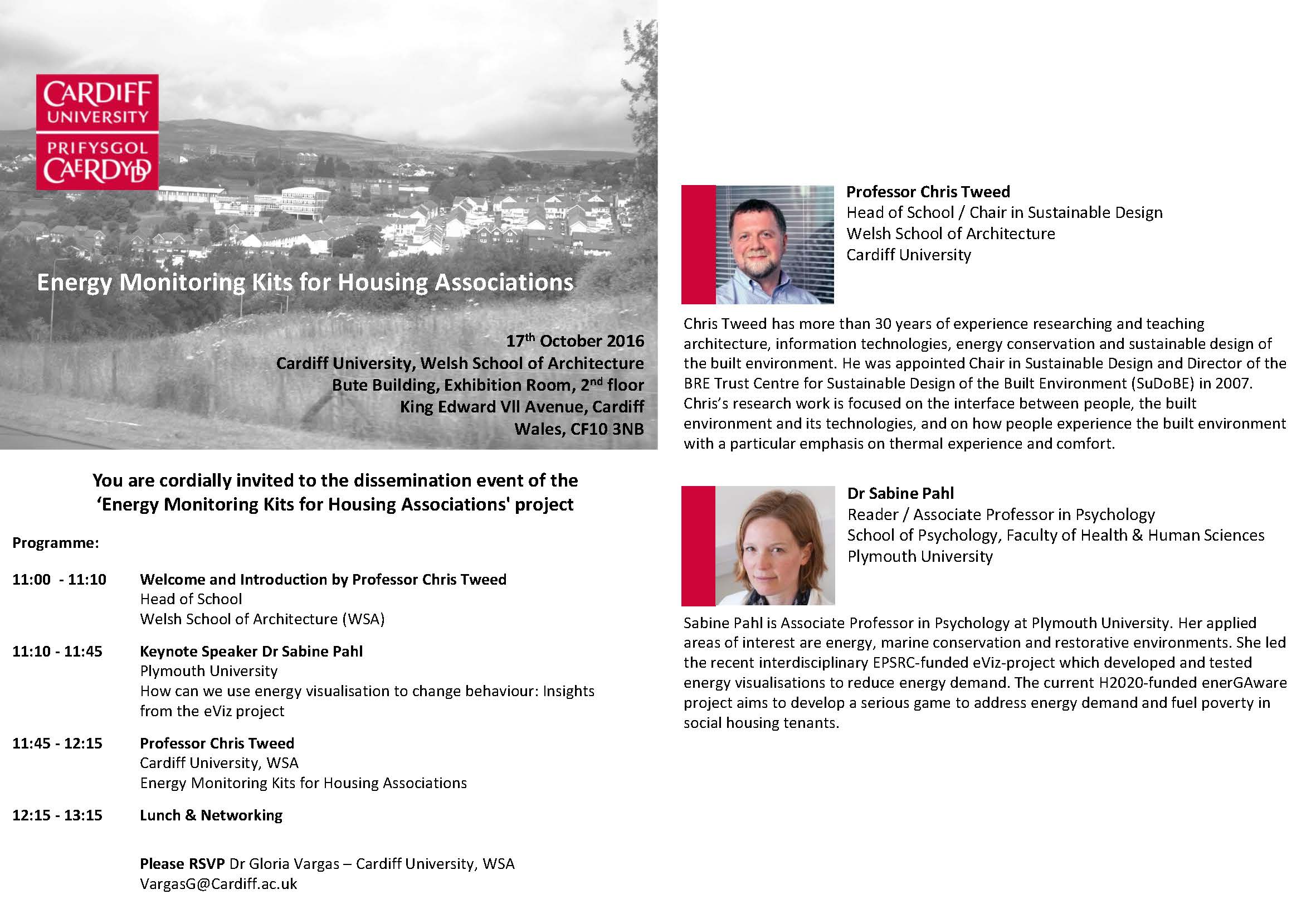 Talk: 'Energy Monitoring Kits for Housing Associations'
Professor Chris Tweed
Welsh School of Architecture (WSA)
Cardiff University
The main aim of this EPSRC funded project is to help people to understand better how dwellings work, how to get the best from them and to generate a change in householders' knowledge, perception and behaviour at home. This project presents results from the analysis of a group of six houses located in south Wales. Outcomes from summer measurements of air temperature, air humidity and energy use are presented along with people's experiences with monitoring technology to learn about condensation, energy use and thermal comfort issues at home. People's experiences were collected through individual interviews and a focus group. This information about householders' behaviour and their experience with technology at home could help housing associations in the implementation of strategies to help people to get the best from their home.
Keynote speaker: 'How can we use energy visualisation to change behaviour: Insights from the eViz project'
Dr Sabine Pahl
School of Psychology, Faculty of Health & Human Sciences
Plymouth University
Energy use plays an important role in climate change and is linked to issues of energy security and fuel poverty. People's decisions and behaviours play a crucial role in energy demand and interact with technological possibilities. However, energy is often abstract and intangible to the end user thus making it difficult to relate to in a meaningful way. The EPSRC-funded eViz project has used a variety of approaches to visualise energy in order to improve understanding and encourage behaviour change in different contexts. For example, we explored a virtual reality flat as an interactive tool, and web-based feedback in a local council office housing social workers. We also ran a series of studies using thermal imaging to motivate householders to retrofit their homes. A selection of these studies will be presented, and I would be keen to explore future ideas and applications with the audience. In conclusion, it will be summarised why psychology is useful in developing visualisation and behaviour change programmes.
Please RSVP by sending an email to Dr Gloria Vargas: VargasG@cardiff.ac.uk
We hope you can join us at this event. If you do have further queries, please do not hesitate to contact Dr Gloria Vargas.
Best Wishes,