Description
WELCOME TO: ENGAGE 2017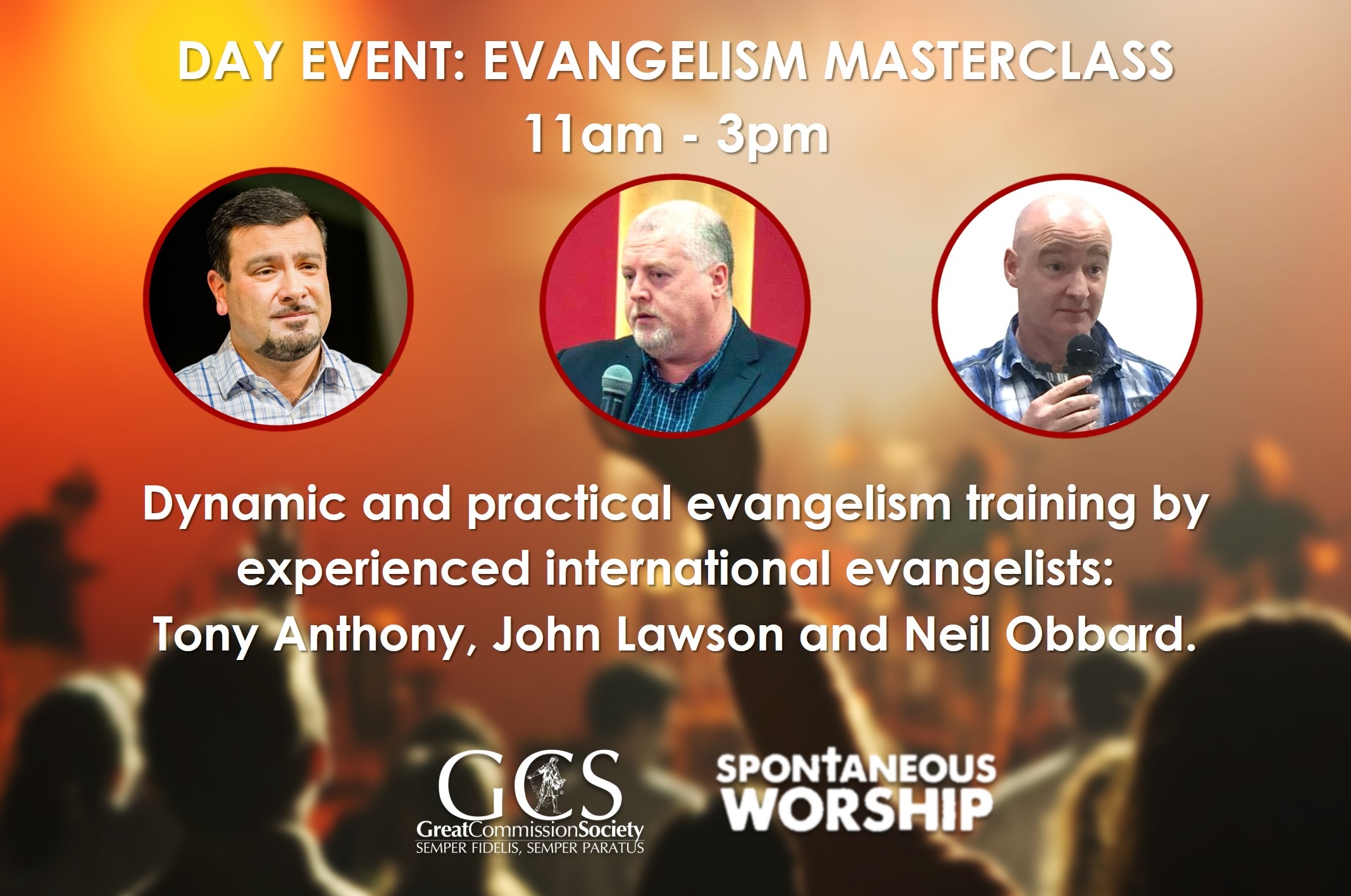 DAY EVENT: EVANGELISM MASTERCLASS (11am - 3pm)
Dynamic and practical evangelism training by experienced international evangelists: Tony Anthony, John Lawson and Neil Obbard. Combining biblical training, practical experience and missionary strategy, we help students of all skill levels, backgrounds and ages develop a fresh vision for the lost and equip them with the tools needed to fulfil that vision. Please visit: http://www.greatcommissionsociety.org

TONY ANTHONY: Award-winning author, speaker and mission leader. A former World Champion in Kung Fu and Close Protection bodyguard, Tony's life was dramatically transformed in a Cyprus jail. Today he
addresses thousands of people every year across the world,
communicating the Gospel, and training people in evangelism.
JOHN LAWSON: Author, speaker and evangelism trainer. John is a former violent criminal and Bodyguard who gave his life to Christ in prison. Today his ministry is focused on sharing the Gospel in prisons and equipping Christians to share their faith.
NEIL OBBARD: A former Sniper attached to Special Forces, Neil's life was dramatically changed during his time in the British Army. Ordained with the Church of England, Neil is a dedicated evangelist seeking every opportunity to share the Gospel and train Christians in evangelism.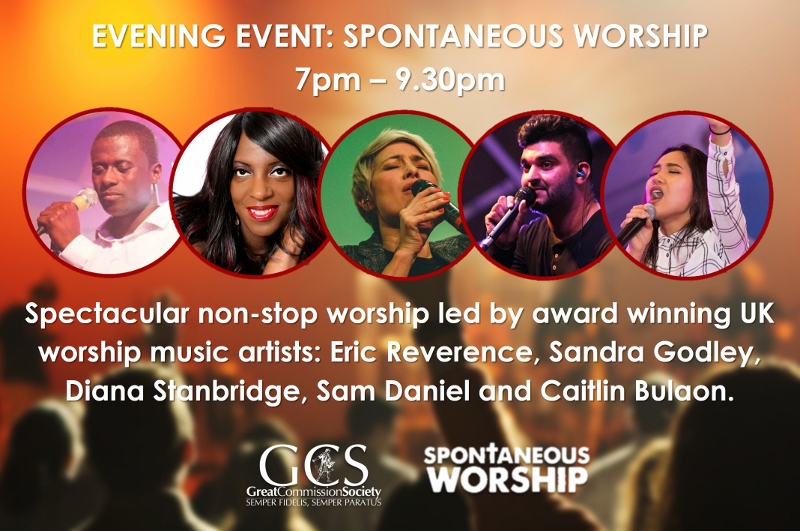 EVENING EVENT: SPONTANEOUS WORSHIP (7pm-9.30pm)
Spectacular non-stop worship led by award winning UK worship music artists: Eric Reverence, Sandra Godley, Diana Stanbridge, Sam Daniel and Caitlin Bulaon. Please visit: http://www.sworship.com

ERIC REVERENCE: Multiple award winner, international Worship Leader and Song writer. Founder of Spontaneous Worship. From Ghana.

SANDR
A GODLEY: Award winning, international recording artist, MOBO award nominee. Known for her classy vocals and sophisticated sound.
DIANA STANBRIDGE: Gifted singer, songwriter and international Danish born Worship Leader. Part of the "Kingdom Worship Movement".
SAM DANIEL: An International worship leader, recording artist, producer and speaker. Pioneering worship in the Asian church across the world.
CAITLIN BULAON: A gifted and creative international singer songwriter, leading worship with "Jesus the Voice of Hope", part of a global Philippine churches.
ENGAGE EVANGELISM
ENGAGE WORSHIP
ENGAGE GOD
Save
Save
Save