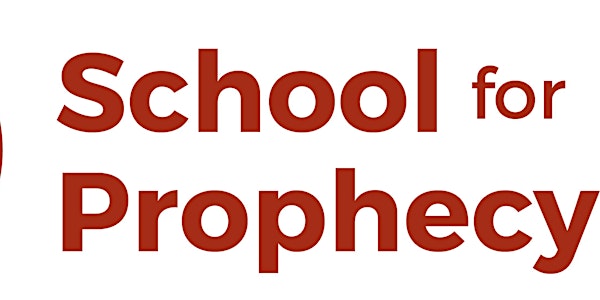 ENGAGING YOUR PROPHETIC CALLING - Online Prophecy Training Course [2022]
Refund policy
Refunds up to 7 days before event
Eventbrite's fee is nonrefundable.
Engaging Your Prophetic Calling is the School for Prophecy's level three training course covering all aspects of the Prophetic Office.
About this event
The next Engaging Your Prophetic Calling level three training course starts on Friday 31st January 2022 [Note 1], using Zoom online video conferencing. It will run for nine monthly Monday evenings, from 7.45 pm to 9.45 pm [London, GMT], over eleven months finishing in November 2022. The course will be led and taught by Mark Iles, supported by the School for Prophecy team.
Registration costs £10.00 per session, plus the Eventbrite service fee. Alternatively, there is the opportunity to purchase a complete training course pass, including a £10.00 discount and free video recordings of any of the teaching sessions you miss. Concessions for financial hardship [Note 2] and same household screen sharing [Note 3] are available on request. If you would prefer to register & pay by Bank Transfer, please contact the office by email. [See also the Growing in Prophetic Ministry level two training course]
The School for Prophecy level three training course, Engaging Your Prophetic Calling, will help you enter fully into the lifestyle of a prophet or prophetess, equip you to build the Church and help you develop a strategic approach to your prophetic environment and its challenges. The level three training course will push the boundaries of your personal growth, train you how to release prophetic culture, and lay the foundations for long term success and survival in challenging environments.
The Engaging Your Prophetic Calling level three training course is designed for those who are experienced and recognised as moving in prophetic ministry, or who have completed the level two training course, Growing in Prophetic Ministry [or equivalent training and experience], and who want to embrace the call of God on their life.
It provides targeted, frank, and knowledgeable teaching on all aspects of the biblical prophetic office, a comfortable and safe environment for you to practise, and experienced advice on hand to help you grow in your calling. The small group coaching sessions are an essential part of the course and provide the necessary learning environment and relevant practise to turn the teaching into an ongoing experience.
The standard course comprises nine sessions [Note 4] covering the following topics, teaching subjects, and supporting small group ministry workshops:
Topic 1: Prophetic Identity
Employing Emotional Intelligence - [Identity Ministry 1]
Embracing God's Discipline - [Identity Ministry 2]
Engaging Godly Assertiveness - [Identity Ministry 3]
Topic 2: Prophetic Culture
Managing the Prophetic Environment - [Culture Ministry 1]
Mentoring the Prophetic Person - [Culture Ministry 2]
Maturing the Prophetic Contribution - [Culture Ministry 3]
Topic 3: Prophetic Leadership
Biblical Role of a Prophet - [Leaders Ministry 1]
Building a Prophetic Team - [Leaders Ministry 2]
Balancing Authority and Responsibility - [Leaders Ministry 3]
Every meeting will include a teaching session with an on-screen presentation, a ministry workshop, a small group session, coaching opportunities, and the all-important questions & answers session. Student-style presentation notes will be provided for all the teaching sessions and video recordings of the teaching sessions will also be available to purchase and download.
After registering you will be sent a Course Information Pack, including confirmation of your registration, the complete course meeting diary, a Zoom Proficiency Briefing, and our Zoom House Rules.
School for Prophecy, Southampton, U.K.
Enquiries: Please contact the office on E: schoolforprophecy@gmail.com or T: 07490 483478.
[1] The first three meetings are on 31st January, 21st February, and 21st March 2022.
[2] We offer a 50% attendance discount for those who are unemployed, in full-time education or reliant on benefits. We do ask that you contact your church leadership first, to see if they will support you financially, given the small cost involved. However, if not please apply to the organizers by email.
[3] We also offer a 50% attendance discount for the second person in the same household sharing a screen, if the first person has paid the full price. Please email the organizers for the shared screen promo code after you have purchased a full-price ticket.
[4] There are also three advanced Extended Course sessions available but not currently scheduled. During the last session, the organizers will conduct a survey to see if there is enough interest to enable them to offer these in addition to the standard course.