Entertaining, informative, concise, even amusing: a look at how two Germans in Manchester created a world ideology. Loads of surprises.
About this event
Friedrich Engels and Karl Marx were the fathers of communism. Engels lived, on and off, for 22 years in Manchester and during this time Marx would stay with Engels for long periods. The city appeared in the 1840s to confirm for both of them the truth behind their ideas of how society was ordered and where it was inevitably headed. It seemed clear to them how the tensions being created in this new industrial society between 'bourgeoisie' and 'proletariat' was creating such overwhelming pressure a crisis must come leading to the dictatorship of the proletariat and thus on to full communism.
It would probably not be clear to them that present commemorations in Greater Manchester would include a climbing wall in the shape of the beard and face of Engels. Still, the fact they filtered their ideas as young men through the experience of Manchester was crucial. As the well-known historian Asa Briggs wrote in Victorian Cities, 'If Engels had lived not in Manchester...his conception of class and his theories of the role of class might have been very different. In this case Marx might have been not a communist but a currency reformer. The fact that Manchester was taken to be the symbol of the age in the 1840s was of central importance in modern world history.'
This is what people have been saying about Jonathan Schofield tours.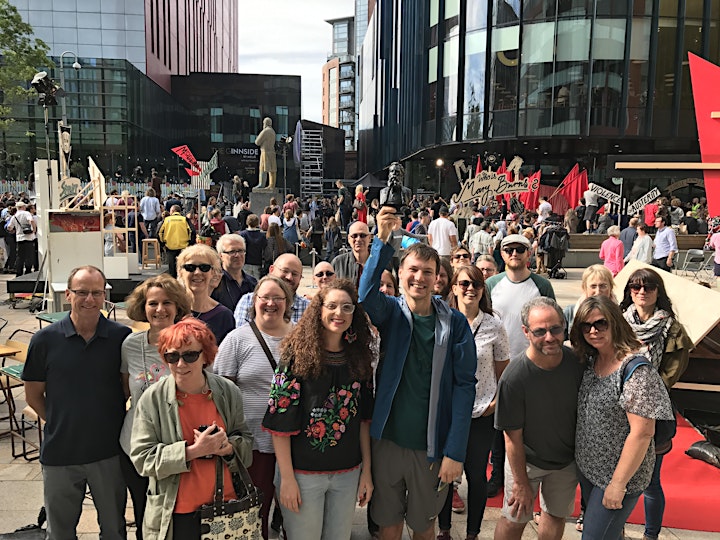 Organiser of Engels & Marx in Manchester
Jonathan Schofield is a Blue Badge Tour Guide and writer based in Manchester. He's the editor-at-large of the Manchester Confidential magazine and the author of several books, including the current bestselling: Manchester, the Complete Guide. He conducts a range of guided tours. The Danish Ambassador to the UK has said to Jonathan Schofield: 'You are the best guide I've ever had in the world, great at communication, sense of humour and for knowledge." Jonathan Schofield has also regularly appeared on radio and TV.