How can technology work towards a just transition? A joint discussion with the Royal Society of Edinburgh and Royal Academy of Engineering.
About this event
Reaching net-zero carbon emissions will mean a managed transformation of society. Depending on how they are used, zero-emission technologies, economics and behaviours could worsen or improve poverty, accessibility, health, and community life. In this evening discussion, we are bringing together expert engineers with perspectives from policymaking and social science to discuss questions like:
Can we rely on technology to fix the climate?
How can science and engineering work with politics and society to create a just transition to net-zero – a transition which provides solutions to other challenges communities face?
And are we kidding ourselves about how big a challenge we face to decarbonise the economy?
Chaired by Professor Sir Jim McDonald FREng FRSE, President, Royal Academy of Engineering. The panel discussion includes Professor Becky Lunn MBE FREng FICE FRSE, Dr Leslie Mabon and Ragne Low.
Join us live on Thursday 13 May from 17:30 for a crucial conversation ahead of Glasgow COP26 – about the planet, the people who live on it, and the technologies that shape it.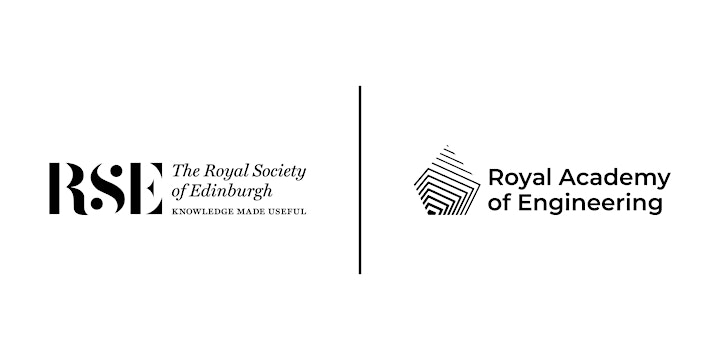 The Royal Society of Edinburgh
The Royal Society of Edinburgh (RSE), Scotland's National Academy, is an educational charity operating on a wholly independent and non-party-political basis to provide public benefit throughout Scotland.
The Royal Academy of Engineering
The Royal Academy of Engineering is a charity that harnesses the power of engineering to build a sustainable society and an inclusive economy that works for everyone.
Panel biographies
Professor Sir Jim McDonald FREng FRSE, President, Royal Academy of Engineering
Sir Jim McDonald is one of Scotland's most accomplished engineers and co-chairs the Scottish Government's Energy Advisory Board with the First Minister. He is Chairman of the Independent Glasgow Economic Leadership Board. He holds senior business appointments with the Weir Group, Scottish Power, the UK Offshore Renewable Energy Catapult and the UK National Physical Laboratory.
He is a Fellow of the Royal Academy of Engineering, the Royal Society of Edinburgh, the Institution of Engineering and Technology, the Institute of Physics and the Energy Institute. He chairs two of the pan-Scotland research pools in Energy and Engineering and chair of the Royal Academy of Engineering Research Committee for three years.
Prof Becky Lunn MBE FREng FICE FRSE, Royal Academy of Engineering and BAM Nuttall Research Chair in Biomineral Technologies for Ground Engineering at the University of Strathclyde
Her research focuses on developing low carbon technologies to strengthen soils and form injectable barriers to inhibit subsurface flow. She applies her research in civil engineering, nuclear decommissioning, nuclear waste disposal and geological carbon storage. She is an experienced advisor to the Government, including past membership of the UK Committee on Radioactive Waste Management and the Scottish Government Working Group on Geothermal Energy Production. She was Vice Chair of the Royal Society of Edinburgh's Energy Enquiry, 'Scotland's Energy Future', which reported in June 2019.
Dr Leslie Mabon, Scottish Association for Marine Science
Dr Leslie Mabon is a Senior Lecturer in Social Science at the Scottish Association for Marine Science-University of the Highlands and Islands. He is also a member of the Young Academy of Scotland, where he leads the Zero Carbon by 2045 Grand Challenge. Leslie is a geographer by training whose research focuses on the social and cultural aspects of climate change. One of his main research interests is climate change transitions for regions relying on carbon-intensive or high-emitting industries, especially in the coastal zone. Within this, both in Scotland and internationally Leslie has looked at the role of more ethically contentious technologies such as carbon capture and storage, hydrogen production and nuclear power to transition to a net-zero society. Leslie is especially interested in engaging with communities to understand the relationship between infrastructure, environmental change and local identity. You can read more about his work at resilientcoastal.zone or on Twitter @ljmabon.
Ragne Low, Head of Heat Planning Team, Scottish Government
Ragne is Head of the Heat Planning Team in the Scottish Government. She has responsibility for a range of heat decarbonisation policies, including the commitment to develop Local Heat and Energy Efficiency Strategies, public sector leadership on heat decarbonisation, and the development of regulations for new buildings.
Prior to joining the Scottish Government Ragne worked in academia, in a range of knowledge exchange roles leveraging energy and climate change research insights to support policy making. She has also worked in private sector consultancy and started her career in the Foreign and Commonwealth Office.