Engineers Australia and Engineering New Zealand Christmas Soiree - 40th Ann...
Description
It's the expat social event of the year in London - the annual Christmas Soiree, this year hosted by Engineers Australia UK Chapter. As it is the 40th Anniversary of the Engineers Australia UK Chapter, we have booked out the grand Exhibition Hall at the Australian High Commission!
Ticket price includes a traditional Christmas buffet served with a choice of Aussie wines and beers. We've got a great band booked, so come along to meet other engineers from Australia, New Zealand and from across the UK and Europe and kick off the festive season.
We highly encourage you to bring along their partner/guests/friends/family to this fantastic event - they are most welcome! (If you want to organise a large group (5+) for a company etc. please send us an email).
Upon arrival you will have to pass through Australia House security screening, and please bring photo identification. Doors open at 18:00 sharp, with no entry after 18:30 due to security requirements. Finishing time 22:00 sharp, with an after-party at a nearby venue.
With the larger room and more tickets on sale this year, please also let your friends and colleagues know about this great event!
Dress Code: For our 40th Anniversary, the dress code will be Black Tie. See FAQ's for more details.
At present, we are still finalising the ticket prices, but please register your interest by registering now, to avoid missing out! You will be notified immediately when the actual tickets will go on sale.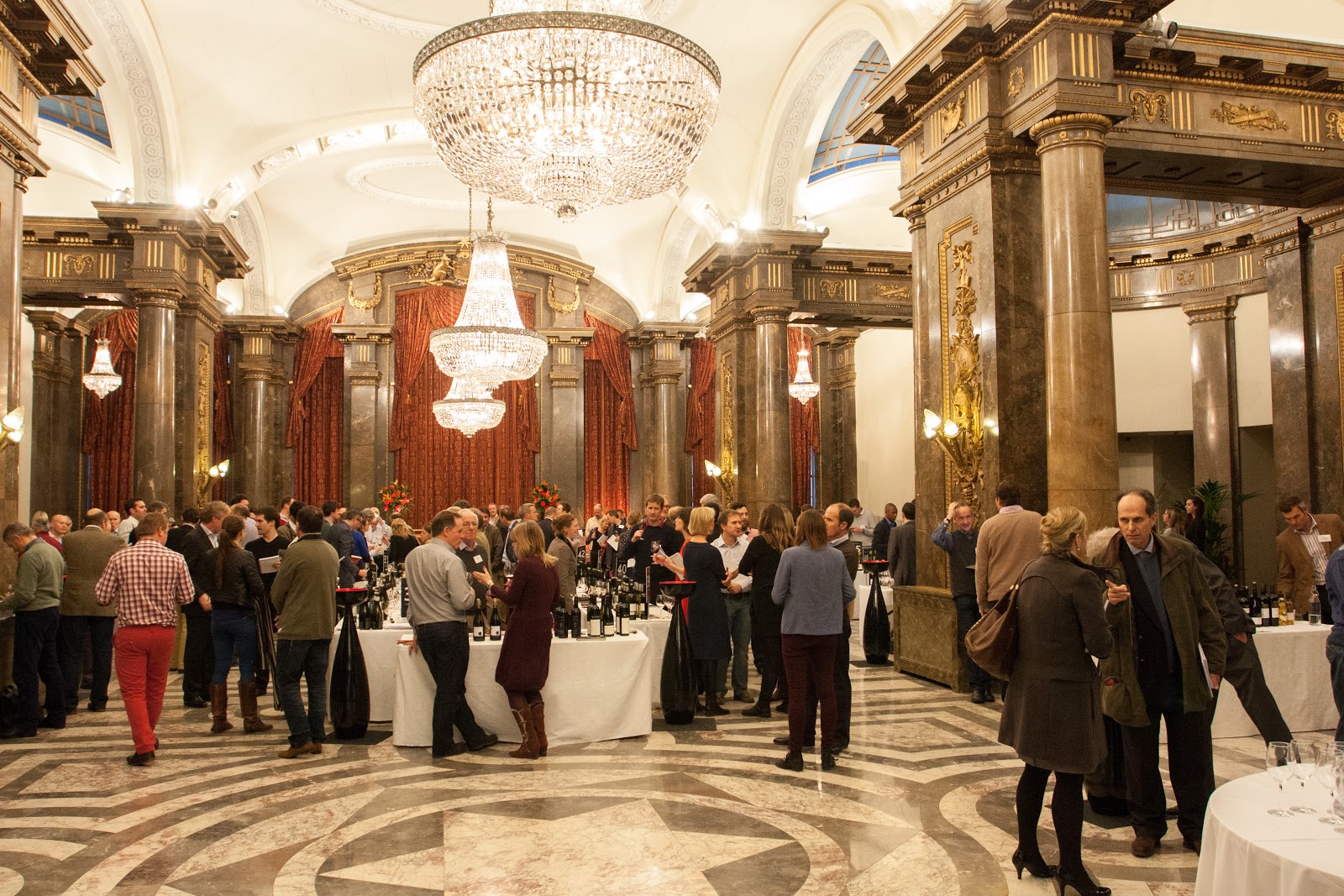 The Exhibition Hall set up for a similar event! - Credit: http://liquidtreatment.blogspot.com/2013/02/australian-wine-2013.html
FAQs
Are partners/friends welcome?
Yes! In fact, it is highly encouraged! As an EA or ENZ member, you can bring one guest for the discounted ticket price. Further guests will have to pay for a full-price ticket.
What is the format of the evening?
All guests must be in by 18:30, so please arrive promptly by 18:00!
The exact format of the evening is still tenative, but there will be plenty of time for networking, some short speeches to commemorate our 40th Anniversary, a buffet meal. More information to come.
Will there be seating?
Yes- the room will be set up with an open seating plan with seats available for all guests. There will be plenty of open space for drinks and networking also.
Are there ID or minimum age requirements to enter the event?
Minimum age is 18.
Is it ok if the name on my ticket or registration doesn't match the person who attends?
No! The registered name must be the same name as the person who attends. Australia House runs a strict admission policy, and your name will be checked against photo ID. If you need to change the registered name(s), this is possible - either do it online or get in touch with us.
Why 'Black Tie' and what does this actually mean?
We're going Black Tie to commemorate the 40th Anniversary.
We recommend using the Wikipedia article on Black Tie as a guide for the dress code: https://en.wikipedia.org/wiki/Black_tie
I.e. For men: Dinner suit or tuxedo if you have one, otherwise a black or very dark navy suit will do. White shirt, black bow-tie (or just a black neck tie if you don't have a bow-tie), with black shoes, as minimum.
For women: A ballgown, evening gown or cocktail dress. Cocktail dresses may be long or moderately short and needn't be black. - Wiki
N.B. Main image is courtesy of The Australian - photographer, Chris Floyd- https://www.theaustralian.com.au/life/wish/we-wanted-to-make-a-statement-about-australia/news-story/4d346148dee266098bbd96f77ea61311